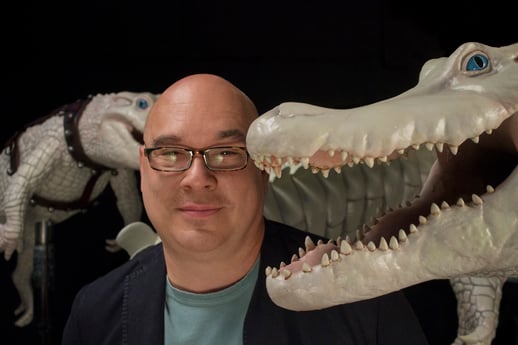 Emmy-award winning artist Lee Romaire, shown with two of his creations for the Cajun-themed Christmas display in Morgan City, La.
Baton Rouge advertising legend Diane Allen has had more than 150 interns in her fifty years in the business. A few she's followed closely over the years; Lee Romaire, for instance. Allen told Romaire (1989 BACH MCOM) his ads were ahead of their time – in a good way. Over the years, Romaire's mentors found out the way to get the best out of the weird kid from Morgan City, La., was to give him free rein. Allen let him run a United Way campaign one year. "The campaign resulted in one of the biggest (money raising) efforts they'd ever had," Allen said. Romaire's message was simple: Give money to United Way to help people. Romaire excelled in simple, Allen said.
She never saw him produce a finished piece of art, certainly nothing as complicated as drawings that would become monsters or dead people or fake animals so real that movie audiences flinched when the mechanical animals were "injured" in the story. "But he knew good art work from bad," Allen said. "He could sketch out what he wanted" from an agency artist. "What he's doing now is using that taxidermy."
"That taxidermy" is something Romaire taught himself in fishing and trapping St. Mary Parish when he was six. He stuffed a crawfish and not for eating. "I was a weird kid," Romaire said, in Morgan City to oversee installation of his Christmas present to his hometown – a life-sized crew of custom-sculpted elves and Santa and white alligators pulling the symbol of the little city – a shrimp trawler – down Brashear Avenue, a.k.a. U.S. 90.
Before Morgan City was a base for offshore oil drilling, it was known as the capital of the jumbo shrimp industry. The trawler in the middle of U.S. 90 was as much a part of Romaire's childhood as Santa Claus.
When the Emmy-winning, entrepreneur artist put fifteen of his people to work on a Christmas display for Morgan City a year ago, he decided the Santa built at Romaire Studios in Los Angeles would wear white shrimper boots (Cajun Reeboks) and a suit trimmed not in white but brown muskrat-like fur. The alligators would be white, have ghastly, friendly smiles and crabs for antlers. The display was trucked to Morgan City after Thanksgiving and unveiled to print and television reporters and the town's children.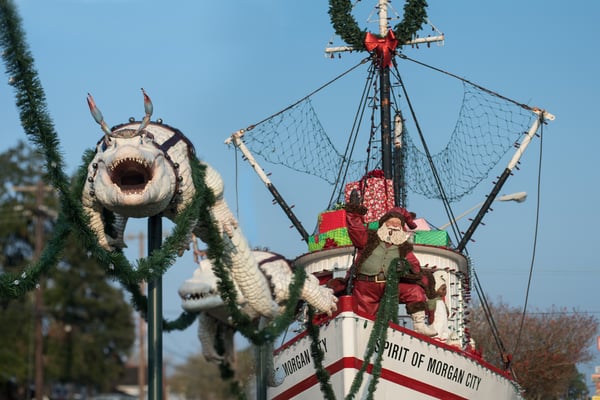 The new Spirit of Morgan City animatronic display was unveiled in November for the holiday season.
The son of Marian Fields Romaire and Richard Romaire had come full circle. Romaire grew up surrounded by Morgan City machine shops large and small that built whatever the oil industry needed. In 1946, Magnolia Petroleum, now ExxonMobil, drilled a well in eighteen feet of water off the coast of St. Mary Parish. Romaire's grandfather was ready. In 1934, E.J. Fields had opened a machine works that specialized in propeller shafts for boats. Offshore crew boats, huge vessels that carry giant machines and heroic workers to the offshore wells, need propeller shafts. When the shafts are worn, they need repair. "The machine shop is still in the family," Romaire said.
Romaire had the DNA for animatronics and creating realistic characters, but he thought he wanted a career in advertising; his degree is in journalism with a minor in marketing. He remembers LSU as a "warm place" where teachers like Alan Fletcher in the journalism school took an interest in promising students. "His was my first creative writing class," Romaire said. "I'm a positive person. I always thought I'd amount to something. Dr. Fletcher gave me a lot of encouragement."
Romaire moved to New York in 1990. Single, talented but "not mature enough for New York City," he moved to New Orleans, freelanced there and in Morgan City and Baton Rouge. As a boy, he liked things that were realistic. The child Romaire read magazines on film effects. When he knew he and advertising were breaking up, his inner child directed him to special effects. At a convention in Los Angeles, he met Dick Smith, an Academy Award-winning makeup artist. They talked. "A big part of makeup is sculpture," Romaire said. To make a prosthetic, the artist applies material to the actor's face to make a high-tech mask. Something clicked.
Back in New Orleans, Romaire offered himself as a Mardi Gras prop maker at Blaine Kern. He was hired and fired two weeks later. Not good enough. Romaire didn't take the firing to heart. He got on at another Mardi Gras company for more money. A third company hired him for even more money. Romaire declared himself ready for prime time and moved to Los Angeles. His first job was helping make an animatronic cougar for the Jodie Foster movie Secret Lives of Altar Boys. In 2002, he won a Primetime Emmy for work on the first season of HBO's Six Feet Under. "We made dead people makeup," Romaire said.
In 2003, he opened a studio in an old garage in downtown Los Angeles. The project that orbital launched Romaire Studios into movie-quality realism for theme park animatronics was Disneyland's "Great Moments with Mr. Lincoln." According to Mouseinfo, the successful reopening of the Lincoln attraction in December 2009 was due in no small way to the work of Romaire and company. According to The Mouse, "Romaire spent several weeks working on the completely new sculpt of Abraham Lincoln's head and several more after that establishing the look and finish. . . . Part of the realism brought to the figure's face is the attention detail which included hand placing every single facial hair and hand shaving it for a natural stubble appearance. Details layered upon details helped to create what is arguably the most convincing Animatronic version of Mr. Lincoln."
His first boss nailed it. Romaire excels in simple, direct communication.
.
.
.
Visit romairestudios.com Photo credit: JD Spencer Photography / Provided by Romaire Studios