Congratulations to Our 2017 Alumnus and Young Alumnus of the Year
Alumnus of the Year
---
Major General Glenn H. Curtis, Louisiana adjutant general
Glenn H. Curtis, Adjutant General of the Louisiana National Guard, graduated from LSU in 1986 with a bachelor's degree in agricultural business and holds a master's degree in strategic studies from the U.S. Army War College. While at LSU, he was a member of Alpha Gamma Rho, and the Alpha Epsilon Chapter named him Alumnus of the Decade for 2010-2020.
Curtis has commanded the 11,000-member Louisiana National Guard since 2011 with unparalleled integrity and has provided leadership though numerous natural disasters, most recently the Great Flood of 2016. Curtis was commissioned in 1984 through the LNG Officer Candidate School after serving as an enlisted member of the Guard since 1982.
From July 1986 to September 1997, he served in various positions of increasing responsibility from Platoon Leader, Construction Officer, S-4, Company Commander, Plans Officer, S-3, and Executive Officer. He served as Battalion Commander of the 1088th Engineer Battalion in Plaquemine, Louisiana, from September 1997 to April 2000 and 3rd Battalion, 156th Infantry in Lake Charles, Louisiana, from April 2000 to August 2001.
He was assigned as the Commander of the 225th Engineer Group from September 2001 to October 2004, and he also served as the J-4, Director of Logistics, Joint Force Headquarters-Louisiana. He was mobilized in support of Operation Iraqi Freedom in December 2004 and served as the Chief of Staff, Purchasing and Contracting Officer in Baghdad, Iraq. In November 2005, following Hurricanes Katrina and Rita, General Curtis was assigned as the Chief of the Joint Staff, Joint Force Headquarters-Louisiana. He was Director of the Joint Staff from April 2007 until November 2011, when he was appointed Adjutant General.
Recognized with numerous military awards, decorations, and honors during his career, he was inducted into the LSU Military Hall of Honor in 2009; received the General Douglas MacArthur Award in 1989; was named Battalion Commander of the Year in 1999; and received a Business & Industry Top 40 Under 40 award in 2002. In 2015, he was elected by his peers President of the Adjutants General Association of the United States.
Curtis and his wife, Jill, reside in Pineville, Louisiana. They have three children, Meagan, Nicholas, and Jacob.
"I am an LSU fan through and through. LSU's focus on commitment to community prepared me for a life of service to our nation. I can never repay LSU for the rich diversity of experience that is now an integral part of my life as a husband, father, and soldier."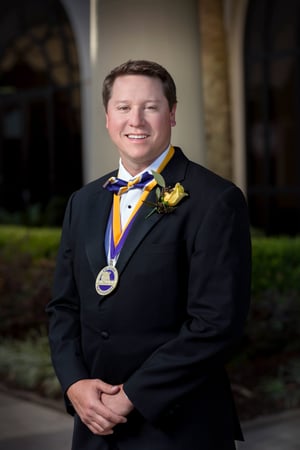 Young ALUMNUS OF THE YEAR
---
Brandon P. Landry, founder, co-owner, and CEO of Walk-On's Bistreaux & Bar
Landry opened the first Walk-On's Bistreaux & Bar in 2003. Today the restaurant is one of the hottest casual dining concepts around, with thirteen restaurants in Louisiana and Texas and 50 more locations across the south on the drawing board. In 2015, New Orleans Saints quarterback star Drew Brees signed on as Landry's partner, and annual revenues are estimated to exceed $70 million in 2017. Nations Restaurant News, Entrepreneur Magazine, Franchise Times, and Headline News have recognized Landry's entrepreneurial spirit. He was named LRA Restaurateur of the Year, Baton Rouge Young Businessperson of the Year and Louisiana Marketer of the Year and received a Baton Rouge Business Report 40 Under 40 award. Walk-On's was named ESPN's Best Sports Bar in America. Landry serves on various nonprofit boards, and he gives generously to local communities. He graduated from LSU in 2001 with a bachelor's degree in management.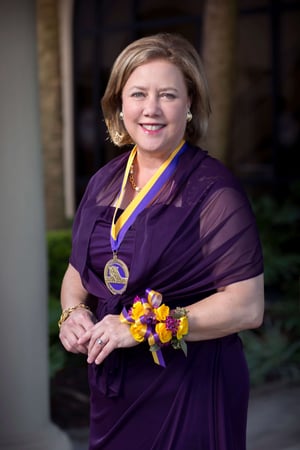 Mary Landrieu
---
former U.S. Senator, policy adviser with Van Ness Feldman
Landrieu began her public service career in 1979, when she was elected to the Louisiana State Legislature, the youngest woman ever elected. In 1987, she was elected state treasurer and served for two terms. She was elected to the U.S. Senate in 1996 – the first woman from Louisiana to be elected to a full term – and served for 18 years. Landrieu secured billions of dollars for Louisiana in the wake of Hurricanes Katrina and Rita, led the successful effort to designate Barksdale Air Force Base as the nuclear strike command center for America; was lead sponsor on the RESTORE Act, which directed more than $18 billion to Louisiana and Gulf Coast States; and the Gulf of Mexico Energy Security Act, the first mandatory coastal revenue sharing law in the nation. She graduated from LSU in 1977 with a bachelor's degree in sociology.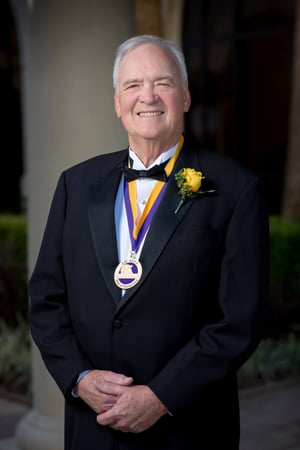 William Shelby McKenzie
---
of counsel with Taylor, Porter, Brooks & Phillips
McKenzie worked at Taylor Porter law firm for more than 50 years, for many years as managing partner. He was an adjunct professor of law for more than 30 years and through Taylor Porter served as unofficial general counsel to LSU. After retiring from active practice, he served as interim general counsel to the LSU Board of Supervisors, President Emeritus William Jenkins and President F. King Alexander. For his leadership and numerous contributions to LSU and to his profession, he was named a Law School Distinguished Alumnus in 2005 and was recognized as the 2011 Distinguished Louisiana Attorney by the Louisiana Bar Foundation. A graduate of University High School, McKenzie earned an undergraduate degree from Princeton and received a juris doctor degree from LSU Law School in 1964.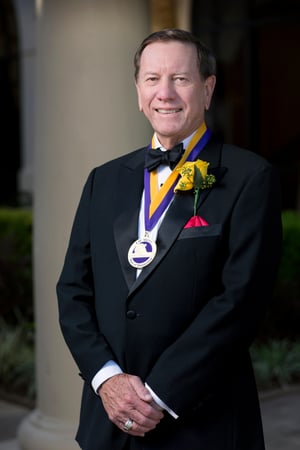 Jake L. Netterville
---
chairman of the board emeritus of Postlethwaite & Netterville
Netterville was managing partner of Postlethwaite & Netterville for more than 20 years, during which time P&N became one of the top 100 leading accounting firms in the country. He holds leadership roles in professional organizations at state and national levels. He is a permanent member of the American Institute of Certified Public Accountants Governing Council, on which he served as chairman of the board, the highest office that can be attained in the accounting profession. He is a member of the LSU Accounting Advisory Board, the E.J. Ourso College of Business Administration partnership for Excellence Board and the LSU Dean's Advisory Council, and he is chair of the Tiger Athletic Foundation. He has held elected officer positions in numerous organizations and serves on the boards of Baton Rouge Water Company and Amedisys. Netterville earned a bachelor's degree in accounting from LSU in 1960.
Dr. Charles M. Smith
---
retired family medicine practitioner
Smith practiced family medicine for 35 years and served as Calcasieu Parish coroner for more than 20 years. Inspired by his personal experiences as cancer survivor and his desire to improve patient care and cancer treatment in Louisiana, he established the Dr. Charles M. Smith Chair of Medical Physics in partnership with Mary Bird Perkins Cancer Center. The academic-clinical partnership, which serves the critical needs of Louisiana, is one of the strongest accredited medical physics programs in the country. Smith serves on the College of Science Development Council and Executive Committee, and he is a charter member of the Dean's Circle. He is a member of the LSU Foundation Laureate Society and LSU 1860 Society and a benefactor of the Methodist Home for Children in Sulphur. He earned a bachelor's degree in biological sciences from LSU in 1951 and a medical degree from LSU Medical School.
The LSU Alumnus of the Year designation is the highest honor awarded to a distinguished graduate of LSU by the association. The first award was conferred in 1966; the Young Alumnus of the Year Award was established in 1999 to recognize alumni under the age of 40 who have attained professional prominence early in their careers. Including the 2017 inductees, the LSU Alumni Association has recognized 291 individuals representing a cross-section of LSU graduates.
Louisiana State University has a tradition of graduating students who go on to achieve national and international prominence. In its one-and-a-half centuries of operation, the University has produced leaders in education, agriculture, the sciences, the arts, government, commerce, industry, technology, and social advocacy.
The LSU Alumni Association Hall of Distinction recognizes alumni who have distinguished themselves and LSU through their careers, their personal and civic accomplishments, their volunteer activities, and their loyalty to their alma mater.
Included in the Hall of Distinction award ceremony is the bestowal of the prestigious Alumnus of the Year Award. One individual is singled-out not only for their distinguished accomplishments, but also for their loyalty and generosity to the University and the LSU Alumni Association.
The LSU Alumni Association, formerly known as the LSU Alumni Federation, began recognizing distinguished alumni in 1966, when The Alumnus of the Year Award was bestowed upon military hero Major Roy J. Young.
Tradition continued until 1981, when the Hall of Distinction was created to recognize and honor more alumni and other outstanding individuals who have made significant contributions to society and whose achievements have brought credit and distinction to LSU.
In 1984, a selection committee was created and included four representatives of the Association along with four representatives, whose names remain anonymous, serves as a staggered three-year term and is charged with the task of reviewing hundreds of nominations and casting votes for the top candidates. The final candidates are reviewed and voted on by the Honors and Awards Committee and presented for final approval to the board of directors of the LSU Alumni Association.
The LSU Alumni Association began accepting nominations for its Young Alumnus of the Year award in 1999. The award is specifically for alumni under the age of 40 who have attained prominence early-on through their efforts in commerce, industry, technology, agriculture, engineering, the arts, the sciences, education, government, and other worthy endeavors.
* Denotes Alumnus/Alumna of the Year ** Denotes Young Alumnus/Alumna of the Year
For more information, contact:
Brandli Roberts
Director of On-Campus Events
LSU Alumni Association
225-578-3838
brandli@lsualumni.org