LSU alumna Sherry (nee Smith) Sanchez (BA 1971, MS 1972, Delta Zeta) decided to share a story of one of her bucket list trips with us. Currently a trial lawyer and recovering librarian, Sanchez is a True Tiger, and will travel to the ends of the earth to share her Tiger Pride. We hope you enjoy her story as much as we did.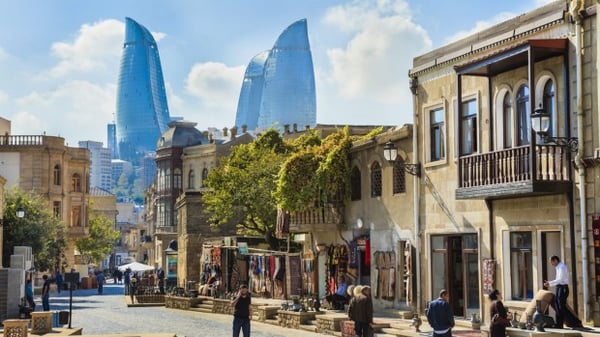 Azerbaijan 2012
I had heard that there were so many oil and gas workers from Louisiana working in Baku, Azerbaijan, that they had a restaurant called the "Ragin' Cajun" in the old part of the city. So, on my bucket list, was to go to Baku and stand in front of the Ragin' Cajun and have my picture taken with my LSU jersey.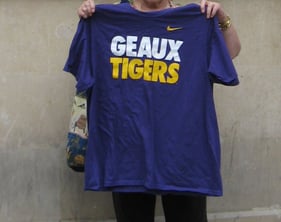 My husband, a seventh-generation native Californian, and a USC grad, thought I was crazy to do this, but by now he is used to my goofy adventures and went along as a good sport. I am also a seventh-generation native Californian and worry that if I ever order the DNA test for him that I will get an email telling me that I have a distant cousin living at my address. So we will just leave that alone.
The trip:
We flew nonstop from LAX to Istanbul and spent a few days there before heading out to Baku. I speak bad Turkish, but it is good enough to get around. Azeri is sort of like hearing Turkish in one ear and Persian/Farsi in the other. I speak even worse Farsi, but it was enough to get around in Azeri.
The Visa:
You can't just fly to Azerbaijan and expect them to let you in. You have to be invited. That means that your travel agent books you into a high-end hotel and the hotel sends you the invite. Then you go down to the Azerbaijan consulate on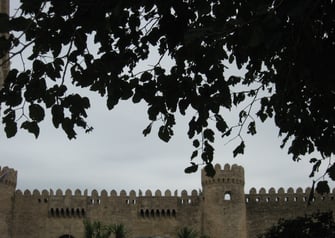 Wilshire Blvd. and take your passports and the invite from the hotel, and the visa applications and bags of money to pay for the visas, and drop everything off with the very charming folks at the consulate. They give you mountains of info on their country, including travel guides, cookbooks for Azeri cuisine, brochures, etc. Then you go back three days later to pick up the passports, which now have a huge visa sticker showing that you have a 90 day pass to visit the country. Expect more brochures, magazines, cookbooks, etc. They don't get many American tourists, but the ones who make it in are treated like gold.
Baku:
The city is drop dead beautiful with a 13th century walled city, a palace, a Zoroastrian fire tower lit from a natural gas seep that has served as a lighthouse on the Caspian Sea for centuries, a "new" city built at the turn of the century with art nouveau buildings and really great architecture. It is as clean as a city can be since it seems that every street has a person assigned to keep it tidy. So if a tiny leaf blows off of a tree and lands on the sidewalk, there is a uniformed person there to sweep it up and dispose of it. Sort of reminds me of the time my husband and I went for a walk in Singapore determined to walk until we found some litter. We almost died of heat exhaustion looking for trash. Stumbled into the Long Bar at Raffles and had long cool drinks until we recovered . . . but that is a story for another time.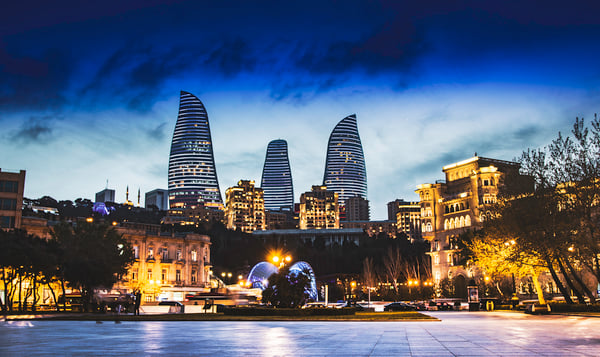 The People:
Since my husband is 6'3" and looks like his German ancestors more than his Mexican ones, and I have red hair and green eyes due to the O'Connell genes being more in evidence than the Nunez ancestry, people were confused about where we were from in the world. Most people greeted us in German. No one speaks English outside of the front desk clerks. I explained in my bamboo Azeri/Turkish that we were Americans. "Mashallah!" was the response (sort of like 'Saints be praised' in Azeri). They would explain, "We knew you weren't Russian because you smile." Well, there you have it.
The Quest:
We had the address for the restaurant and a map, so we went in search of the Ragin' Cajun. We walked up and down the street, but could find no restaurant as the establishment at the address we had on file turned out to be the "Hong Kong Ladies Handbag Shoppe." In desperation, I went inside and inquired about the restaurant. Sadly, I was informed that it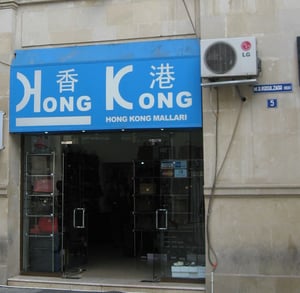 had gone out of business, due to the difficulty in obtaining bacon and other pork products in a majority Muslim country. So the new occupant was the handbag store. Maalasef. (Unfortunate) I explained the situation to the USC grad.
He asked, "Did we just travel 12 time zones to the opposite side of the earth to stand in front of the ?#@*&%! Hong Kong Ladies Handbag Shoppe, with your ?#@*&%! LSU jersey?"
Apparently, yes.
Submit your True Tiger story here and you might be featured next!