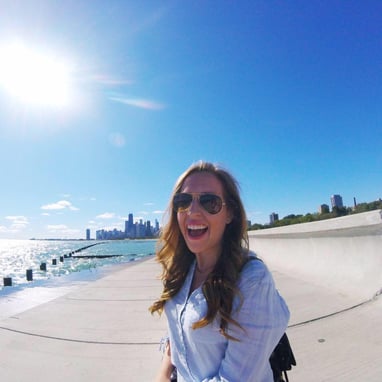 KATE EDDY, BA Mass Communication 2016
Tell us a little bit about yourself.
My name is Kate Eddy and I am an LSU graduate currently residing in the beautiful, not cold ever Chicago. I graduated in Advertising in 2016 and am currently serving as the Marketing Coordinator at The Second City!
How would your friends describe you?
Thank you so much for asking this question. I've been waiting for the opportunity to brag about myself to the LSU community. I think my friends would describe me as caring, supportive, genuine, and weird. They would also say I'm funny but it would be followed by a major eyeroll.
What path did your career take after graduating from LSU?
Well it first took me on a lovely path straight to unemployment. But after struggling a bit trying to find a job in Chicago, I finally landed a job at The Second City as the Executive Assistant to the President of the Training Center and then weaseled my way into the marketing department helping sell all of our fantastic shows.
What's your favorite part about working for The Second City?
I always dreamed of taking classes here but the fact that I work here too is still mind blowing to me. My favorite thing to do is stand by the entrance and watch patrons excitedly walk into our theatres. That sounds creepy but you know what I mean. What we do makes (most) people happy and I truly love that. But more than that, the people I work with in this building are absolutely incredible. I'm lucky to say that I enjoy waking up and coming into work every day with these people. It's also relevant for you to know that I have bought several of these coworkers LSU coffee mugs and it's just the best seeing them around the building.
How do you prepare for an improv show?
Well that's the beauty of improv. There really is no preparing. Everything is made up on the spot! But I don't know maybe say a prayer or two before that you don't trip or rip your pants? I did one time accidentally perform a whole scene with my pants unzipped but I would be SO embarrassed if people knew that.
What was your favorite place to eat when you were at LSU?
I'm not going to lie. For those that knew me in college know Hungry Howie's and I had a very special friendship. Post mature adult cocktail outings I was known to order one too many pizzas for everyone. May have even dressed up as a Hungry Howie's employee for Halloween one year. I have no regrets.
If you could give one piece of advice to entering freshman what would it be?
Be patient. College is an adjustment. Don't feel like everything has to be perfect from the beginning. It's going to take time to find the right friends, the right hobbies, and the right way to class. Just know it's all going to work out. Also, don't monogram everything you own. Sorry that's two pieces of advice. Am I fired?
If you weren't working in comedy, what would you be doing?
If I wasn't working in comedy, I would still be trying to work in comedy. This is where I want to be and am lucky that I am here.
Do you have a mentor that helped you along the way?
There are several people I could give a shout out to for this, but I'd be remiss if I didn't say my parents. I would also most likely be grounded. Although they technically have to be my mentors, because ya know they are my parents, they've always gone above and beyond to support my dreams and I wouldn't be where I am today without their guidance. They are the best. I know this is cheesy. I KNOW.
What's a favorite pastime of yours?
Besides sketch comedy, I really love to cook. I think being from Louisiana you kind of have to love to cook...or at least love to eat, which I greatly enjoy as well. The hardest thing about being away from home is the food (and my family I guess), but I love being able to make Cajun food for all my friends up here. I smuggle back frozen crawfish in my suitcase every time I go home. TSA loves me.
Where do you see yourself in 10 years?
My parents would love if I said Louisiana, but the true answer is I'm not sure. I love my life here in Chicago, but I'm always looking to grow. I hope I'm still working in comedy, whether it be here, in a writer's room for a tv show, or as Mindy Kaling's best friend (here's hoping!). At the end of the day I just want to be happy and the minute I'm not I will be looking for the next thing.
What do you find most challenging about working in comedy?
Being asked to "tell a joke" every time I mention I work at Second City.
Tell me about some of the people you've met while working at The Second City.
I've met a few cool famous people during my time here, but quite honestly it's my coworkers who I've enjoyed meeting most. And they will most definitely make fun of me for saying that.
What do you miss most about LSU?
Football games. It's so hard not being able to go to every game. I love being in Tiger Stadium so much. I try to make it back for at least one game a year. I went back last year for the Bama game and I had a fantastic time for the first 3 minutes. I do hit up the LSU bar here in Chicago for games, which makes it a little bit better. Don't get me wrong I love yelling at a TV screen, but there is nothing like sitting in the stands watching the team run out in person. I wasn't going to say it's "magical" because that sounds lame but it really is magical.
Why are you proud to be an LSU alumna?
I'll say this, I didn't truly feel my Tiger Pride until I moved to Chicago. You don't realize how special that community is until you're not around it. LSU is something that keeps me connected to home. My dad is a proud LSU alum so I love hopping on the phone with him and chatting about predictions for the upcoming game. He's usually right. I'm usually wrong. I met most of my best friends at LSU so going back for a game and seeing them is the best reunion. I have had some of my best memories on that campus and I'll forever be grateful for all it gave me. And lastly, purple and gold are the perfect color combo. Don't fight me on this. #ForeverLSU