In 2019, the LSU Alumni Association announced the first ever Young Alumni Advisory Council. The association established this council to improve engagement with this unique group and to help guide future initiatives as a result of its strategic plan.
The council seeks to best represent the LSU young alumni population, therefore members represent cities both in Louisiana and across the United States as well as a wide range of industries. Members meet four times a year, three times via conference call and one time in-person. The council serves as a streamlined focus group to provide key insight and feedback on engagement, development, and fundraising. Members have the opportunity to connect back with their alma mater and network with fellow alumni, while also working to better support young and future alumni to build increased and enhanced connections to each other and to the University.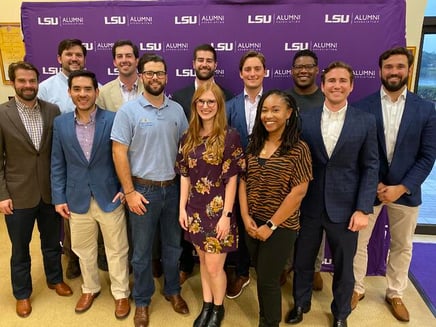 Each year, the council hosts an event to welcome fellow young alumni back to campus before a home game in Tiger Stadium. In 2019, the council hosted a Young Alumni Tailgate before the LSU vs. Auburn game. In 2020, tentatively, the council will host a Friday night happy hour and concert before the LSU vs. Ole Miss game. Stay tuned for details!
How to Join the 2020-21 Young Alumni Advisory Council
Eligibility and Expectations:
LSU-BR Alumni who are thirty-five (35) years old or younger at the time of appointment upon serving the initial term

Expected to attend all meetings either via conference call or in person

An active member of the LSU Alumni Association and a chapter of council member's choice

Expected to be an Ambassador of the LSU Alumni Association including attending Young Alumni Events and Programming in their area

Ineligible for LSU Young Alumnus of the Year, or any other LSU Alumni Sponsored Awards currently existing or created in the future, for a full year after the conclusion of service.
Directions:
You must complete the form to nominate someone or self-nominate in order to receive the application. Nominations are required in order to guarantee candidates meet the eligibility and agree to expectations in order to apply. All qualified nominees will receive an application via email once approved.

Nominations close: June 30, 2020 at 11:59 CDT
Applications due: July 1, 2020 at 11:59 CDT

Any questions? Email info@lsualumni.org and we'd be happy to help.


The nominations are now CLOSED for the 2020-21 Young Alumni Advisory Council. All applicants should expect a response in the next few weeks.