IN INSPIRING HALLS BENEATH SHADY OAKS AND BROAD MAGNOLIAS, they made lifelong friends and valuable contacts and earned degrees that prepared them for successful futures. The Forever LSU instilled in their hearts and minds while at LSU forged a lasting connection to the campus and the city, and when Red Stick called, they returned with a commitment to help make the University and Baton Rouge ever better. Check out our final feature on seven LSU alumni who answered that call, as part of a series that was featured in the Fall 2019 LSU Alumni Magazine.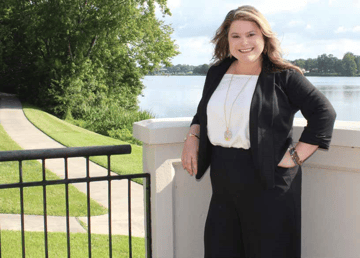 LSU alumni have opportunities to find a sense of community wherever they go – even far from Louisiana. The extended community of alumni groups and Greek networks provides young graduates with the chance to spread their wings, find new job markets, and gain valuable experience in areas far removed from Louisiana.
Sally Stiel discovered her own home-away-from-home community when she decided to move to Las Vegas after graduation. She knew no one, had applied for a job there through an online service with a company with which she had no experience, and left the comfort of a home she had known all her life to find her next great adventure. Seven years and a myriad of experiences and new connections later, she has returned home and now uses that adventure as senior director of alumni engagement and marketing with the LSU Alumni Association to continue the legacy of LSU communities in cities both at home and beyond for the next generation of LSU graduates.
Stiel grew up in Franklin ("one of the prettiest main streets in South Louisiana") and graduated from Hanson Memorial High School. Her mother, father, and older sister had gone to LSU, and her mother remained active in the Delta Kappa chapter of Zeta Tau Alpha (ZTA) sorority as an alumna. The family attended events on campus frequently, so she was familiar with campus throughout her childhood and developed a fondness for the University.
When she arrived at LSU as an undergraduate, she lived on campus, joined ZTA, and participated in community service projects and events – all opportunities that allowed her to meet diverse groups of people and to make friends and develop a network of connections. Through those connections, she found an internship in Baton Rouge for a local ad agency run by LSU alumna Ann Edelman. Stiel credits Edelman with helping her find direction on her career path before she graduated from LSU. "She challenged me like no other boss in my career has and knew I'd be better for it," Stiel recalled. "She helped set me up with LSU alumnus Jeff Zehnder's media team to train me on systems that I would need to learn in order to get a competitive media job outside of Baton Rouge."
A communication studies major, Stiel graduated in 2003 ready for the next big step in her life. With a recommendation from Edelman and a desire to "see what's outside Louisiana," she found an entry-level advertising position in Las Vegas. "I moved there knowing one LSU alumna, D'Anna Malbrough, whom I had only met once prior to moving there," Stiel said. "She booked me a hotel room for a week, gave me a stack of apartment guides, and really helped me get my feet on the ground."
Stiel found herself among other people about her age at the advertising agency where she worked, which gave her the opportunity to develop new connections and friendships in her new surroundings. She also found that the experience helped her learn to navigate an unfamiliar place and unfamiliar people. "It really took me a while to get used to such a large, new city," she explained. "I had to get out of my comfort zone and eat dinner alone, walk into a room of strangers and make what could sometimes be an awkward introduction to already established groups of friends." Stiel admits that she still gets nervous when she's in a room full of new people, but she now feels confident that she can deal with that situation.
Perhaps the most important connection Stiel made was with the Las Vegas LSU alumni chapter, the Sin City Tigers. A very active chapter, the group held frequent events, especially during football season, that helped keep Stiel connected to LSU. "I attended an LSU game watch party for the first time and was quickly approached by their chapter president, Kathy Fives, who welcomed me and made me feel like I was a part of a family," Stiel recalled. "I was very homesick my first fall away, and the LSU watch party was a comfort zone. It was also a neutral ground that allowed me to build networks and friendships with CFOs, casino and hotel general managers, and other local marketing professionals, which otherwise would have been hard to do in such a large city."
Stiel became an active participant in the group, and that participation paid off in ways she never expected. "These people helped me network with people in their circles, and the relationships just continued to grow over my six years there and expanded to other LSU alumni chapters regionally, specifically in California," she explained. "About a year in, I became involved with the chapter in a volunteer role, which taught me the workings of a nonprofit board structure and how to build sponsorships to help grow our crawfish boil. Our boil raised scholarship funds to send a local Las Vegas student to LSU. I didn't realize at the time how valuable that entire experience would be in my current position – thirteen years later."
Stiel's return to Baton Rouge also was the result of an LSU connection. One of her clients at the advertising agency was Kim Ginn, an LSU alumna. As early as 2008, Ginn and Stiel worked together on media and brand development for a new casino in Baton Rouge. That new casino was L'Auberge Casino and Hotel, and in early 2012, Stiel was offered the advertising manager position at the casino. Through Ginn's mentorship, Stiel learned how to expand her career from media and public relations to a more comprehensive marketing and business operations focus.
Despite her desire to return to Baton Rouge, she had mixed feelings. She had come to love Las Vegas and her friends there, but she credits Garth Brooks for helping her make the final decision. "On the day I was offered the job, my parents and I had tickets to the Garth Brooks concert at the Wynn," she recalled. "Brooks closed with Calling Baton Rouge, and on the first note, I remember looking at my parents in tears saying, 'That's it, I'm coming back home.'"
In 2017, about five-and-a-half years after she moved back, Stiel accepted her current position with the Association, in part because of her experiences in Las Vegas. She now works with groups like the Sin City Tigers to support and facilitate activities that create LSU communities and help young graduates find connections away from home.
She has this advice for alumni who live away from LSU and Baton Rouge: "You're always going to be homesick for Baton Rouge (especially in the fall!), but LSU alumni, fans, and friends are all over the world and can help bring that 'missing piece' to you, no matter where you are. We have hundreds of volunteers, alumni, fans and friends who help to build LSU experiences for people all over. Whether you're looking for professional networking and social opportunities, crawfish boils, football watch parties, or you just want to help out a future Tiger or contribute financially to the University, there's something for everyone. Ultimately, you control how active you are, whether you live in Louisiana or not, so it's up to you to decide how to take advantage of the opportunities that are presented to you. It's amazing what eye contact, a smile, and the two words 'Geaux Tigers' can do to open a conversation when you see someone in LSU gear. My undergraduate degree at LSU and the alumni support along the way were instrumental in helping me to get to where I am today."
This story is part of the award-winning cover story from the Fall 2019 issue of LSU Alumni Magazine. If you would like to receive future issues of our print publication become a member of LSU Alumni Association.