IN INSPIRING HALLS BENEATH SHADY OAKS AND BROAD MAGNOLIAS, they made lifelong friends and valuable contacts and earned degrees that prepared them for successful futures. The Forever LSU instilled in their hearts and minds while at LSU forged a lasting connection to the campus and the city, and when Red Stick called, they returned with a commitment to help make the University and Baton Rouge ever better. Check out our first feature on seven LSU alumni who answered that call, as part of a series that was featured in the Fall 2019 LSU Alumni Magazine.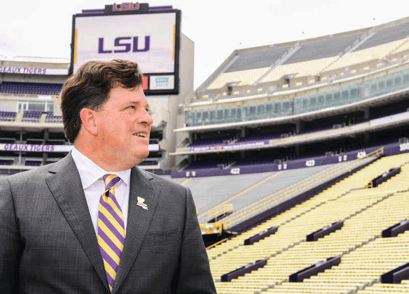 The media spotlight can be blinding when someone takes a high-profile position, particularly for those who value privacy and would prefer the spotlight shines on others. So far, new Director of Athletics Scott Woodward has managed the bright lights of public scrutiny with grace and imperturbable self-possession.
Woodward was greeted this spring by a flurry of media attention that certainly took up an enormous amount of time that, perhaps, he could have put to better use. His cool, unflappable calm defines him as a leader and his poise would make his mentors proud. Returning to Baton Rouge and LSU after fifteen years away, Woodward brings with him a wealth of experience and a refreshing outlook on life.

"I've lived a charmed life," Woodward explained, a life that began with a happy childhood in Baton Rouge. "I grew up in an upper-middle-class family. My dad is a dentist; my mom is a homemaker. I was well cared for and loved and supported."
When he was very young – he estimates he may have been six or seven – he began playing tennis competitively. He gave the sport up when he turned thirteen, in part because he felt it didn't suit him. "Ironically, tennis is an individual sport, and I'm more of a team guy," he said. "I like team cohesiveness, the whole team dynamic. I really didn't like the solitary nature of tennis, though the sport taught me a lot, and I'll always be grateful for it. In part, playing competitive tennis made me who I am, but it's like being alone on an island, and I like being around other people."
Woodward worked LSU football games as a child in the early 1970s, selling peanuts in the stands and later working in a concession stand. He had an entrepreneurial propensity and an interest in making money and when a family friend gave him the opportunity to hawk bags of peanuts, he took to it with enthusiasm. He was the youngest one working the stands and used his uncommon maturity and cuteness to charm the fraternity boys' dates into buying peanuts from him.
That experience also gave him access to LSU football and Tiger Stadium. "Growing up a young man in Louisiana, nothing is more important to you than politics and LSU football," he jokingly said. "I always knew I would go to LSU after high school," he said, and he did just that after graduating from Catholic High in 1981. "I never even considered any other schools."
He found the college student experience to be transformative. Majoring in political science, Woodward was mentored by Kevin Mulcahy, who saw promise in his young protégé. Woodward recalls that Mulcahy introduced him to area cultural events, concerts, foreign films, and restaurants while, at the same time, guiding him academically, as if the promising student were at a much smaller liberal arts institution. The power of learning had a profound impact on Woodward, who recalled once walking to his car after one of his political science classes so deep in thought that he couldn't remember how he got there.
"That was an 'Aha!' moment for me," he explained. "I thought, 'This class has captured me. How did I get here? Wow!' That's when I realized that's what it's all about – when you're that caught up in thought. Professor Mulcahy always emphasized, like the Greeks, we should live an examined life. I knew in that moment I had accomplished that goal."
Decades later, Woodward found himself back at his alma mater, working for the administration of Chancellor Mark Emmert. He joined Emmert's leadership team in 2000, managing external communications, including oversight
of government relations, communications, marketing, and corporate relations, which required coordinating several departments and a large group of people.
"I was very proud of what we accomplished at LSU before we left," he said. "It was something I will forever be proud of and happy about. Hopefully, we can continue those halcyon years. My experience has been that you take what you learn in life from a variety of experiences, and then you take it to the next level." He credits Emmert with being one of several important influences in his life. "I was very lucky in my career to be mentored by a lot of great people," he maintains, "including Mark Emmert, who is about as good as it gets as far as being a college administrator and leader. You soak up what you can from mentors, and you learn from them. At the end of the day, it's about putting teams and people together and having that vision to go where you want to go. You lead by example. That's how I approach my work, and it's what I learned from Mark."
In 2004, Woodward rejoined Emmert, this time at the University of Washington, where Emmert had assumed the presidency.
"When I left Louisiana, the decision was simple," Woodward explained. "Mark Emmert is one of those people I would follow to the ends of the earth, and the University of Washington is an incredible institution and has an incredible medical complex. I learned a great deal about the operations of a high-end research institution; if it's not the leader, it's near the top in NIH funding. My experience there was valuable professionally, and I loved it."
Woodward remained in Seattle even after Emmert left in 2010 to become the president of the NCAA. In 2008, Woodward moved from his original position as vice president of external affairs at UW to director of athletics, a position he held until 2016.
"I'm just glad I didn't screw anything up," he quipped. "While I was there, we rebuilt the stadium, we fixed a football program that was moribund – I'm very proud of those accomplishments, but it was part of a team effort. Everywhere I've been, my supreme goal is to leave the place better than I found it."
Woodward developed a leadership style that emulates his early commitment to teamwork. "I'm not an autocratic leader," he continued. "I've never viewed leadership as top-down. I view it as team stewardship. I'm more like the executive producer of a film. I try to put things together collaboratively. When the movie is released, you don't go to see me; you go to see the great acting, the great talent. That's what our student athletes and coaches are – our great talent. They're who you're there to see. At the end of the day, if you know my name, that's fine, but if you don't, no big deal. I just need to make sure that it's running right, that we're doing the right things based on the values of this institution."
In 2011, Michael K. (Mike) Young succeeded Emmert as president of the University of Washington and quickly became another major influence in Woodward's life. Young left the university in 2015 to become the president of Texas A&M and, in 2016, he recruited Woodward to College Station to serve as athletics director.
"When I decided to accept the position at Texas A&M," Woodward explains, "it was just time. I had a yearning to be back in this part of the world, and it was an excellent opportunity to continue to work with another great leader. To go to work for someone like that who is at the top of his game – top Harvard Law graduate who clerked for Chief Justice William Rehnquist, someone with enormous cache in the legal and academic worlds, and who was just a lot of fun to work with – was incredible. Besides, the position took me to a top school in the great state of Texas. All that combined, it was a siren call I just couldn't refuse."
Similarly, the call to LSU was one he couldn't resist. "I've never been one to have a 'plan,'" he said. "I'm more organic. It's not a step-by-step process for me."
Returning home to Louisiana was always in his future, Woodward admits, whether for a job or in retirement. That "job" just happened to be the position of director of athletics at his alma mater.
"The time away from my home state provided me with critical new perspectives, new ideas, new ways to do things," he said. "Ultimately, I go back to that descriptor – it's organic. You don't know how it happens or why, but it just becomes a part of you. In all the places that I've been, all the travels that I've had to campuses across the country, all of the world-class universities I have served supported by greater resources, no other school even comes close to LSU in what it means to the people of its state. It just becomes part of who you are.
"So many of us grew up with the parental wisdom that, 'This is your state university. I want you to be a part of it.' This thing we call Tiger Stadium is a gateway. It is often how people are first introduced to it. It's how I was introduced to it. It was a part of my childhood memories – selling peanuts, hanging out in Tiger Town as a kid, going to the movies at University Cinema, just spending time here. It just becomes part of your soul. It dominates every single thing we do in this state. Whether it's the small-town dentist, doctor, CPA, or businessman in Louisiana, by and large, they were educated at LSU, and they're the leaders and they're the people who make Louisiana great – it's the people."
And while Woodward won't be hawking peanuts this season in Tiger Stadium, he will be right where he should be – home.
This story is part of the award-winning cover story from the Fall 2019 issue of LSU Alumni Magazine. If you would like to receive future issues of our print publication become a member of LSU Alumni Association.