IN INSPIRING HALLS BENEATH SHADY OAKS AND BROAD MAGNOLIAS, they made lifelong friends and valuable contacts and earned degrees that prepared them for successful futures. The Forever LSU instilled in their hearts and minds while at LSU forged a lasting connection to the campus and the city, and when Red Stick called, they returned with a commitment to help make the University and Baton Rouge ever better. Check out our first feature on seven LSU alumni who answered that call, as part of a series that was featured in the Fall 2019 LSU Alumni Magazine.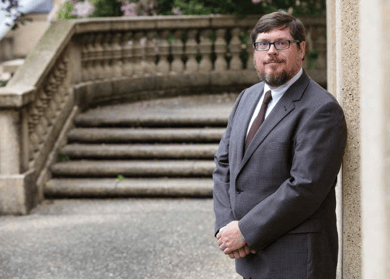 Hometown boy makes good – and then brings it back home to make an impact: Martin Johnson, dean of the Manship School of Mass Communication, holder of the Kevin P. Reilly, Sr. Chair in Political Communication, and professor of mass communication and political science, returned to Baton Rouge in August 2014. He was recruited from the University of California, Riverside, where he served as the chair of the political science department. Johnson earned his undergraduate degree in journalism from LSU (1991) and his Master of Arts (2000) and Ph.D. (2002) degrees from Rice University. In 2014, his book, Changing Minds or Changing Channels? Partisan News in an Age of Choice (University of Chicago Press, 2013), coauthored with Kevin Arceneaux, won the prestigious Goldsmith Book Prize. All of his professional achievements started in Baton Rouge and ultimately led him right back home.
Johnson grew up in the shadow of LSU, living less than a mile away and frequently riding with friends to campus. His parents were both schoolteachers – with degrees from LSU, he was quick to point out – so summers were spent with family, swimming at the Huey P. Long Fieldhouse pool, and reading. Because they lived so close to campus, and his mother was still working on her graduate degree, he recalls spending quite a bit of time on campus as a child. "Of course, I was a nerd (and still am)," he laughed, "so in middle school and high school, I would meet my friends at the Union during the summers – to study for Latin Club. Well, we would go over to Godfather's Pizza on Chimes Street occasionally, so it wasn't all study." He has fond memories of those days and realized early on that he wanted to be on campus as a student. That dream became reality when he received what was then called the Chancellor's Alumni Scholarship (now President's Alumni Scholarshp), a reward for his hard work and excellent academic preparation at Baton Rouge Magnet High School. The scholarship made the choice of LSU for at least his undergraduate education a slam dunk.
The scholarship paid for tuition, put him in communication with other students who were Alumni Scholars, and allowed him to work on campus – an opportunity that was perhaps the greatest benefit he could have received. As a student worker in the Manship School, he was matched with Jay Perkins, now an associate professor emeritus, who became a strong influence as Johnson chose his career path. Perkins, whose areas of expertise include investigative reporting and politics, sparked Johnson's interest in journalism and public affairs, introduced him to a network of professionals, and encouraged him in areas he had not previously considered. Johnson flourished under this mentorship: He became the editor of the Reveille and was actively involved in the school. In Johnson's current role as dean, he appreciates being able to meet the students who receive these scholarships because he understands from a personal perspective the impact the awards can make.
After graduation, he worked on several professional projects away from Louisiana for a time before finally deciding in 1997 to pursue graduate degrees at Rice. While in graduate school, he reconnected with Sherri Franks, whom he had met while both were undergraduates at LSU and who was working on her doctoral degree in history at the University of Arizona, through a network of mutual friends from LSU. They eventually married. Shortly after he received his Ph.D., he was offered an assistant professorship in the political science department at the University of California, Riverside, so the two moved to California. Sherri joined the religious studies department there.
At UC-Riverside, he moved up through the academic ranks, becoming a full professor, leading his department, and making lifelong friends in the process. Why would anyone leave California? I asked. Johnson had a ready answer: Louisiana is home. "We lived in paradise, that's true, but this is LSU," he said.
He still had ample reason to come back: He was offered the Kevin P. Reilly, Sr. Chair in Political Communication, an incentive he could not resist. "I've always admired the holders of this endowed chair," he explained. "Tim Cook was an early holder, and I was lucky to have known Tim. He was very generous with me as a junior scholar, and I was heartbroken at his untimely passing [Cook, 51, died in August 2006]. And Regina Lawrence, the next holder of the chair, and of course, Kevin P. Reilly, Sr., the chair's namesake – just being in the same sentence with these people is an honor." Johnson became dean of the Manship School in July 2018 after a competitive national search.
The opportunity at LSU also worked well with Johnson's research and academic interests, and he serves as one of five faculty in the Manship School who hold joint appointments with political science. He credits the vision of Jack Hamilton, former dean of the school, who helped position the school in the direction of media and public affairs, with making this formal collaboration between the two departments possible. Johnson pointed out that this unique arrangement, as well as collaborations and joint appointments with other departments, adds depth and quality to an already outstanding academic program. The school also maintains the Public Policy Research Lab, a highly respected center that has been involved in public policy research, service, and development at the state and national levels for seventeen years.
Asked about the changes in Baton Rouge since his childhood, Johnson mentioned something he attributes to Wayne Parent, who was a professor in the LSU political science department for many years until his recent retirement. Johnson, who took Parent's course in Louisiana politics as an undergraduate, recalled what a profound and lasting impact that course had on him. He explained that, in the context of Parent's course, most urban centers in South Louisiana outside of New Orleans were effectively suburbs. "That's probably the biggest point of contrast from when I was growing up in Baton Rouge. At the time, Baton Rouge had a much more suburban feel, while today it feels much more urban. It has a vibrant city center, and there's so much going on in downtown now. Baton Rouge has many more choices and options than it did before. The city seems much more cosmopolitan, more diverse than when I was a child growing up here."
These changes in the larger community around LSU also influence current students at LSU. Asked about how that difference affects these students, Johnson gave this example: "Our students go in a lot of different directions. Some stay local and become involved in journalism, politics, public relations, and advertising in the city, the state, and the region, but a lot of them end up in Washington, D.C. A group of fairly young LSU alums who all live and work there find ways to spend time together. They work on different things, on different sides of the political aisle, in different sectors
– but they've stayed friends, and they've stayed connected to each other. That's true in other geographic areas as well. Our students tend to find each other because LSU and the Manship School have a strong alumni community."
This story is part of the award-winning cover story from the Fall 2019 issue of LSU Alumni Magazine. If you would like to receive future issues of our print publication become a member of LSU Alumni Association.