IN INSPIRING HALLS BENEATH SHADY OAKS AND BROAD MAGNOLIAS, they made lifelong friends and valuable contacts and earned degrees that prepared them for successful futures. The Forever LSU instilled in their hearts and minds while at LSU forged a lasting connection to the campus and the city, and when Red Stick called, they returned with a commitment to help make the University and Baton Rouge ever better. Check out our third feature on seven LSU alumni who answered that call, as part of a series that was featured in the Fall 2019 LSU Alumni Magazine.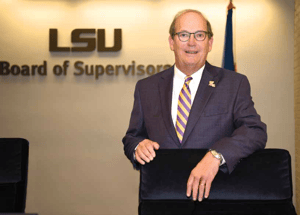 He's one of those people who never meets a stranger, who chats with the people in the row ahead of him at Alex Box and comes away with friends for life. Affable and self-effacing, Robert Dampf chose the perfect career when he took a slight veer away from the courtroom into the conference room to become a mediator. Now, after nearly forty years away, Dampf is bringing his substantial people skills back to Baton Rouge and LSU as a member of the LSU Board of Supervisors.
Dampf grew up close to campus. He and his best friend Jay Dardenne, whom he has known since they were both five years old, thought of LSU as their own playground. "LSU was just a giant park for us. We played on the Indian Mounds, we rode our bikes everywhere, we went to the Union – we were all over campus." Dampf remembers the first time he walked into the LSU Union and was thunderstruck. The two friends routinely wandered into LSU baseball games, which were then sparsely attended and cost next to nothing for two young, clueless boys. He also recalls how well attended the freshman basketball games were during his youth – Pete Maravich was getting LSU into the sports page headlines regularly. But the most amazing "end-all, be-all" experience for a boy growing up so close to the LSU campus was LSU football. Even today, he confided, he and Dardenne turn to each other when the Tigers are on the field and say, "Is there anywhere else in the world you would want to be?"
As much as he loved LSU even then, however, Dampf's parents were opposed to their sons going to LSU as undergraduates. They felt it was important for their children to leave their hometown and gain independence away from home. For that reason, Dampf's older brother Jack went to Tulane. Dampf visited Jack one weekend and decided he wanted to set his own course somewhere else. He elected to attend "a Tulane-like place, sort of in the neighborhood, which ended up being Southern Methodist University." But, he confessed, "When I graduated from Baton Rouge High in May 1972, I enrolled at LSU to go to summer school because I wanted to say I attended LSU."
He again had that opportunity when he returned to LSU to attend law school. That experience set him on the course that would become his life's work. He has fond memories of those days on campus and recalls, in particular, the old campus apartments for married students. "In 1978, when Courtney and I first married, we lived in Married Student Housing," he explained. "I tell people about that old, roach-infested dwelling on the west side of campus. Forty years later, we live in an old, roach-infested dwelling on the east side of campus. I tell my wife she didn't exactly hitch her wagon to a star because I didn't take her very far. I just took her from the west side of campus to the east side to another old house full of roaches." He recalled that the rent for their apartment was "$99 a month, all bills paid." He worked as a law clerk, his wife was teaching school, they had a couple of old, beat-up cars their families had given them, and they had about $500 of disposal income each month. "We have never been that rich since. I peaked financially when I was in law school," he quipped.
Shortly after receiving his law degree, he and Courtney moved to Lake Charles, where Dampf practiced law for the next thirty-eight years. Initially a trial lawyer, he found his true calling when he wandered into what was then a new area of practice. "In 1979, when I graduated from law school, if you had said to any graduate, 'Are you interested in mediation,' the response would have been, 'What are you talking about?' In 1989, when I had been in practice for about ten years, a friend and mentor told me, 'There's a new thing called mediation, and you need to get some training. There's a weekend session open in New Orleans, and you need to go.' So I went to the training session and decided I was going try it. In 1989, I took three cases; in 1990, I had ten cases; in 1991, I had fifty cases, 1992, 100 cases, 1993, 150 cases. It just exploded. By 1994, I gave the rest of my practice to my partners because I decided I wanted to do this every day. Even now there are probably only fifty to 100 really active mediators in the state, and probably only ten of us who are booked every day. There are people out there who are just as talented as I am, but the advantage I have is that I've been doing this so long. I was just lucky enough to be in the right place at the right time."
He concedes that he has the personality for mediation. "I have a pretty good ability to bring people together," he said.
"It's more art than science, working to validate those things that should be validated, challenging those things that need to be challenged, and ultimately, building consensus."
Beginning in the early 2000s, Dampf started working more in the Baton Rouge area with his partner, John Perry. Between 2007 and 2018, he and his wife lived in both places part-time. By then, they had many family members, including children and grandchildren, in Baton Rouge. When his mother-in-law decided to leave San Antonio to be closer to her family, she asked where that would be – Lake Charles or Baton Rouge. The couple then decided it made sense to move permanently to Baton Rouge, though leaving was bittersweet. "Lake Charles is a terrific place. We raised our kids there, we made great memories there, we still have great friends there," Dampf explained, "And it will always have a special place in our hearts."
Dampf's background in consensus building helps him in his interactions with other board members in that he sees how passionate all his fellow board members are in their love for LSU and in doing what they feel is best for the University. "We often disagree," he said, "but we're never disagreeable. We're all motivated to make progress for LSU and to help the administration. We have some terrific people working at LSU, and it starts at the top. And what I appreciate most about them is their hearts are always in the right place. For example, at Thanksgiving, our kids are all gone, so we went over to the International Student house to help serve dinner, and there was King Alexander up to his elbows in serving dinner to these students. He's very student-oriented, a true servant who works well with all the many constituents – alums, wealthy donors, faculty, students, parents – and with the myriad issues that come with the job. Aside from being governor, being president of LSU must be the second toughest job in the state of Louisiana."
Like Alexander, Dampf is a hands-on kind of person, so when the board began talking about the LSU Online program, he decided, "I want to see what this is all about." So he enrolled in the master's program in higher education and signed up for a seven-week course on the history of higher education taught by LSU Flores MBA Director Dana Hart. "He is a fabulous teacher!" Dampf said. "I would not have believed that an online class could have come alive the way Dr. Hart made it come alive. Because the students in the class are all around the country, I'm one of the few who actually live in Baton Rouge, so I knocked on his door one day and said, 'I'm one of your students.'"
Describing himself as "technologically deficit," Dampf related that he needed help with the enrollment process, so he just showed up on the doorstep of the LSU Online office in Pleasant Hall with a cookie cake one day. "They could not have been nicer. They walked me through the process, helped me fill out the forms, and transferred me to the 'learning concierge,' Niki Brandi, who was also terrific." While he ended up switching to auditing the course, the experience gave him first-hand knowledge of the program and allowed him to report to the board and to Alexander on the quality of the staff and faculty involved.
When asked what he feels is LSU's best attribute, Dampf became uncharacteristically quiet. He said, "I think about this a lot. We're a school, but if you think we're just a school, you're missing the boat. In a sense, we are the essence of Louisiana. We're culture, we're sports, and obviously, we're education. We're a place where a guy, who never went to LSU and who lives fifty miles from here, has an LSU sticker on his car and has tremendous pride. People at other schools feel the same way, I know, but we are the Flagship. I think about my dad coming out of World War II and going to LSU on the GI Bill. That's why I was pretty passionate about this 'holistic admissions' issue. While that was a very controversial issue, it affected very few students, maybe 250 or so. Of those 250 kids, maybe half of them became LSU Tigers from some small town in North Louisiana, and that's life-changing. I think about kids I knew in Lake Charles who weren't strong enough academically for LSU, so they went to Baton Rouge Community College for two years to work their way into
LSU because it was their dream. Our best attribute is that we can be so many things to so many people, whether just as sports fans or as an aspiration. LSU is so many things to so many people."
This story is part of the award-winning cover story from the Fall 2019 issue of LSU Alumni Magazine. If you would like to receive future issues of our print publication become a member of LSU Alumni Association.