The LSU Alumni Magazine is published four times a year, in March, June, September, and December. One hundred thousand copies of the magazine are printed annually for the enjoyment of readers across the country and around the world.
We want your news! Who are you? Where are you? Share the news of your new job or promotion, your wedding, honors, awards, new babies and other milestones with fellow alums. And LSU Alumni Magazine accepts stories, articles and photographs to be considered for publication. Email Jackie Bartkiewicz
You will receive the magazine four times a year with a contribution of $50 or more for an annual subscription, which includes membership in the Association.
2017 Online Editions
---
SPRING 2018 ISSUE
Winter 2017 issue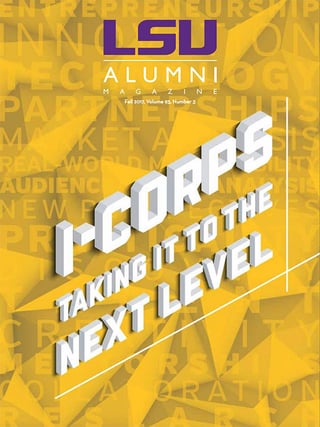 The Fall 2017 issue highlights LSU's designation as a National Science Foundation I-Corps Site to tap into NSF's resources to educate faculty, students, and the community about entrepreneurial principles and to plant the seeds for the next level of economic development in Louisiana, the nation, and the world.
Click Here To View The Online Version >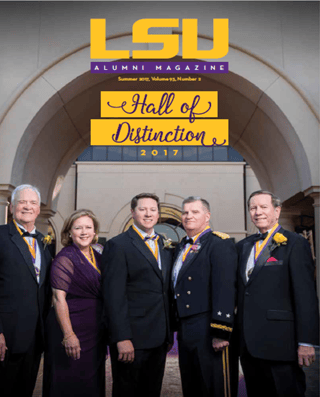 The Summer 2017 issue highlights the 2017 LSU Alumni Association Hall of Distinction. The event was held on Friday, April 7, 2017. The honorees included: Major General Glenn H. Curtis, Brandon Landry, Mary Landrieu, Jake Netterville, W. Shelby McKenzie, and Dr. Charles Smith.
Click Here To View The Online Version >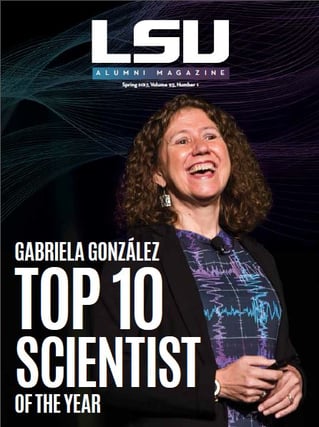 The Spring 2017 issue highlights LSU physicist Gabriela González, who played a central role in a groundbreaking discovery last year –the first-ever detection of gravitational waves, predicted by Albert Einstein's 1915 general theory of relativity.
In LSUAA News, you'll meet the 2016-2017 President's Alumni Scholars and Flagship Scholar recipients and the new members of the Association' s Global Board of Directors. Find out more about – and how to donate to –the LSU Food Pantry and get the latest sports news from coaches Paul Mainieri, D-D Breaux, and Ed Orgerson in Around Campus. And, in Tiger Nation, find out what former classmates are up to, read about "Chef Tailgate" Jay Ducote, Symetra Tour sensation and former Lady Tiger Madelene Sagström, and Father Tom Shuler, who answered the call to priesthood at age sixty-nine.
Click Here To View The Online Version >
---
To view older editions, Click Here To View The Archive >