IN INSPIRING HALLS BENEATH SHADY OAKS AND BROAD MAGNOLIAS, they made lifelong friends and valuable contacts and earned degrees that prepared them for successful futures. The Forever LSU instilled in their hearts and minds while at LSU forged a lasting connection to the campus and the city, and when Red Stick called, they returned with a commitment to help make the University and Baton Rouge ever better. Check out our second feature on seven LSU alumni who answered that call, as part of a series that was featured in the Fall 2019 LSU Alumni Magazine.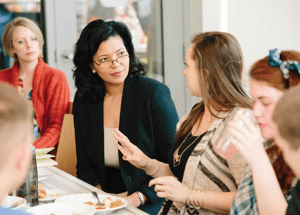 A role model not only for her daughter, but for all young professional women, Kim Hunter Reed has a winning strategy. She reached a plateau early in her career in Louisiana, found greater opportunities away from the state, and parlayed those opportunities into a road back home that led to even greater heights. She found success working with a U.S. president and in the inner circle of Colorado state government before being called back to her home state. In 2018, Reed became the first African American woman to lead the Louisiana Board of Regents. An optimist at heart, Reed knows from first-hand experience that a person's life doesn't always take a linear path. And sometimes you just need to leave to come back.
Born in Houston but raised in Lake Charles, Reed has always been an active participant in the world around her. An only child, she recalls, "I was involved in everything – from debate team to dance to running track, I just had to be involved. My parents were always there, cheering me on." That high energy and competitive spirit also propelled her to excel academically from an early age, and she remembers, when she graduated from high school in 1983, "I had a long list of schools I wanted to visit, and my parents had a short list of schools where they wanted me to go – an in-state list at that, because I was their only child and they wanted me to be nearby. LSU was the natural choice."
And Baton Rouge was already a special place for Reed. "I grew up visiting Baton Rouge because my grandparents – my mother's parents – were here," she explained. Having family nearby was an advantage for a young woman from a small town coming to a campus the size of LSU. "I graduated from a class of about 100, so the campus seemed massive to me," she recalled. "But I never felt concerned that I wouldn't fit in or that I wouldn't be comfortable because my grandparents were less than five minutes away. My great-aunt lived close as well, so I knew I had family right around the corner – literally."
Besides family, Reed discovered that she had a strong network of support on campus. When she arrived at LSU in fall 1983, she found the University didn't have a large minority population, but that small group had strong advocates who made them feel at home. "I remember Huel Perkins in the president's office, Carolyn Collins in Junior Division, and Mr. Dyer and all of the Physical Plant people who would ask me every day, 'How was your class?' or 'How was your test?'" she explained. "People who looked like me checked on me, and people who didn't look like me checked on me, and that made me feel at home."
"At LSU, I felt like I was in a place where people really believed that you would be successful," she recalled. "Even when I struggled in classes – I remember calling my grandmother and saying, 'You need to pray for me. I have this hard test.' Because I was that kid who would stress but then make an A. And she would say, 'Well, you know, the Lord helps those who help themselves, so I'm gonna pray, but you better study.' I always believed that people expected great things, and it was up to me to live up to their expectations."
Feeling supported gave her the confidence to become completely immersed in campus life. She served as a counselor in her dorm, was in a sorority, and joined other groups on campus. In particular, though, she was delighted to find both formal and informal debates were going on every day at LSU among students from different cultures and backgrounds. "The college experience was so eye-opening for me – different people, different cultures, and very different perspectives on the same reading or assignment, whether it was in the classroom or Free Speech Alley," she remembered. "Also, I had professors who enjoyed the spirit of debate and asking students to take opposing positions, which gave me a chance to see issues from other points of view. In one of my English classes, we had great discussions. Jesse Jackson was running for president at the time, so there was a debate about whether an African American could be president of the United States." (In a happy twist of fate, Reed was called upon to serve in the administration of Barack Obama more than thirty years later.)
"I just soaked it all in after being in such a small high school in a small community," Reed continued. "We were challenged to think critically, to ask good questions, to hone our arguments and to participate and engage. The ability to know how to think, how to analyze, how to sift through large amounts of information to get to the nuggets that matter was important for me. Being able to see issues from a variety of perspectives and to actively listen helps to move policy forward; that's another thing I learned from classes at LSU. I had so many growth opportunities there. And then, historically, knowing that my grandparents would not have been allowed to enroll at LSU, for me to have the opportunity to attend, to graduate, and to even go back and be a commencement speaker [in August 2018] at my alma mater is very special."
Immediately after she graduated in 1987 with a degree in broadcast journalism and a minor in business, Reed became a reporter for WBRZ-TV, and by the time she was twenty-four, she had become a news anchor for KPLC-TV in Lake Charles. At twenty-six, she was serving as the press secretary for Governor Edwin Edwards, at the time the youngest to do so in the state's history. She also returned to LSU, working on a master's degree in public administration (MPA), which she received in August 1995. "In my master's program, Dr. Jim Richardson was a huge mentor to me," she recalled. "Dr. Richardson had a significant impact on all the students who were in that program. I have a great appreciation for his contributions to Louisiana as a public servant and a mentor."
Shortly afterward, Reed shifted her career path. Asked why she changed direction from broadcast media to higher education, Reed explained, "My grandmother was a teacher for thirty years in Brusly, La., and she was the torchbearer in our family for education. My parents were educators as well. I was blessed to be born into a family of educators; it's in our DNA, this idea of service and education, so that has become my life's work. I went into media – was a news anchor and reporter – but my grandmother said, 'It's time for you to come back to the family business.'" And so, of course, she did.
She earned a doctorate in public policy from Southern University and served in a number of high-profile postsecondary education positions in the state and worked with HCM Strategists, a public policy firm in the Washington, D.C. area, before being tapped in 2016 to serve as deputy undersecretary at the U.S. Department of Education working on postsecondary diversity and inclusion in the Obama administration. "I met so many snappy-smart people in the Department of Education, and there was always a buzz of activity around how to advance good policy. It was a blessing and an amazing experience," she said of her time there. Following her work in Washington, D.C., Reed was asked by Colorado Governor John Hickenlooper to serve as the executive director of the Colorado Department of Higher Education, a position she held until her return to Louisiana in 2018.
Recruited from Colorado to become the Commissioner of Higher Education with the Louisiana Board of Regents, Reed came into the position with important tools she gained during her time away. From the U.S. Department of Education experience, she brought the belief that talent is to be developed broadly, that we see talent in every community. From her work in Colorado, she carried a strong emphasis on collaboration and building networks. She is currently the only female leading higher education in the nation who has served in that role in more than one state.
Reed has a realistic view of the challenges that come with her job and has one simple but impressive ambition: "Our big goal is to increase educational opportunity in Louisiana," she said. "With the current knowledge economy, a person needs a high school diploma and more. And half of our adult population has a high school diploma or less. My job is to be an advocate for talent development, to talk about the value of education, and to make sure that there are affordable, accessible, high-quality options for all of our citizens. Of course, the Board of Regents does not graduate even one student, so our job is to set good policy, to elevate conversations that matter, to invite people to be part of the conversation and part of the solution."
While she was away, her family was still in Baton Rouge, so she stayed anchored to the area through them. "My husband, daughter, and mother-in-law did not move with me to D.C. or to Colorado, so I flew back and forth," Reed explained. "The decision to move was difficult for me, but my husband was so supportive. I discussed it with my daughter, who was fourteen at the time, and told her what I wanted to do and asked her what she wanted to do. She said, 'I want to stay at my school and with my volleyball team,' so we made that work."
"When I left Louisiana, I knew I was coming back eventually," Reed concluded. "There is no place like home. We have deep roots in Louisiana. For me, it's an honor and a blessing to be able to take all that I have learned on my journeys and come back to Louisiana to apply that in a collaborative way with the people who are doing the work each and every day. I did not want to leave my state, but at some point, I realized that the world is not flat, and you can step out of Louisiana, get great experiences, and return. A career can be zig-zaggy. It's not a linear progression for some of us. You make the list of things you think you want to do, and then life happens. You have to have the confidence and the ability to leave, to do other things and then know that eventually you may get the call to come back home."
This story is part of the award-winning cover story from the Fall 2019 issue of LSU Alumni Magazine. If you would like to receive future issues of our print publication become a member of LSU Alumni Association.