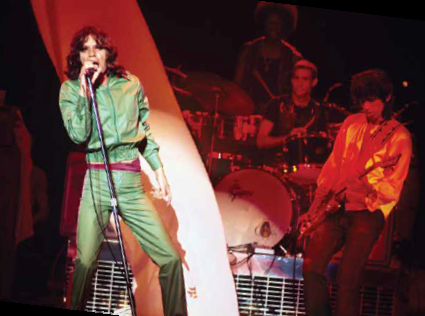 Rolling Stones, June 1975. Photo by Jim Zietz
BATON ROUGE FANS OF THE ROLLING STONES COULD NOT BELIEVE THEIR GOOD LUCK. The Louisiana Superdome's opening had been delayed. The bad boys of rock 'n' roll would open their "Tour of the Americas '75" in Red Stick in the LSU Assembly Center. Two shows! More than 1.5 million ticket holders would see The Stones in North, South, and Central America, but Baton Rouge would see them first. "BR has arrived," the Gumbo crowed. Mick Jagger called the show in the little dome a tune up for the tour.
Compared to the Superdome, the Assembly Center was like a honky-tonk with thousands of young people and young-in-the-moment people jammed inside. It was intimate, like looking over Mose Allison's shoulder as he played the piano in the confines of old Chief's on Highland Road.
The boys jumped onto a blossom-shaped stage as what resembled a giant, air-filled condom waved howdy to fans who moved like a field of wheat on the floor of the arena. When Mick pranced onto the wings of the stage, young women dancing between seats in the bleachers reached out as though to touch his fingertips. A San Antonio newspaper – San Antonio was the stop after Baton Rouge – said of the waving condom, "Born in Baton Rouge, castrated in San Antonio." No El-wavo for San Antonio.
Before the Superdome and the Centroplex (Raising Cane River Center), the casinos and smaller cities' "activity centers," the acts that played the Assembly Center, before it was renamed for Pistol Pete Maravich (PMAC), read like a directory of American entertainment. Governors held their inaugural balls in the space-ship-looking building across the road from Tiger Stadium.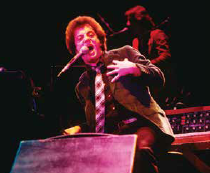 When we asked for people's memories of the Assembly Center, it was the entertainers they remembered best, who they attended the concert with, and hearing someone named Bruce Springsteen for the first time. A few have photos that place them at a concert but no memory of being there. Most have their memories intact years later as they take grandchildren to basketball games in the PMAC or walk past its sweeping ramps to see Mike the Tiger. Any LSU child will tell you that if you drop a quarter on one of the ramps, let it roll. You'll kill yourself trying to pick it up.
Billy Joel, November 1978.
Today, Karen Martin is editor of The Advocate's lifestyle and entertainment sections. Forty-two years ago, she was a young woman about to be introduced to Springsteen's America. "I don't think we'd heard of him," she said. "We went to the show, probably because tickets were just $6, and we were blown away. Everyone was going, 'Who is this guy?'"
Musicians weren't much older than their fans. Some played two-hour "sets," no breaks. Linda Ronstadt was great, but she wasn't Mick or Bruce when it came to musical marathoning, Martin said. "She never once talked to the audience; she did an hour and was gone."
A year or two later, it was again the price to hear Bruce that had Carey Lockhart, now a CPA living near Richmond, Va., plunking down $7.50 for a ticket. That was the price of one of the best seats, Lockhart said. This summer, Lockhart paid about 100 times more to hear Springsteen on Broadway. In December 1978, Assembly Center management let Lockhart, with a second-row seat, take flash-less photos with a 35mm Nikon. Lockhart has the photos, along with the stub of the ticket obtained by standing in line overnight. In an undated photo with no description in a 1970s Gumbo, students are seen tent camping in the fog around the bottoms of the Assembly Center ramps. Lockhart heard Billy Joel, the Electric Light Orchestra (ELO to the faithful), and Bob Dylan at the Assembly Center.
Eric Clapton, November 1976.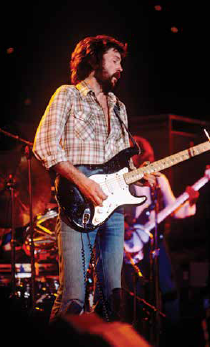 Lockhart, Martin and other alums who shared their memories knew the Assembly Center when the acts read like a roll call of American pop musicians.
Among those who jumped, glided, and gyrated into "The Deaf Dome" were Alice Cooper, Arlo Guthrie, Bad Company, Barry Manilow, Berlin, Billy Currington, Billy Joel, Bob Dylan, Bon Jovi,Boston, Boz Scaggs, Bruce Springsteen, Bush, Cat Stevens, Charley Pride, Chicago, Commodores, Crosby, Stills & Nash, Culture Club, David Bowie, Def Leppard, Diana Ross, Doug Kershaw, Eagles, Earth, Wind & Fire, Electric Light Orchestra, Elton John, Elvis Presley, Fleetwood Mac, Foghat, Garth Brooks, George Harrison, George Strait, Grateful Dead, Guns N' Roses, Harry Chapin, Heart, Jackson Browne, Jimmy Buffett, Joan Baez, John Denver, John Mellencamp, Joni Mitchell, Journey, KC and the Sunshine Band, Kenny Rogers, KISS, Led Zeppelin, Liberace, Linda Ronstadt, Lionel Richie, Little Big Town, Marvin Gaye, Metallica, Neil Diamond, Neil Young, Olivia Newton-John, Oak Ridge Boys, Pat Benatar, Peter Frampton, Pink Floyd, R.E.M., REO Speedwagon, Statler Brothers, Rod Stewart, Skid Row, Sonny and Cher, Sting, Styx, The Doobie Brothers, The Go-Go's, The Jackson 5, The Moody Blues, The O'Jays, The Rolling Stones, The Who, The Wreckers, Tina Turner, U2, Van Halen, Willie Nelson, Yes, and ZZ Top. (Pete Maravich Assembly Center. Wikipedia, The Free Encyclopedia. Retrieved Dec. 7, 2018.)
Bob Dylan, November 1978.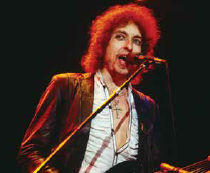 In 1977, the rock band Lynyrd Skynyrd was in a plane crash on its way to play at the Assembly Center from the band's last show in Greenville, S.C. Several band members, including lead singer Ronnie Van Zant, died in the crash. A brash, young Eddie Murphy and a flippy-dippy weatherman named George Carlin trod the boards of the Assembly Center.
The Assembly Center, built at a cost of $14 million, opened in 1972. In 1988, it was renamed for basketball phenom Pete Maravich, who never played college ball in the building that bears his name but did play in the building in an exhibition game with his Atlanta Hawks teammates. Maravich raised the popularity of basketball at LSU sufficiently to give the University justification for replacing the John M. Parker Agricultural Center, "The Cow Palace," as LSU's premier gathering place for big events was called. In the Ag Center, students filed through livestock chutes on their way to graduation and life beyond the Ole War Skule.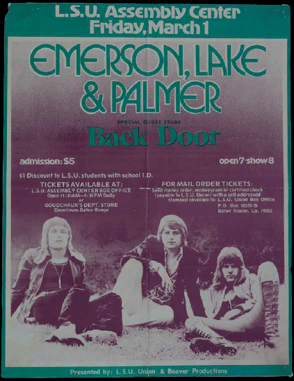 Students bought tickets to shows, and they earned money working at the Assembly Center. Some of them parleyed their student jobs into careers in the entertainment business, said Will Wilton, director from 1981 to 1996. Wilton retired from the Ernest N. Morial Convention Center in New Orleans. "It was great," Wilton said. "We booked 250 event days a year with a skeleton staff."
While most mission statements were just words on paper, the Assembly Center's mission statement was simple and real, Wilton said. "There was a major swing at LSU," he said. "We came up with a mission statement that included the building, the University, and the athletic department."
Kids who started off as stage riggers on student wages went on to run convention centers and concert halls around the country, Wilton said. "A guy from Plaquemine, Max, became Billy Joel's tour manager. He left with Springsteen's group one night."
Mike Matassa shares a poster and an Instamatic photo from an Emerson, Lake & Palmer concert. "The hair styles in front of us are interesting; you really can't tell the boys from the girls, "he writes.
Built by Guy Hopkins Construction of Baton Rouge with design by Tom Holden Architects of Baton Rouge and RDG Sports of Des Moines, Iowa, the PMAC played little sibling to Tiger Stadium in aerial shots of the campus. The facility has been managed by LSU Athletics since 2004. The white-topped dome plays host to graduations, convocations, governors' inaugural balls and LSU basketball, along with volleyball and gymnastics. The building seats 13,215 with 11,230 permanent seats on two levels. Another 2,000 seats are provided on retractable risers.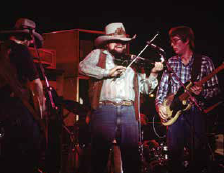 After Hurricane Katrina in August 2005, the building, with 800 beds, became the largest triage and acute care field hospital in U.S. history. Helicopters landed next door at Bernie Moore Track Stadium. Hurricane victims were either transferred to other hospitals or housed in nearby Carl Maddox Field House. The PMAC field hospital was staffed by volunteers, ordinary people, and medical personnel.
Carey Lockhart has the stub of his 1978 Bruce Springsteen ticket,
obtained by standing in line overnight.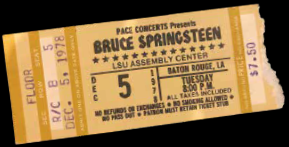 Charlie Daniels Band, November 1976.
Bart Schmolke's memories of the Assembly Center include The Eagles, Led Zeppelin, and Eric Clapton. M. Diamond remembers Chicago, Elton John, Village People, Barry Manilow, Kenny G, Peabo Bryson, Gloria Estefan, and the Miami Sound Machine.
For Samuel Moore, it was the Eagles Long Run concert that opened with Hotel California in pitch black darkness suddenly broken by thousands of tiny flames from cigarette lighters that burned throughout the song. Moore called it, "Electric." And Bruce again – Springsteen, Born in the USA Tour – two-and-a-half hours, no break, two encores, ending with "Santa Claus is Coming to Town." It was the first Saturday in December 1984.
Longtime LSU photographer Jim Zietz shot photos for the Reveille and the Gumbo when he was a student. He worked or attended concerts by Eric Clapton, The Stones, Dylan, The Eagles (twice), Springsteen, Billy Joel, Led Zeppelin, Ronstadt, Rod Stewart, Frank Zappa, Joni Mitchell, Harry Chapin, Foghat, Bowie and, change of pace, Red Skelton. Zietz' status as an official photographer got him in free to most concerts. Usually, he brought a camera. "There were also concerts in the Centroplex," he said. "We put (the photos) in the Gumbo, so we got passes to those shows, too. Fleetwood Mac and Genesis come to mind. The good ol' days."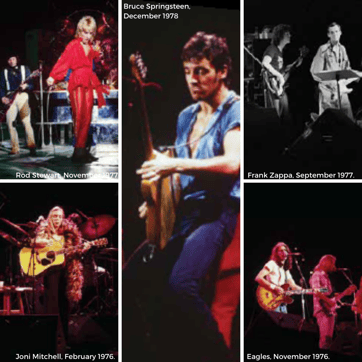 Bill Hite, director of the LSU Union Theatre and man in charge of the Pop Entertainment Committee, booked shows at the Cow Palace and, then, the Assembly Center from 1970 to 1980. He remembers a show by "Chicago" as a mess, with thick, low clouds of dust rising from the dirt floor that rodeo clowns chewed with their baseball spikes as they ran for their lives from enraged bulls.
The University made money on the big name acts that played the Assembly Center, Hite said. "We made 10 percent of the gross, the building got paid as well as the Pop Entertainment Committee."
One June day in 1975, Hite got a call on the desk phone in his office. The caller, whose voice Hite recognized, wanted Hite
to measure the distance "between the dashers," the puck-proof windows that protect hockey fans from the game of hockey.
"We don't play hockey in here," Hite said.
Then, measure the floor of the arena from side to side, the caller said.
"Who you bringing?" Hite asked.
Can't say, said the caller.
"The Rolling Stones will do extremely well here," Hite told the Stones' stage manager.
The Stones played an afternoon concert and an evening concert, recalled former Assembly Center ticket manager Tom Wilton, Will's younger brother. When The Stones got to Baton Rouge, it was without their lead guitar player. When the musician arrived, the band had to rehearse. The Rolling Stones, "the greatest rock and roll band in the world," rehearsed in an empty Assembly Center with Bill Hite sitting front row center.
"I tell that story," Hite said, "and people say, 'Right.'"
Ed Cullen, an LSU journalism graduate, is author of Letter in a Woodpile, a collection of his essays for National Public Radio's "All Things Considered." He is retired from the Baton Rouge Advocate where he wrote the Sunday column "Attic Salt."
This story is part of a feature story from the Spring 2019 issue of LSU Alumni Magazine. If you would like to receive future issues of our print publication become a member of LSU Alumni Association.