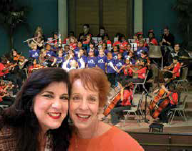 Jody Hanet, left, Kids' Orchestra executive director, and founder Nanette Noland.
Photo by Amber Broussard/Kids' Orchestra
One spring evening in 2010, Nanette Noland clicked on the television to watch a 60 Minutes story on the British Petroleum Deepwater Horizon disaster. In the same broadcast, there was a story about a musical program for poor children in Venezuela being brought to Los Angeles. Why not Baton Rouge? Noland, CEO of the Powell Group, asked herself. "My daddy said if I was going to live in Louisiana," Noland said, "I should go to the state university so no matter where I went in the state I would know people."
Noland's great-grandfather started a rice mill a hundred years ago that became the Powell Group. The Lake Charles milling operation, one of the world's largest, Noland said, includes other agricultural interests, land management, real estate, and radio stations.
Noland (1980 BACH H&SS) had the contacts her father had suggested, many of them in Baton Rouge. Within days of switching off her television that evening, Kids' Orchestra existed as an idea. The idea, Noland said, was not just to put musical instruments into the hands of poor children but to cross-pollinate an elementary school-age orchestra with children from families across the economic spectrum of Louisiana's capital city.
Kids' Orchestra was about fifty students in four or five schools when another LSU graduate, Jody Hanet (1986 BACH M&DA), signed on about seven years ago as the orchestra program's second executive director. Noland knew of Hanet (pronounced "ah-nay") from St. James Episcopal Church where the businesswoman is a parishioner and Hanet was making a name for herself as director of St. James' children's choir. What most people in Baton Rouge knew of Hanet was but the tip of the baton.
Hanet, the mother of two sons, had been doing this sort of thing – growing organizations for children – for twenty-six years as "I followed my husband" Michel Hanet's "career around."
From New Jersey to Arizona, Hanet, helped start a private school to include children with learning difficulties, took the time to get a masters in educational leadership, started a community choir, grew a church choir from eight children to 120, and was one of the conductors of the seventy-five-year-old Phoenix Boys Choir.
Hanet knew how to do what Noland envisioned, but it would take lots of money, mainly money from foundations like Baton Rouge Area Foundation, Pennington, and wealthy individuals to start. As time went on, Kids' Orchestra donors were often people who weren't wealthy but liked the idea of a children's orchestra that would bring Baton Rougeans together, Hanet said.
Today, Kids' Orchestra runs as afterschool music program in six program sites across East Baton Rouge Parish in addition to an honors program where students from across EBR come together to practive and perform in an ensemble setting.
Hanet's interest in large, performing groups goes back to her flag corps and choir days at Baton Rouge's Belaire High School.
Noland describes the growth of Kids' Orchestra under Hanet's leadership. "In July and August of 2013, we went from fifty kids to 500," Hanet said. "Schools and parents were calling. At 800 kids, we stopped the madness." Kids' Orchestra currently serves 350 students across East Baton Rouge Parish.
The success of Kids' Orchestra was like free ice cream on a blisteringly hot day. The orchestra, its after-school practices and musical instruction, loaned instruments, transportation, homework tutoring, and after school meals are offered to students on a sliding tuition scale according to household income. "Eighty-three percent of the families pay something," she said. "It could be as little as $10 a semester. Or $800."
The East Baton Rouge Parish School District, the City of Baker School System, and the Zachary Community School System all provide funding to support the afterschool program in their areas. Additional funding comes from other community partners, such as Capital Area United Way and the Arts Council of Greater Baton Rouge, as well as business, foundation, and individual donors.
If Baton Rouge has public schools in need of help, it also has an abundance of students just waiting to sing in choirs and play in bands and orchestras, Hanet explained. "It's meeting a need, then marketing that need," she said. "We are in a musical desert for kids in Baton Rouge. Kids' Orchestra provides the "creative outlet," she said, "that has been taken away from our children."
With her know-how and Noland's zeal, Hanet started calling principals to arrange "instrument petting zoos." Into the hands and arms of elementary school children went violins, violas, cellos, string basses, flutes, trumpets, trombones, clarinets, and percussion instruments. Little kids get a foundation in music literacy that includes reading music. The younger children are introduced to bells, the xylophone, drums, singing, and dance.
Kids' Orchestra employs 30 Teaching Artists and 2 Honors Program Directors. Teaching Artists predominantly include community musicians and LSU music students.
"Overall, Louisiana has a poor strings program for middle schoolers," Hanet said. "We might expand to middle schools but not high schools. Towns come to us, now, and we say, 'It's about funding.' But you have to start young. Learning music is like learning a language." These children don't have to end up in a band on late-night television or first violin in a big city's orchestra to have gotten something from Kids' Orchestra. Studies suggest their musicianship increases classroom performance by up to 15 percent, Hanet said.
Grants make up a big part of the just under $1 million budget, but donations from businesses and individuals aren't inconsequential in the growth of Kids' Orchestra. A woman donor told Hanet that she was giving money for the classical music audiences of tomorrow. Other donors, mindful of the thoughtful mixing of children from different socio-economic backgrounds, put it this way said Hanet: "We like the idea of healing Baton Rouge."
Ed Cullen, an LSU journalism graduate, is author of Letter in a Woodpile, a collection of his essays for National Public Radio's "All Things Considered." He is retired from the Baton Rouge Advocate where he wrote the Sunday column "Attic Salt."
This story is part of a story from the Summer 2019 issue of LSU Alumni Magazine. If you would like to receive future issues of our print publication become a member of LSU Alumni Association.