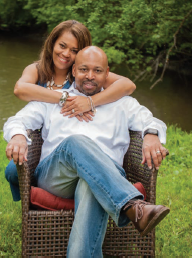 Charles and Kim Bernard at home in Vernon Hills, Ill.

You don't have to adopt to give a child a family.
The idea behind the national charity Gift of Adoption made sense to Charles Bernard (1992 BACH H&SS). The senior Walgreens executive and his wife, Kim, had thought to adopt a child early in their marriage. Though the Illinois couple, the parents of three children, ultimately did not adopt, Gift of Adoption has allowed them to help children find homes.
Bernard, who is on the adoption charity's board, says the Gift of Adoption Fund provides grants of up to $10,000 toward adoption expenses. The fund provides grants that help keep siblings together or prevent siblings from aging out of orphanages or foster care, as well as grants for families trying to adopt children with medical conditions.
Growing up in Lake Charles in what Bernard calls "humble beginnings," the obstacles he had to overcome were nothing compared to what children without families face, he said.
Children who grow up outside families have a much higher rate of mental illness, criminal conduct and homelessness.
"Only 2.5 percent of children who grow up in foster care graduate from a four-year college," said Bernard, citing a recent study by the Casey Foundation.
"Nearly 25 percent of Americans, about eighty million people, say that they have seriously considered adoption for their own family." Bernard said. "But only about 2 percent complete the process, citing many barriers, one of the primary ones being the costs associated with completing an adoption. That's what motivates me."
Told by doctors that it was unlikely that he and his wife could have children of their own, the Bernards began researching adoption. Within a year of their marriage, Kim Bernard gave birth. Two years later, she had twins. The doctors had been wrong.
"My career had taken off," Bernard said. "We moved five times in ten years. We never got back to adoption, but we kept having the conversation."
The Gift of Adoption Fund was begun in 1996 by Gene and Lucy Wyka of Grafton, Wis. Response was so great the couple turned Gift of Adoption into a public charity in 2001.
Today, there are more than 150 million orphans worldwide. There are 125,000 children in foster care in this country who are waiting to be adopted right now. The median cost of domestic adoption is between $20,000 and $40,000, Bernard said. International adoptions, which can involve expensive travel, may average $42,000, he said.
Over the past twenty years, Gift of Adoption has awarded about $8.2 million to help with the adoptions of 2,890 children in the United States, according to the charity.
At LSU, Bernard's fraternity, Alpha Phi Alpha, stressed service to others. "It became a routine of mine," he said. Bernard went to LSU with friends he knew from LaGrange High School in Lake Charles, La.
"My LSU network spread from that," he said. His memory of LSU is "a big university with a small, intimate feeling."
Ed Cullen, an LSU journalism graduate, is author of Letter in a Woodpile, a collection of his essays for National Public Radio's "All Things Considered." He is retired from the Baton Rouge Advocate where he wrote the Sunday column "Attic Salt."
This story is part of a story from the Winter 2019 issue of LSU Alumni Magazine. If you would like to receive future issues of our print publication become a member of LSU Alumni Association.