2019 has been a year of incredible accomplishments for LSU Alumni Association, and we are proud to support LSU alumni, fans, and friends 365 days a year. Let us take you along for a few of our highlights from the year and things we are most proud of. We can't wait to see you in 2020!

2019 kicked off with the roll out of our Strategic Plan 2025. By providing the resources, benefits, and programming that allow alumni to live their best lives after graduation and stay connected to their beloved alma mater, we will support the University in maximizing its connection with alumni, strengthen the well-being of Tiger Nation, and grow the value and reputation of LSU around the globe. Our strategic plan provides the framework which allows us to support the overall campaign launched this year by the university and all of its foundations, Fierce for the Future.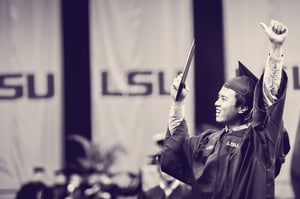 We have already made strides towards our goal of reaching young alumni through multiple outlets. We introduced the first LSUAA Young Alumni Advisory Council, and hosted events with their collaboration and insight such as the Young Alumni Tailgate before the Auburn game and an end-of-year networking happy hour. We also hit a record number of both Collegiate Club and Recent Grad members, offered in conjunction with Tiger Athletic Foundation. In addition, significant work has been completed on our Professional Networking online platform to be launched in early 2020.
We have had an incredible year of fundraising, thanks to thousands of LSU alumni, friends, and family. Each of you who has given to us this year has strengthened your commitment to the mission of the LSU Alumni Association and cemented your loyalty to your alma mater. A few special events in particular stand out, such as the inaugural LSU Giving Day held in April. We had 316 supporters raise over $170,000 in a single day for the LSU Alumni Association, and over 2,000 of all supporters on LSU Giving Day were LSU alumni. In October, we held Tiger Nation Challenge and beat Auburn for the third year in a row and raised over $133,800. We also received a transformative gift in support of the Strategic Plan 2025. In order to show our support of our donors for all they do, we participated in Thank a Donor Day with the LSU Foundation.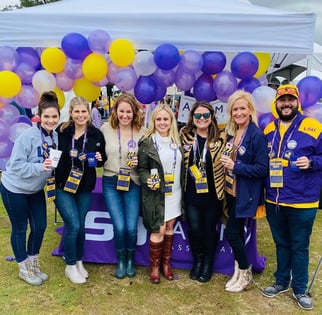 Our 130 LSU Alumni Chapters across the country have worked diligently to raise over $215,000 for their local chapter scholarships. We are so thankful for all of their hard work and dedication - always showing up for their local alumni and fans to provide the best experiences possible and keep them connected to LSU.
The Cook Hotel at LSU offers a warm welcome to all LSU alumni, family, and friends. This year we listened to the rally cry of our guests and opened the long-awaited bar! The full-service bar has been a gathering place for guests and fans to create memories this football season and will continue to do just that in the year ahead. Be sure to stop by for a drink next time you're in town.
It has been a year filled with fulfillment and gratitude. We are certainly looking forward to the next decade with you. 2020 here we come!