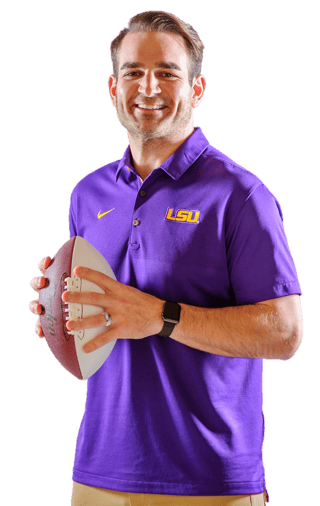 No. 18 for 2018
Former Tiger gridiron legend and NFL pro Jacob Hester joined the LSU Alumni Association team as Honorary National Fund Chair in January.
The football great follows Houston Astros infielder Alex Bregman, who in 2017 helped raise more than $82,000 for the Alumni Fund to support scholarships, professorships, faculty awards and other programs of excellence that touch all areas of university life.
Hester shared, "To join the LSU Alumni Association in any year would be special but to join in 2018 makes it even more special for me. To be the National Fund Chair is the ultimate respect and honor for me and my family. LSU gave so much to me and it's important to me to give back to LSU."
One of the most productive running backs ever to play for LSU, Hester played both tailback and running back for the Tigers, and in his senior year – the Tigers 2007 championship season – was a key member of special teams and permanent team captain. He was named to the 2007 Second-Team All-SEC (SEC Coaches), named 2007 SEC Offensive Player of the Week and 2007 Sporting News National Player of the Week (LSU vs. Florida), and chosen for the 2007 Senior Bowl.
Because of Hester, No. 18 is now a significant tradition at LSU. When quarterback Matt Mauck – No. 18 – helped lead the Tigers to the 2003 championship in his senior year, he wanted his number to go to the best of the best. That was freshman running back Jacob Hester.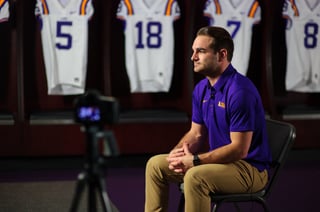 Hester spent six successful seasons with the San Diego Chargers and Denver Broncos before returning to his home state. Today he plays on the media side of the football field. He is a college football analyst on Cox Sports Television's "LSU Gameday Live" and hosts "Hangin' with Hester," a radio show on 1045 ESPN Baton Rouge and 1130 The Tiger. He also serves as LSU football pregame and postgame analyst for LSU Sports Radio Network, owns D1 Sports Shreveportand is part owner of Walk On's Bistreaux and Bar in Shreveport, Bossier City, and West Monroe.
"We are excited to have Jacob on our team," said Cliff Vannoy, association president and CEO. "Tiger Nation responded enthusiastically to last year's campaign, and we look forward to working with No. 18 in 2018 to pursue the association's No. 1 goal – to 'Invest in Tigers and Transform Lives.'"