Over the course of the next few weeks, we will be spotlighting our many LSU Alumni Affinity Chapters! These special chapters are not geographically based as many of our chapters are, and instead focus on joining together individuals who are alike in some way. Whether that be through their academic program, involvement in an organization as a student, or personal attributes, these incredible chapters are run a little bit differently but are among some of our most successful and active chapters. To learn more, visit LSUAlumni.org/Chapters.
LSU Alumni LGBTQ+ Chapter
The goals of the LSU Alumni LGBTQ+ Chapter, founded in August 2020, are to provide an organized voice for the community and move the campus forward. Its members hail from across the country and around the world.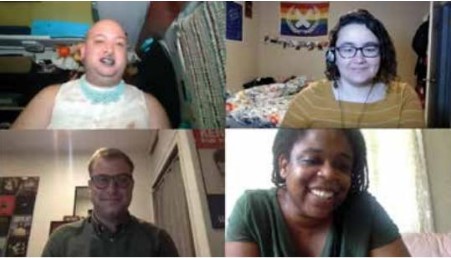 Top, from left, Peter/Astrid Jenkins and Emily Cook; bottom, Michael Jones and Anika Aarons.
"This alumni chapter exists to be a voice for underrepresented LSU students, alumni, and anyone impacted by the LSU community; but it also exists as a space for LGBTQ+ people to find community with each other," said Emily Cook, chapter secretary. "I look forward to attending a virtual drag show, Zoom cocktail/mocktail nights, and other events where we just get to be ourselves and make friends."
Michael Jones, chapter officer, agrees. "This alumni chapter is a wonderful step forward for LSU. As a gay man, I feel that it is important to give back to my University and give current LGBTQ students resources that may not have been available to me," shares Jones.
Peter Jenkins serves as chapter president, and Anika Aarons is the social media manager.
To join the chapter and get involved with this group, visit Geaux.LSUAlumni.org/LGBTQ. The chapter is always growing and looking for more potential members and leaders. If you're interested in getting more involved, join the chapter's group on Facebook or follow them on Instagram. Geaux Tigers!