Over the course of the next few weeks, we will be spotlighting our many LSU Alumni Affinity Chapters! These special chapters are not geographically based as many of our chapters are, and instead focus on joining together individuals who are alike in some way. Whether that be through their academic program, involvement in an organization as a student, or personal attributes, these incredible chapters are run a little bit differently but are among some of our most successful and active chapters. To learn more, visit LSUAlumni.org/Chapters.
LSU Alumni Bat Girls Chapter
The LSU Bat Girls are a group of LSU students who are a part of an exclusive program, selected through an application process to work for the LSU Athletics Marketing department as bat handlers for all LSU home baseball games. They also serve as ambassadors for fans at Alex Box Stadium and are bonded through their hard work and dedication to the LSU Baseball team.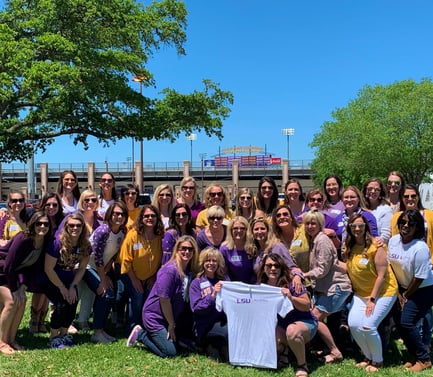 The LSU Alumni Bat Girls chapter reunites former Bat Girls from all years to connect and continue to support their alma mater and LSU Baseball. Their most popular event was the first annual LSU Alumni Bat Girls Reunion held prior to an LSU Baseball game. It was last held in 2019 before LSU vs. Florida, and the group hopes to continue the tradition in the future!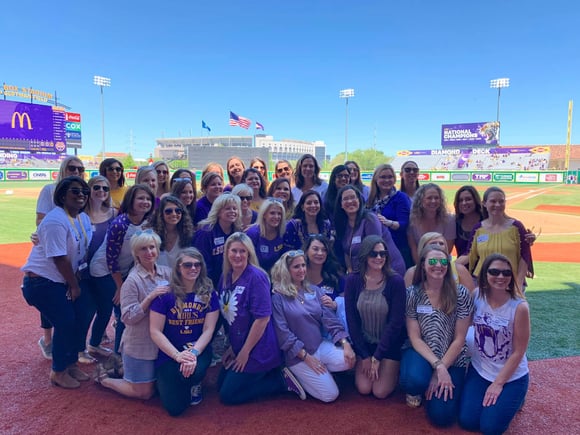 To join the chapter and get involved with this group, visit Geaux.LSUAlumni.org/BatGirls. As one of our newest affinity groups, the chapter is still growing and always looking for more potential leaders to continue in reuniting these women annually. If you're interested in getting more involved, contact Rachel Rhodes. You can also follow the LSU Alumni Bat Girls Chapter page on Facebook for future updates. Geaux Tigers!