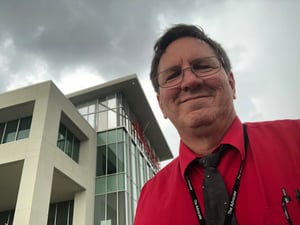 "I tell you it felt good walking across this campus tonight," said Kelly Kissel, retired Associated Press Arkansas news editor and now metro editor of The (Baton Rouge) Advocate. Kissel earned bachelor's degree in journalism from LSU in 1984.

Kissel was talking about the short walk from the University's Visitor Center parking lot to The Chimes Restaurant one weekday night in late June. He had been in the metro editor's chair at The Advocate two days.
Kissel, 59, who grew up in Baton Rouge, will oversee the work of a city desk covering local news. He counts himself lucky to inherit a crew of 12 reporters plus a Washington correspondent. There are three
assistant metro editors. The 12 reporters include two bureau hands in Ascension and one in Livingston. The paper has a Lafayette bureau that serves an Acadiana edition and The New Orleans Advocate. "The Advocate is a phenomenal place to work," Kissel said. "It's encouraging to go to work each day with such a dedicated newsroom."

Before the decline of daily, print newspapers, The Advocate, formerly the Morning Advocate, was considered a stepping stone paper to bigger markets, though many Advocate reporters, editors, and advertising people chose to make the capital city newspaper the place they'd spend their careers.

The Advocate has a talented staff of reporters, Kissel said, because management looks for talented reporters and does what it can to keep good people. "I'd like to see The Advocate become a destination paper," Kissel said.

A 34-year career with AP began in 1984. Kissel worked in New Orleans, Jackson, Miss.; Charleston, W. Va.; Huntington, W. Va., and State College, Pa. He went to Little Rock in 1994 as news editor where he helped cover the Whitewater and Paula Jones stories during Bill Clinton's presidency. As Kissel's time with the AP was drawing to a close, he directed coverage of the Little Rock Central desegregation 60th anniversary. The coverage received a top internal AP prize for digital storytelling. The stories were the work of Little Rock's AP bureau and the wire service's race and ethnicity team.

From 2009 until 2017, Kissel was news editor of the AP's bureaus in Little Rock and Oklahoma City. Simultaneously. He saw staffing numbers drop over his time in Arkansas and Oklahoma. "I saw more of I-40 than I care to remember," he said.

Kissel continues to use accrued lodging credits with a certain large motel chain that he racked up with the AP. He used the lodging credits in his transition to Baton Rouge and his childhood home in Village St. George where he'll live with wife Susan Marcantel Kissel, a 1982 landscape architecture graduate. The couple's daughter, Colleen, holds a bachelor's degree in English from LSU; son André is a senior at the University of Arkansas.

Kissel was one of the students at Baton Rouge Magnet High School's radio station when the station signed on the air in 1977. He was WBRH's first student station manager. In high school and college, Kissel's student jobs seemed to have him headed for a career in broadcast journalism. "The guys at WBRZ, where my mother worked, taught me how to read the codes on the wire machines that told you whether a story was local, state, or national."

Kissel's student jobs included ones at WRBT-TV and radio stations WBRH, WAIL, WIBR, WLUX, KWRG, and KLSU as news reader and disc jockey. "I always liked long form writing," he said, explaining how he ended up in print journalism at LSU.

At The Reveille, under the tutelage of J-School faculty member Jay Perkins, a former wire service reporter, Kissel received two first-place awards in the William Randolph Hearst Collegiate Journalism competition. He worked his way up to managing editor of The Reveille.

At the AP, Kissel studied and supervised construction and operation of the wire service's election database. He moderated GOP and Democratic election debates in Arkansas. He was a writing coach for young AP reporters. He organized company meetings and seminars for journalistic societies. He designed and published newsletters featuring AP's services.

He refereed high school, small college and semi-pro football games and soccer matches, a skill set valuable in overseeing the work of a newsroom staff.
By Ed Cullen for LSU Alumni Magazine