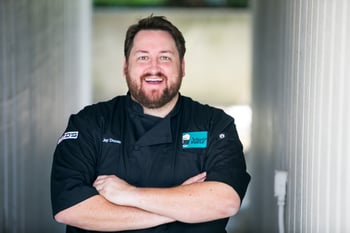 The Tuesday before Thanksgiving, Jay Ducote, food blogger, food products entrepreneur, and food radio show host, was in the Baton Rouge airport to catch a flight to College Station for the LSU-Texas A&M game. It was a trip he described as business and pleasure, but every waking moment of Ducote's life is devoted to the preparation, celebration, and consumption of food.
"I'm going over there on behalf of the Bryan-College Station tourism commission," Ducote said, airport sounds in the background. "I'm judging some tailgate food and making appearances. I'll go to the Aggie midnight Yell and experience their culture to use on the radio show and podcast."
Ducote (2004 BACH BUS, 2007 MAST H&SS) lets other celebrity cooks call themselves chefs. He's the guy grilling for hungry tailgaters. "I have great respect for everything Chef John Folse has done" as cook and entrepreneur, Ducote said when asked if Folse was something of a model for him. "If someone put me in the same sentence with him, I'd be flattered."
Ducote's more comfortable working from a tailgate than a stainless steel counter.
Since 2011, Ducote's "Bite and Booze" radio show has aired on radio station 107.3 in Baton Rouge from 5 p.m. to 7 p.m. Saturdays (re-airing Sundays from 7 p.m. to 9 p.m.). Ducote's blog, biteandbooze.com appeared in 2009. "It chronicles what I eat and drink, it spreads the positive word of the food scene in Baton Rouge, primarily, but I travel the state a lot."
The son of Phyllis and Jere Ducote, Ducote grew up watching his dad cook in hunting and fishing camps in Louisiana and Texas. He taught high school math, coached baseball, and worked for the state before he was a famous foodie. "What I do comes from a love of eating rather than a love of cooking," Ducote said. "I started writing about food out of boredom while I was at DHH [Department of Health & Hospitals]. I wrote about what I'd had for lunch in downtown Baton Rouge."
He and friends began organizing tailgate parties. People chipped in and paid dues, which bought food and T-shirts. "The idea was to break even," Ducote said. The cooking was a la tailgate, "big party-style, grill pits, huge cast iron pots, gumbos, jambalaya."
Ducote left DHH in 2009 for a job as a grant writer and health forum administrator. By 2011, sponsors and advertisers had the radio show making money and meshing nicely with a blog that helped promote products made by a contractor. Today, Ducote's company numbers six, including him, three full-time employees, and two interns. Blair Loup (2013 BACH BUS), whom Ducote calls "Chief Confusion Coordinator and Spin Doctor," became the first full-time employee three years ago.
Ducote got a big boost with appearances on the Food Network's "Cutthroat Kitchen" which pitted four chefs against each other with $25,000 they could spend on themselves or to sabotage their competitors. Ducote lost in the second round – but with 200 people in a Baton Rouge bar cheering him on. The next day, Ducote said, "I am pretty overwhelmed by the amount of support. It was interesting to watch the show. It was pretty surreal to see myself get that much face time."
"I couldn't have asked for more," he said. "Even after I got kicked off the show, the crowd gave me a round of applause and congratulated me for being on the show and representing Baton Rouge and Louisiana well."
If Ducote comes across as a friendly guy you might meet in a cloud of succulent meat smoke in the shadow of Tiger Stadium, it is because he's that guy. With $250,000 a year from Bite and Booze, advertising from the radio show, speaking events and his product line, Hug Jay D, Jay Ducote Incorporated is in the appetizer phase of a potential full-course business spread. And it's not been done sitting around chewing the fat.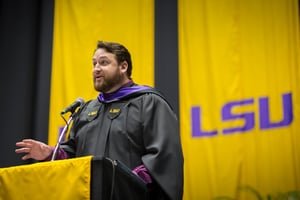 "Every waking moment, pretty much non-stop," he said. "I have trouble taking a day off. From when I wake up until I go to bed. Distribution, getting into stores" and launching Gov't Taco inside the White Star Market, 4646 Government St. in Baton Rouge.
Bite and Booze is in Baton Rouge's Garden District in "essentially a house," Ducote said.
"I don't want to get to the point I have to manufacture my own food products," he said. "As long as I can stay filling orders with co-packers."
Looking ahead to an afternoon of tailgating Texas style in College Station, someone suggested that Ducote could expect a lot of beef before bedtime.
"I hope so," said Chef Tailgate.
_______________________________________________________________________________________________________________________________
Blog post adapted from LSU Alumni Magazine Spring 2017 issue.
About the Author: Ed Cullen, an LSU journalism graduate, is author of Letter in a Woodpile, a collection of his essays for National Public Radio's "All Things Considered." He is retired from the Baton Rouge Advocate where he wrote the Sunday column "Attic Salt."
Photo by Jenn Ocken Photography.