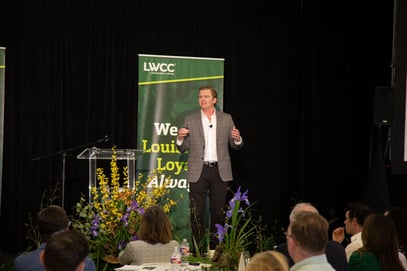 SETH IRBY, BA MASS COMM '11
Tell us a little bit about yourself.
I'm a Louisiana native who is committed to improving my home state. I recently became LWCC's Chief Marketing & Customer Experience Officer because I believe it is my best opportunity to achieve this goal.
I'm a life-long Methodist and son of a preacher, new parent, recovering management consultant, committed SigEp alumnus and volunteer, and a lousy yet determined golfer. I'm passionate about LSU athletics, fitness, public speaking, connecting people, and mentoring college students and young professionals.
How would your friends describe you?
They'd likely laugh if you asked and go on to tell "Seth-isms" (overly used stories and analogies I use to provide unsolicited advice and teach unsolicited life lessons). But once they got past bashing me, I'd hope they'd say I'm a loyal and committed friend.
What path did your career take after graduating from LSU?
After graduation I became a traveling consultant with my national fraternity, Sigma Phi Epsilon. I thought this would be a short-term gig but two years in I was named SigEp's Managing Director. At age 23, I was managing 30 people, an $11 million dollar budget, 230 chapters nationwide, and 4 corporate entities. It was way too much responsibility for a recent college grad but gave me the experiences, failures, mentors, and skills sets that have been the driving force behind any ounce of success I've attained at this point in my career.
LSU Tiger Nation is made up of all the LSU alumni, fans, friends, and future alumni around the globe. How can LSU Tiger Nation help you, Seth?
As cheesy as it sounds, I believe I'm repaying installments on debt to LSU that I'll never fully be able to pay off. The people and experiences at LSU have shaped me personally and professionally. I hope that LSU Tiger Nation will continue to give me opportunities to pay it forward.
When you were at LSU what was your favorite place to eat?
The Chimes. Can't beat the food, beer list, atmosphere, and history.
If you weren't working in marketing what would you be doing?
Management consulting. I really enjoyed my three years at Emergent Method and am grateful for the opportunities I had to gain exposure to countless industries and successful professionals.
Do you have a mentor that helped you along the way?
I believe mentorship is the single most important driver of professional growth. In the first five years of my career, my job brought me to 150+ cities and I gained dozens of mentors throughout the country who have shaped my career and life. But the mentors who have had the biggest impact on my career are right here in Baton Rouge.
Working for Nick Speyrer at Emergent Method taught me the importance of "modeling the way" for others. His "over deliver" client service approach, commitment to relentless improvement, and unparalleled work ethic elevated my career and continue to inspire me today.
If you could give one piece of advice to entering freshmen what would it be?
You are the average of the 5 people you spend the most time with. 90% of your time in college is spent outside of the classroom. With your parents gone, how you spend this time is your choice. It can be the most transformative time in your life that sets you on a path for personal and professional success, or it can be destructive and set you on a path for failure. The difference? Who you spend this time with. The people and organizations you get involved with will not only determine who is standing in your wedding, they will determine your ceiling for success after college. Choose wisely.
What do you find most challenging about your role?
Creating sustainable success. The best leaders I know build teams and organizations that can operate at a high level whether they are present or not. As humans, we desire to be needed. But as leaders, we're called to empower others to excel without us.
Who's your hero?
As cliché as it sounds, I'd have to go with Coach O. The #1 item on my bucket list is to play a significant role in LSU winning a national championship (which is quite a stretch considering I lack coaching experience). I'm inspired by his contagious passion and unwavering commitment to leaving our state and thousands of young men better than he found them. I hope one day I can have a similar impact on LSU, Louisiana, and my fellow citizens.
What do you miss most about LSU?
I miss the leadership laboratory that LSU offers. If you approach college right, you can gain invaluable experience running organizations, leading culture change, building communication skills, and managing relationships. Failure is safe and encouraged in college. And if you maximize this leadership laboratory, you'll be able to run circles around your peers after graduation.
Why are you proud to be an LSU alumnus?
The brand. In my first five years after graduation, my career brought me to 150+ universities across the country. When I proudly told people I graduated from LSU, they immediately interrupted me with questions about our culture and shared fond memories from trips to Tiger Stadium. LSU has a strong and compelling brand that other organizations and universities would pay millions to have. I consider it an honor and a privilege to represent it.