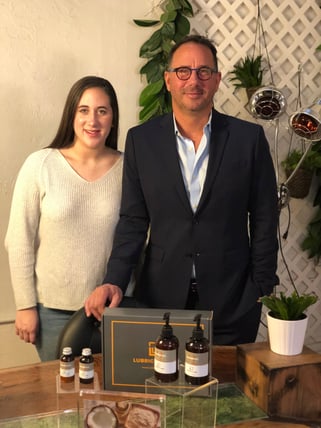 DR. BOYCE CLARK, PHD Geology 1997
Tell us a little bit about yourself.
I have always been a science nerd, way before it was cool. I literally lived for the school science fair. During my undergraduate studies at Millsaps College, I interned summers at NASA's Stennis Space Center, working with a team doing satellite archeology. My interests began to focus on the biogeochemical interactions of natural waters, so I chose LSU's Ph.D. program because it balanced the theoretical aspects of geochemistry with the application of the science to real-world problems. My customized program – involving the geology and geophysics, chemistry, and civil engineering departments – provided a truly interdisciplinary experience. I completed my doctoral research at Oak Ridge studying the biogeochemical behavior of uranium in groundwater with an eye toward groundwater remediation technologies.
I worked for 18 years as an environmental consultant for clients such as ExxonMobil, Chevron, Huntsman, and BASF. And now, I make science-based anti-frizz haircare products – you never know where life will take you!
What led to your creation of Lubricity Labs?
In 2015, my daughter Alden was a competitive swimmer with Crawfish Aquatics. I assumed her wild, unruly hair was a result of the chlorinated pool water, but it was unmanageable even when she wasn't swimming. When the humidity surged – basically every day – her hair was a frizzy mess. We tried over-the-counter products, which only worked until she washed her hair. A friend suggested a "salon keratin treatment," but when I discovered these treatments use formaldehyde (a known carcinogen) as the active ingredient, I refused to let her try it. I knew that if I could understand the underlying science of why her hair was getting frizzy I could address the problem – and that's exactly what I did. Thus, the birth of Lubricity Labs, a professional hair care line that uses naturally-derived ingredients to "water proof" your hair, resulting in amazing shine, softness, manageability, and no more frizz, even in the terrible Louisiana humidity.
What has been the biggest challenge and the biggest reward as an entrepreneur?
As the "creative" of Lubricity, the person that designs and formulates the product, science is my forte. When our business took off and went viral in 2017, I had no idea how to run the other parts of a business such as marketing, inventory control, procurement, etc. It was a huge challenge. Luckily, I hired people that are excellent at this and let them do their thing.
As an environmental consultant, I worked on projects that will run for decades and may never see closure. It's just part of that industry. Now, I create products that women use daily and these products often dramatically affect their self-confidence and the way they see themselves. The fact that my products can help women to feel better about themselves is incredibly rewarding.
How did LSU help pave the way for you to take on this challenge?
My graduate work taught me both the theoretical underpinnings of science and the applied use of that science – the "why" and the "how." Not all programs do this. I used this training when creating Lubricity Labs: first studying the science of hair and frizz, then designing products that work based on that science. In my previous career, I often worked with scientists who had an incredible grasp of theoretical chemical principles but who rarely were able to translate that knowledge into a real-world application.
My son, an LSU junior majoring in biology and sociology, is having an equally rewarding academic experience. It is fulfilling to hear him tell me about a particular organic chemistry molecule that I am using in our product line, and I may only know what it does and why I use it, but he tells me how it does what it does. It's fun to bond with him over our mutual love of science – a love that LSU has nurtured in us both.
What sets Lubricity Labs apart from the thousands of other brands out there?
Unlike major cosmetic product lines designed and formulated for mass appeal and profit, I created Lubricity Labs because my daughter had a specific problem with her hair – how to stop the humidity we have in south Louisiana from causing her hair to frizz and tangle. I designed these products to be effective and safe, and used only the highest quality ingredients because they were originally meant for my child. Every ingredient we use is there intentionally; there are no "fillers" or unnecessary compounds. Lubricity Labs products have been safe and cruelty-free from the very beginning, and we are fortunate to be recognized for creating the only cruelty-free professional smoothing products in the world, certified by Leaping Bunny. These the qualities that set us apart.
Where can your products be purchased?
Lubricity Labs products are sold online, direct to consumer at LubricityLabs.com and through over 1,100+ professional salons in the Gulf South. Our professional-only salon products are only sold to licensed cosmetologists. To find a salon near you that carries our products or to have a professional smoothing treatment, contact us at CustomerLove@LubricityLabs.com.
When you were at LSU where was your favorite place to eat?
Growing up in rural Mississippi with a family that ran a restaurant/catering business, I definitely was exposed to great food, but not necessarily international food. When I moved to Baton Rouge and first ate Thai food at Rama Thai under the overpass – my mind was blown. To this day, I still love going to Rama and count Thai as my favorite flavor palate. I had plenty of late night/early morning cheeseburgers at Louie's too; what's not to love about those?
If you weren't an entrepreneur, what would you be doing?
I would probably still be working in the energy field as a consultant, but I have so many other things I love to do, like cooking gourmet meals and photography, so there's really no telling what I'd be doing. I see every day as an adventure, and I love seeing where life takes me.
What's something that you learned after starting Lubricity Labs?
When Lubricity Labs went viral in 2017, suddenly I was thrust into the public eye as a business owner and product creator, as opposed to a behind-the-scenes scientist working with a team. Adjusting to this is a challenge, but I embrace the opportunity to connect with clients. I've learned, and am still learning, how to present the science behind our products so that it is accessible to everyone, and I really enjoy hearing from our customers, whether good or bad, because I learn from their experiences as well.
What's a favorite pastime of yours?
I absolutely love to cook, particularly complicated meals served in courses. It's a skill I learned from my family, and one that I love to fine-tune. Meals at my home are never ordinary, and I'm passionate about the experience of cooking, serving, and sharing a meal. I enjoy dabbling in alternative photography, particularly making my own photographic emulsions. It's a fun pastime and it exercises the creative and scientific parts of my brain simultaneously.
What's your best memory at LSU?
When my roommate and I started at LSU, there were about 28,000 students, and we knew no one. At first, it was a bit overwhelming. We found out that at almost every weekend at the International Cultural Center (ICC) a different student group hosted a party open to everyone. The most memorable ones to me were the Latinx Student groups. For $5, you got a plate of amazing home-cooked, authentic food, all the keg beer you could drink (this was back in the day, remember!), and a night of dancing with people from all over Latin America. It was amazing. We made lots of new friends.
If you could share one thing with everyone interested in trying your products what would it be?
I created Lubricity Labs from the ground-up specifically for my daughter, so only the highest quality ingredients and most effective results were good enough. Customers who use our products benefit from that foundation, as only the best would do for my daughter!
I also want people to know that we make, bottle, store, and ship all of our products at the LSU Innovation Park – we're very proud to be a Louisiana business, working in close partnership with LSU.
How has owning your own business changed you?
Owning my own business has pushed my boundaries to understand more about the business as a whole rather than just the parts that interest me. As a scientist, I am interested in data. The social media world we live in – and which our company utilizes for marketing – has tremendous amounts of data that can be analyzed for trends and performance, and I love it. I spend a lot of my time learning about these new data science techniques and methods. My team and I joke that I should wear a t-shirt that says "WARNING – Asks lots of questions."
Why are you proud to be an LSU alum?
LSU is known globally for its athletics, its overall college experience, and its academics, and is in the forefront of scientific research. Many of my professors were, literally, the people who "wrote the textbooks. Being able to train in that kind of environment was priceless and it serves me to this day. I am always proud to announce that I am LSU alumnus. I find that it is constantly opening doors for me. GEAUX TIGERS!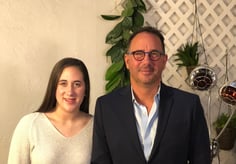 photo by Collin Richie