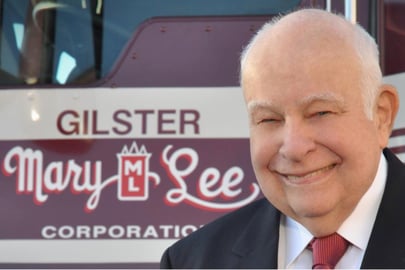 DON WELGE (1936-2020), BA Agriculture '57
Tell us a little bit about your dad, Don Welge, and what LSU meant to him.
Don Welge grew up in southern Illinois and dreamed of going to college in the south, the region where his family's flour milling business marketed their products. After visiting the LSU campus, he was convinced it was the place he wanted to be. LSU was one of the great loves of his life, and he maintained close connections to friends and faculty there.
What path did his career take after he graduated from LSU?
He returned to southern Illinois and lead the family business in its evolution from a small flour mill (Gilster Milling) to large producer of store brand and food service products (Gilster-Mary Lee Corp), today operating 14 plants across 4 states, employing roughly 3000 people. He also cofounded the Mary Lee Donuts chain with numerous locations in Baton Rouge.
What do you think he would've considered one of his favorite LSU memories?
While a student he loved being involved in the College of Agriculture, the debate team, and the ROTC program. As an alum he attended many football games and Ag advisory meetings. He believed LSU should embrace a true "Farm to Fork" educational curriculum and brought speakers to campus from the food industry. He also enjoyed hosting students from LSU with their annual visit to tour production facilities and discuss the food industry.
What did he see as the biggest challenge and biggest reward of being an entrepreneur?
He had many setbacks and challenges through his career (business losses, floods, and other issues), but he had an unshakable optimism and a real love for people. His greatest reward was employing people, building relationships, and serving customers.
If you could offer one piece of advice to entering freshman, inspired by your father, what would it be?
Don't underestimate or undersell yourself. No matter where you come from or the challenges you have, you can accomplish amazing things with hard work, determination, and empathy for the people you work with.
Where was his favorite place to eat around LSU, either as a college student or a visiting alumnus?
Mary Lee Donuts & Mike Anderson's
Did he have any mentors that helped him along the way?
Dr. Payne at the College of Agriculture
What was one thing that your father taught you that has stuck with you over the years?
The value of hard work and humility.
Tell us about your company and your father's last project before his passing.
At the age of 80, he decided he wanted to fulfill his lifelong dream of getting into the commercial rabbit business. Today the Buena Vista Rabbitry Co. is one of the largest growers of rabbits in the US.
Why was your father proud to be an LSU alum?
He valued the lifelong friendships he made, the education that he received, and the opportunities that were given to him there as a young man coming from a small town in southern Illinois.