Alumni Spotlight: Scott Brignac
LSU alumnus Scott Brignac's first movie, Playing God, was released in theaters and digital platforms on Aug. 6. Written and directed by Brignac, the movie stars Michael McKean, Alan Tudyk, Luke Benward, and Hannah Kasulka.
---
Scott Brignac, a native of Houma, La., and resident of Houston, earned a degree in communication from LSU in 2002. His first feature film, Playing God, was released in theaters and digital platforms on Aug. 6. Written and directed by Brignac, the movie stars Michael McKean (Better Call Saul, This Is Spinal Tap) and Alan Tudyk (Arrested Development, Rogue One: A Star Wars Story), Luke Benward, and Hannah Kasulka. The movie is about sibling con artists – a brother and sister – who try to pull off the swindle of their lives by promising a grieving, eccentric billionaire (Tudyk) a face-to-face meeting with God. Learn more about Scott and how LSU paved the way for his career below.
Tell us a little bit about your new film, Playing God.

Scott – Playing God is a con-man/heist movie that delves into some deep waters regarding grief & suffering. Two sibling fraternal twins attempt to pull off a "spiritual con" where they scam a grieving billionaire in search of answers to why his young daughter died. They convince him they know god, and recruit their old mentor to play the role of "god". We wanted to make something that paid homage to the tropes of the genre but break through the genre with some thought-provoking theological concepts. We want people to walk away from the film being entertained by a good story, but also to have a discussion about grief, suffering… how it shapes our lives and our faith… or our lack of faith. It's a timeless universal discussion… the "great question" of if there is a God, and he if is good, how do bad things happen? All that wrapped inside a con-man/heist movie. It's different, but we tried to make it fun. And hopefully inspiring in some way.
What path did your career take after graduating from LSU?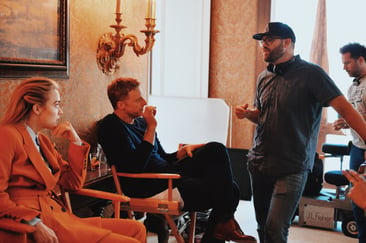 Scott – I discovered I wanted to make films during my senior year and instead of going to a graduate film school program, I decided to jump in with both feet and just start making stuff. I was fortunate enough to make films for a large church in Houston, and that's where I learned how to tell stories both in documentary and narrative form. I also did a lot of work for non-profits and in the commercial space where I got to tell stories and continue to grow in my craft. We formed our production company, Watershed Motion Pictures, a few years ago, and Playing God was our first feature.
What made you decide to become a writer and film director?

Scott – Ever since I was a kid, I had always dreamed of somehow being involved in movies. I had a video store at the front of my street, and I would rob my dad's change jar to rent movies all the time. I focused on the arts at LSU and got passionate about music, but I knew it wasn't my calling. I soon discovered by goofing off with my roommates, that I loved the fun of making little movies with a camcorder. I was hooked. I've never stopped since then.
If you weren't a writer and film director, what would you be doing?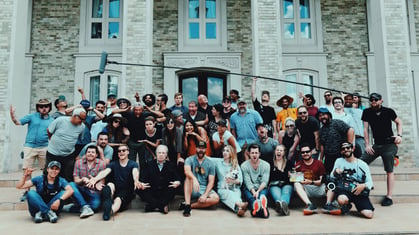 Scott – It's hard to imagine doing anything else, but maybe something with design or music. Or perhaps I'd be a professional disc golf player. I love me some disc golf.
Do you have a mentor that helped you along the way?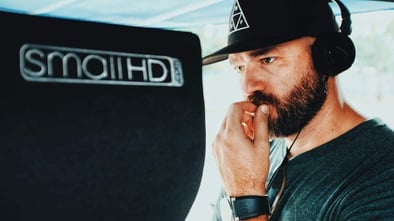 Scott – Yes… his name is the internet. Honestly, I discovered that you could figure out how to do anything via the internet very early in my career. I learned how to edit and shoot by watching and imitating people online. So many people are generous by posting what they've learned. I am still learning on a daily basis via podcasts and YouTube. I focus now mostly on writing and also just watching a lot of movies and shows.
When you were at LSU, where was your favorite spot on campus?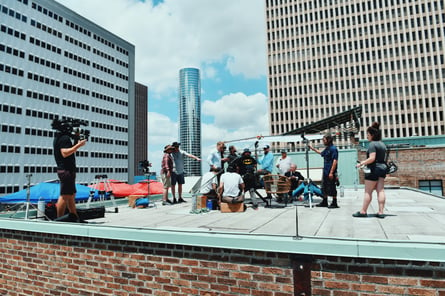 Scott – I loved riding my scooter through the quad. Seriously, back in 2000 when razors weren't a thing. I had a thick tire scooter I could do tricks on and people would call me Scoot. I was super cool zipping around on that thing… or at least that's what I tell my kids. It got me zero dates, but I got to class on time!
If you could give one piece of advice to entering freshmen what would it be?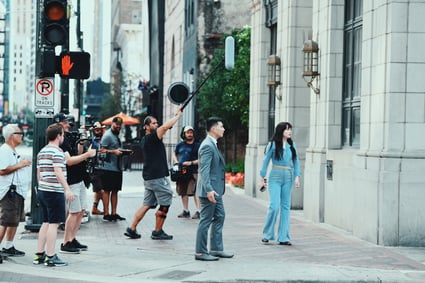 Scott – Find your tribe. It's so important to find like-minded people that share your values and bring joy to your life. College at LSU was one of the best times of my life because we had such a tight group of friends at the BCM. Also, go easy on the carbs. Scratch that, you'll have plenty of time to skip the carbs, so load up while you're young baby!
What is your favorite part of your career?
Scott - Being creative every day, working with great collaborators, and having a flexible schedule.
What do you miss most about LSU?
Scott - I miss the people and the culture, but one thing I often think about is waking up on a Saturday and all hanging out before a home game. There is just something about LSU football and home games that is incredibly special. There is nothing like it. Geaux Tigers.
What makes you proud to be an lsu alumnus?
Scott - I think LSU alums are diverse, cultured, hard-working, and creative. I have many friends in Houston that graduated from LSU, and there isn't one bad apple in the bunch. LSU is good people.
To learn more about Scott Brignac and his work, click here.