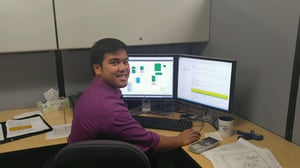 After graduating in May, Marlou de Guzman (2017 BACH ENGR) received a phone call that resulted in a dream come true. The twenty-three-year-old electrical engineering major was called for a job interview at MRI Technologies. MRI, along with other companies, was subcontracted to provide support services to the NASA Johnson Space Center's Engineering Directorate and Astromaterials Research and Exploration Science Directorate.
de Guzman soon found himself helping to design the electronics for NASA's portable life support system, which functions as a backpack and provides an astronaut with a livable atmosphere inside his or her space suit. Not bad for one's first job out of college.
While minoring in robotic engineering, digital media, and Chinese, de Guzman participated in a number of extracurricular activities that tested his time management skills. "I wanted to balance it all and I set myself to do it," de Guzman said. "Whatever I want out of life, I am going to get it."
He was also in the Distinguished Communicators program, an initiative that provides students the opportunity to refine communication skills that enable them to excel in their chosen profession. As a member, de Guzman had the opportunity to meet with Renee Horton before she spoke at LSU's Spring 2017 commencement. Horton, an LSU alumna and space launch system lead metallic/weld engineer at the NASA Michoud Assembly Facility in New Orleans, immediately connected with de Guzman and his passion for robotics.
That passion was evident when his senior design team placed second in the national University Student Design and Applied Solutions Competition. It was the first time the team competed, and de Guzman said the experience helped shape him into the person he is today. As a child, he dreamed of being an electrical engineer and working in robotics, but the thought of becoming an engineer for NASA felt out of reach. "I clearly underestimated myself," Guzman joked. "Nobody, including myself, thought I would be doing what I am doing now," de Guzman said.
About the Author: Raven Nichols is a communications intern in the College of Engineering.