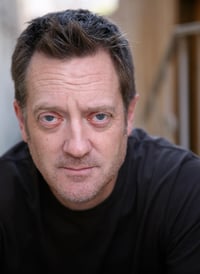 To hear Kirk Bovill (1987 MAST MCOM) tell it, he fell into LSU's golden years of women's track and field, a career in promoting fiber optics and, then, movies and television. He wouldn't mind falling into movie making and teaching at LSU, a place the Nebraska native remembers fondly and visits every chance he gets. "My first acting job was a total fluke," said Bovill.
That was in 2006. Three years later, Bovill was getting steady work in feature films and television. "I was the new older guy" at auditions, he laughed.
In 2006, when Bovill was forty-six, he answered the door of his Los Angeles home to find a movie producer standing outside. "They were filming a Hallmark movie with Dick Van Dyke across the street," Bovill said. "The producer asked if they could set up a camera in our driveway."
Sure, Bovill said, adding that the movie company was welcome to shoot at his house, too. "A week later, they took me up on the offer," he said. He told the producer, "Don't pay me. Put me in the movie. They put Joni and me in the movie at our house."
Bovill met Joni Green of McComb, Miss., in Silicon Valley where each was working in high tech fields. He found similarities in marketing fiber optics and collegiate athletics. "In high tech, I worked with guys who were designing stuff, but it was like collegiate athletics. Both are acting. You've got cameras and people staring at you. You have to perform."
The son of a coach in small town Nebraska, Bovill was a sprinter who played football in high school. At the University of Nebraska, he got involved with women's track as an undergraduate assistant. "That opened the door for me," he said.
The Nebraska track coach introduced Bovill to LSU track coaches Billy Maxwell and Loren Seagrave. Bovill's time at LSU as a graduate assistant coach on the women's team, 1985 to 1987, was the start of championship years for LSU in NCAA track and field.
He loved the work and LSU, but he had student loans and his assistant coach's salary wasn't great. He headed to California where he had family and a cousin in surf board manufacturing. When he applied for a job marketing fiber optics for an East Coast company, Bovill's LSU background helped him land the position. Like his fortuitous arrival at LSU, he hit fiber optics at a "hot time." "I got really well known. They'd fly me to Barcelona for a five-minute talk."
After working with an improv company in Los Angeles, Bovill decided to "give acting a shot. I was making good money, but it was like watching paint dry."
Bovill had creative genes from his mother, Judy, a teacher and artist, and his dad, Ron. In 1999, Kirk and Joni had created their own indie record label, releasing two well-received CDs of songs Kirk wrote and performed with his wife.
His father, the late Ron Bovill, had done a one-man, Mark Twain show that was good enough to attract the attention of Wells Fargo for a national commercial. Ron Bovill had one question when his son told him he was thinking about giving acting a try in 2007: Did Kirk think he was good enough to make a living at it?
In 2009 at the Sundance Film Festival, Bovill made his premiere as "the new older guy" in a movie called White Lightning. He appeared with Annette Benning, Elle Fanning, and Greta Gerwig in the critically acclaimed 20th Century Woman. Other film work includes Texas Killing Fields, Contraband, Get on Up, Love Under New Management: The Miki Howard Story and Free State of Jones. Bovill's worked steadily in television, too, since that Dick Van Dyke made-for-television movie. "I'm not an A-lister," Bovill said. "I don't get movie offers with points."
Bovill auditions for roles. He treats his movie career like a business. "I'm staying grounded," he said. "I'm not doing stupid stuff."
The afternoon he talked to the magazine, Bovill was reading for the biggest movie he's gone after to date. He was also daydreaming about returning to LSU to teach screen writing and acting with Joni. "We've got connections with TV and movie agents and directors in the Southeast," he said.
"I love LSU," he said. "The campus reminds me of Stanford. Similar architecture. The Tower. The oaks. The Parade Ground. Football season. Tailgating. The food. The music. Louisiana and New Orleans are like their own countries," he said.
Bovill had that other-country feeling once in a Winn-Dixie in South Lafourche. He heard a wonderful voice and accent and turned to find the source was the 7-Up delivery guy.