IN INSPIRING HALLS BENEATH SHADY OAKS AND BROAD MAGNOLIAS, they made lifelong friends and valuable contacts and earned degrees that prepared them for successful futures. The Forever LSU instilled in their hearts and minds while at LSU forged a lasting connection to the campus and the city, and when Red Stick called, they returned with a commitment to help make the University and Baton Rouge ever better. Check out our sixth feature on seven LSU alumni who answered that call, as part of a series that was featured in the Fall 2019 LSU Alumni Magazine.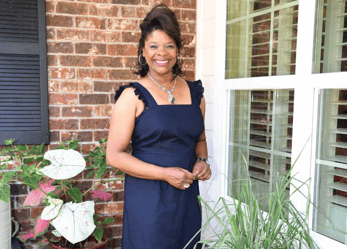 Keeping up with Rori Patrise Smith is like catching the coattails of a tornado. A bundle of compressed energy and constant motion with a high-beam smile, Smith leads a lifestyle that has her all over the country several times a month. And yet, in the midst of this fast-paced career, Smith finds her "moment," an ineffable feeling of belonging, in her family's home state.
Though her parents are both from Louisiana – her mother Pat Locks Smith was born in Baton Rouge, and her father Robert H. Smith, Ph.D., in Bastrop – they were living near Washington, D.C., when Smith was born, and she graduated from high school in Montgomery County, Md. Just after she graduated, the family moved back to Baton Rouge, where her mother's parents and other extended family still lived.
After graduating from LSU in 1992 with a bachelor's degree in journalism, Smith moved back to Washington, D.C., to serve as a legislative correspondent in the United States Senate office for one year. Since 1994, Smith has been with Delta Air Lines, Inc., first as a flight attendant and then as a flight attendant safety and customer service instructor; day-to-day coordinator for training in Minneapolis during the Delta-Northwest merger; and flight attendant recruiter and member of the airline's brand and marketing team. However, her career has taken some unexpected and adventurous side paths as well.
"You never know where, when, or how opportunity will find you," she said. "You just have to be prepared for it. For me, it all began back in high school, my mom and dad saying, 'get involved, take that first step, do what you have to do.' And don't plan too much, just be ready."
The first of those side paths occurred in 1995, when Delta offered employees a one-year sabbatical leave. Though she had only been with Delta a year at that point, Smith decided to take the leave and find a new adventure. That decision led her back to Baton Rouge, where she became the evening weather anchor. One viewer commended David Ward, then the assistant general manager at WAFB: "Bravo on the 10 p.m weather woman, whose name I don't even know yet. She's poised, articulate, and obviously in love with life."
The next adventure occurred after her return to Delta. She was on a routine flight in early 2001 when she met then-Florida Secretary of State Katherine Harris. Harris was then preparing to become a candidate for a seat in the U.S. House of Representatives in the 2002 elections. She invited Smith to meet with her later to talk about becoming her press secretary. Smith was intrigued by the idea but wasn't sure she was ready to leave Delta.
Then, sadly, the events of Sept. 11, 2001, changed everything. Because of the impact the disaster had on the airline industry, Delta needed to regroup and subsequently offered its employees the opportunity to take leaves of absence for up
to five years. Smith, who was project manager for customer satisfaction at Delta headquarters in Atlanta at the time, took the offer for the full period.
She went to Sarasota, Florida, and served as Harris's press secretary and director of outreach during the successful 2002 campaign. "I spent a year there, and – oh, my gosh! – you talk about taking what you learn in the classroom and then applying it to a campaign! Yeah, I studied journalism and broadcasting in college, I took the media law class like everyone else, and I made my videos and media presentations, and you know, I was ready. But this piled it on even more. I always thought I was the one who would be asking the questions, and here I was the one answering the questions! That twelve months in Sarasota taught me so much, and it was such a blessing because it led to even more opportunity. Harris wrote a book [Center of the Storm, 2002] after that campaign, and in the foreword, she wrote about her staff, and she thanked Smith, adding, 'Rori has taken Sarasota by storm all by herself.'" Not only had Harris noticed Rori's impact, but so had the community: She was inducted into the Sarasota, Florida Gulf Coast Business Review's "40 Under 40" in spring 2002.
Shortly after, Smith was asked to become the official spokesperson for the 2003 Republican National Convention, which took her to New York City, where she spent the next year and a half planning the convention. She recalls her joy when, after then-President George W. Bush completed his speech, he looked at her as she stood on the floor of the convention and mouthed, "Thanks, Rori!"
After the election that year, she was then asked to serve on the Presidential Inaugural Committee, and after that six-week gig, she was appointed by the president to serve as the associate director of public affairs for the National Credit Union Administration (NCUA), a position she held until her return in 2006 to Delta.
Since returning to Delta, Smith has continued training and recruiting and has served on branding and marketing committees for the company. She is also the owner of Bunni Enterprises, LLC, a public relations and public affairs company that focuses on customer service. She serves as the master of ceremonies for the LSU Alumni Association's annual Hall of Distinction gala and was recently asked to join the The Cook Hotel Board of Managers.
Through all of her varied experiences, Smith finds balance in coming home. While Atlanta may be the hub for Delta, Baton Rouge is the hub for her. Like a bird who leaves her nest, she ventures out into the world and finds connections and adventure; then, she flies back home to her nest to recharge and find support.
"Are you familiar with Doloroso?" she asked. Doloroso is a small community in Wilkinson County, Miss., on Highway 61. At that point, the highway rises high above the valley that is just north of Doloroso, delivering an unexpected and breathtaking view at the top. A traveler can see forests for miles, all the way to the horizon. "That's my moment," Smith explained quietly. "That's where it really hits me that this is home. The drive reminds me of traveling from Baton Rouge to North Louisiana to visit my grandparents. The memories will last forever, and the peak at Doloroso serves for me as a remembrance of those drives – especially at Christmas."
Smith credits her parents, who have been married for more than fifty-four years, as her "rocks," her foundation. She and
her brother, Robby, who lives in Fort Worth, Texas, are also very close, and she recalls with great fondness spending time with her maternal grandparents after moving back to Baton Rouge.
"These are my roots," she explained. "Family supports me no matter where I am or what I'm doing." Those close family ties continue to keep Smith grounded even as she literally flies away.
This story is part of the award-winning cover story from the Fall 2019 issue of LSU Alumni Magazine. If you would like to receive future issues of our print publication become a member of LSU Alumni Association.