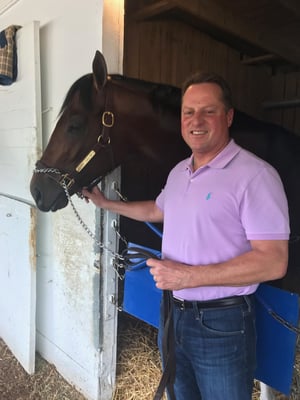 This Saturday a horse named Lone Sailor, owned by the Benson family, will compete in "America's Greatest Race," the Kentucky Derby. Lone Sailor is a special horse up against some pretty tough odds this weekend – 50-1. Although the competition is tough it wouldn't be the first time a horse with these odds won the derby. Mine That Bird and Giacomo won the race in 2009 and 2005, respectively.
But let me introduce you to the man behind the horse – a passionate trainer who doesn't put much bearing on the odds. Rather, he puts his faith in his thoroughbred and believes he has what it takes to take the derby this year. That man is Tom Amoss, and he happens to be an LSU Tiger.
Amoss, a proud LSU alumnus and loyal supporter of his alma mater, has a storied 30+-year career in thoroughbred training. Born in New Orleans, Amoss fell in love with horse racing at an early age and began his horse-racing career in high school as a stable hand for Racing Hall of Fame trainer Jack van Berg. He graduated from the E. J. Ourso College of Business in 1983 and earned his trainer's license shortly thereafter – in 1987.
A hugely successful career has generated more than 3,500 victories, close to $100-million in earnings, and nine lead trainer titles. He has 25 major stakes victories, his first being the Louisiana Handicap in 1990 with Festive. Amoss was inducted in to the Fair Grounds Racing Hall of Fame in 1998. He has also served as a racing analyst for TVG, ESPN sports television, and NYRA TV.
Amoss and Lone Sailor faced challenging races and beat the odds to even qualify for the derby. Lone Sailor is named for the late Tom Benson, owner of the New Orleans Saints, who won the prestigious Lone Sailor Award from the US Navy in 2007. Hopefully his name paired with the exceptional training provided by Amoss will bode him well, and he'll be the lone horse standing as the winner of the Kentucky Derby in about 48 hours.
We're proud to watch Amoss represent LSU on this stage. I plan on infusing my mint julep with a purple and gold twist on Saturday. If you're a betting person perhaps you should wager your chips on a fellow Tiger. I guess all that's left to say is, "G-E-A-U-X Lone Sailor!"