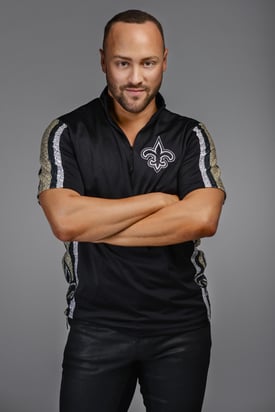 DYLON HOFFPAUIR, BA MASS COMM '14
Tell us a little bit about yourself.
My name is Dylon Hoffpauir and I am currently living and dancing in New Orleans as a Saintsation for the New Orleans Saints! I graduated from LSU with a BA in Mass Communication, public relations in May 2014. Geaux Manship!
How would your friends describe you?
They would definitely say I'm outgoing, energetic, funny, passionate and genuine. And let's be real… They would also say I am "too much" to handle.
What path did your career take after graduating from LSU?
After LSU, I completed two College Programs in Walt Disney World Entertainment, then moved back to Baton Rouge and worked professionally as the Manship School Recruiter and Student Engagement Coordinator for nearly 3 years. While working at Manship, I continued dancing, teaching and choreographing in Baton Rouge and New Orleans.
Now, I am an Admissions Counselor at Tulane University School of Public Health and Tropical Medicine by day and a New Orleans Saintsation (NFL Cheerleader) by night.
What does a day in your life look like?
Prior to COVID-19, I would work in downtown New Orleans until about 5 p.m. and then head to the gym for a quick workout. Then I'd grab a snack before heading to Saintsations practice at 6:30 until 10 p.m.
During the stay at home order, I am still working full-time from home and working out in my living room and apartment complex parking lot. I know that my building neighbors probably despise me as I live on the 3rd floor, but a guy's gotta get gains!
When you were at LSU what was your favorite place to eat?
I was OBSESSED with Pluckers in college! I still subscribe to their emails just so I can imagine eating a boneless wings basket with spicy BBQ sauce until New Orleans gets its own Pluckers location.
What's your favorite part about being a Saintsation?
Being the role model for others that I wish I had when I was growing up means everything to me.
One of my favorite things about being a Saintsation is getting to do what I was born to do – there is no greater feeling! Dancing on the field and living out a dream is unreal.
I love interacting with fans during appearances and on Game Day. I have received an overwhelming amount of support from Saints fans since I made the team.
Do you have a mentor that helped you along the way?
When I realized I wanted to dance, I started watching YouTube videos, taking classes when I could and teaching myself how to tumble. Fast forward to college, I made the LSU Cheerleading team and got involved with dance as much as I could.
I have taken classes and workshops from time-to-time but I did not grow up in a studio or gym, so it's taken a lot of hard work for me to get where I am.
I am very proud to say that I achieved a goal at such a professional level of dance by being self-taught.
If you could give one piece of advice to entering freshman what would it be?
Buckle up! LSU is going to change your life forever. There is a group, a place, a student organization, a study spot, and a home for every single student at LSU. All you have to do is be open to the environment around you.
What's your favorite song right now?
I'm so into Physical by Dua Lipa! It's at the top of my workout playlist. But have y'all heard the Savage Remix by Megan Thee Stallion feat. Beyoncé?! RIVETING!
Where do you see yourself in 10 years?
I see myself still moving and grooving! I hope to be coaching an NFL or NBA dance team, or possibly a college dance/cheer team.
I see myself with a family and children, too, and I can't wait to be a husband and dad one day!
What do you miss most about LSU?
I sincerely miss the spirit and energy of campus. I miss Fall Fest. I miss LSU Game Day and cheering in Death Valley. I miss eating in the dining halls, hanging out in the Union and studying in the Quad. I miss being an LSU Ambassador/Orientation Leader and on STRIPES Staff. I. Miss. It. All!
LSU is a hard place to let go of, but coming back to visit never disappoints.
Why are you proud to be an LSU alumnus?
LSU is a household name! You can go anywhere in the world, and people will know the LSU name and brand. When you come to LSU, you will meet people who will be in your life forever. You will graduate into an elite group of alumni who are working in every industry, in every place.
Any time I see someone in purple and gold, I still get butterflies and think back to my time at LSU. The unspoken bond that I have with other LSU graduates is so special and unmatched. Geaux Tigers and FOREVER LSU!