The second annual LSU Giving Day is Wednesday, April 22. Join us on social media and at geauxgive.lsu.edu. This year, we don't have a dollar or donor goal; instead, we are focused on showing support for our fellow Tigers. We are champions on the field, in every field, and - most importantly - for each other. Over the last month we have witnessed Tigers around the world supporting each other and the communities we live in. Our commitment to helping others knows no bounds. On Giving Day 2020 we will celebrate all of our true Tigers.
There are many ways that you can participate in Giving Day 2020. We hope you'll join in the fun and participate in one or more ways:
1. Celebrate the Class of 2020
Raise a toast to the LSU Class of 2020! These tenacious Tigers are continuing to work hard from home to reach their dreams and earn their degrees so that they can join the elite group we are proud to call LSU alumni. Cheer them on by sharing a video toast or a piece of advice for a new grad just entering the next chapter of their life. What do you wish a fellow Tiger had shared with you? Remember to use #LSUGivingDay on your post so we can share it!
2. Share Your Talents
Share your talents with your fellow Tigers and the world. Give us a performance, teach us something new, or show us what you've been working on at home. Your #LSUGivingDay post could be shared on LSU Alumni Association and LSU's social media accounts!
3. Show Your LSU Spirit
Join our virtual Spirit Hour! Show off your Tiger pride by using #LSUGivingDay to share your campus memories (maybe you could share your FIRST pic taken at LSU and your LAST pic taken at LSU), reconnect with classmates (tag your college roomies or classmates and reminisce about the good old days), recreate LSU traditions at home (a virtual tailgate in the backyard sounds good to us), or show us your best TikTok video! So don that LSU gear and get ready to show your Tiger spirit!
4. Send Messages of Hope
Be a champion for each other. We want to lift up our fellow Tigers by filling their timelines with positivity. Use #LSUGivingDay to make them laugh, share who or what inspires you every day, or tell us your best self-care tips.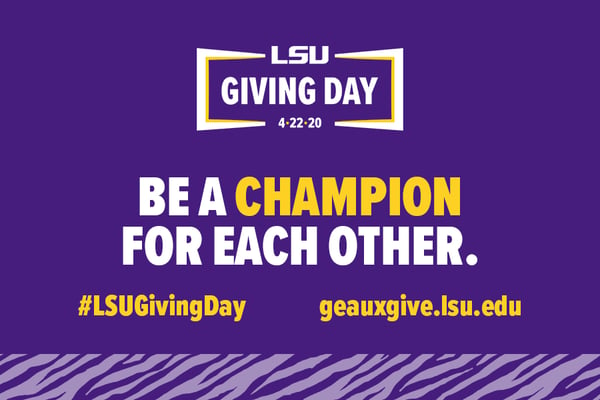 .
.
.
Tigers who are able and inclined to give are asked to please consider supporting the following giving funds:
LSU Alumni Association Emergency Operations Fund
LSU Alumni Association General Scholarship Fund
LSU Student Emergency Support Fund
We are excited to stand together with our fellow Tigers on April 22nd. With a spirit this strong, our future shines bright. Visit geauxgive.lsu.edu for more information.