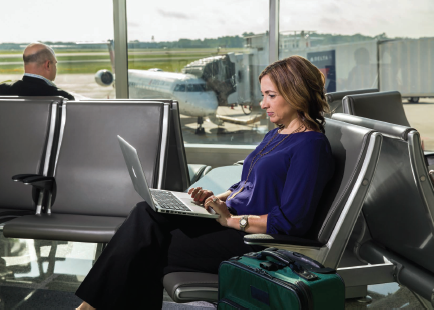 LSU Online offers flexible options for students to obtain what they need to succeed in whatever it is they're doing,
whether striving toward a first degree or seeking to sharpen skills they already possess. Photos: Jim Zietz
AT THE DAWN OF A NEW DECADE, Vice President of Digital and Continuing Education Sasha Thackaberry and her team at LSU Online – a group of future-thinking professionals she's recruited from across the country – are redefining higher education and the function it serves for all parties involved, from the application process to workforce. The nucleus of their operation consists of a simple notion: give each individual student exactly what they need to succeed in whatever it is they're doing, whether striving toward a first degree or seeking to sharpen skills they already possess. "It's about providing access," Thackaberry said. "Online is a modality. It's a delivery mechanism. We have tier-one faculty here, and these are the same faculty we want people to be able to access whether they're here in Baton Rouge, in Metairie or New Orleans, in California, or in Japan."
The LSU Online team is leveraging an entire spectrum of online learning opportunities or what they refer to as "macro to micro." They'll soon boast forty programs – double the previous fall's offerings – including associate, bachelor's, and master's degrees as well as graduate certificates and new online MicroCred options: short-form programs designed for professionals at any career level to gain field-specific training in an affordable and convenient format online. Their portfolio extends across Louisiana, also supporting online programs at LSU Alexandria, LSU Eunice, and LSU Shreveport.
"Part of what makes us very future forward is we're thinking about the small learning experiences building into the larger learning experiences, so someone can come to LSU at any point for a variety of needs," Thackaberry said. "The overall strategy is to ensure that folks who come in with experience and certifications don't have to delay their time to degree by retaking things."
For example, LSU Online's construction management program provides credit for certain military certifications. This set up is a unique and modern approach for a flagship, according to Thackaberry. It's part of their objective to make each student's experience customizable and practical.
Upon application to LSU Online, students are paired with a personal concierge to guide them through the entire process, from proposing the most suitable program to graduation. Though the student isn't the customer in the classroom, Thackaberry stressed, LSU Online strives to provide world-class customer service to remove administrative barriers.
The typical LSU Online students are post-traditional learners who need to finish a degree, who want to advance or change their career, who seek flexibility. Thackaberry's team calls them "mid-career millennials," but they also enroll students in, say, their 60s. Beyond their physical inability to attend class in Baton Rouge, these might be students who have families, who are parents returning to the workforce later in life, who had their college career derailed for
some reason.
"Think of what we do as the historical evolution of the evening-weekend college," she said. "It's important
to have that for students, but even more importantly, the world has really changed, so education is not a point-in-time endeavor anymore. If LSU doesn't offer flexible options, they will go elsewhere to fulfill those needs."
Thackaberry and her team have established what's called a "learning experience design team," with designers who work individually with faculty to support the creation of engaging, modern online learning experiences. In the increasingly virtual world, improved technology allows for more interactive experiences between the students and faculty, content, and other students. The focus of the learning experience design team is not only to mirror the same learning experience students receive in classrooms but also to fulfill LSU Online's role as what Thackaberry called a "support and services unit."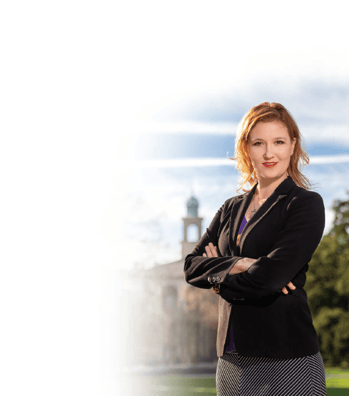 Sasha Thackaberry, vice president, Digital Continuing education. Photo: Eddy Perez
"Our faculty are world class researchers, but learning design is a whole other field. Our team is here to support them in designing high-quality learning experiences that reflect their on-campus course. Additionally, we focus on creating authentic assessments that have real-world application and making sure there's rich engagement," she said.
Thackaberry explained that part of the process, too, when deciding which courses to offer online involves meeting workforce and innovation demands. From full degrees to the MicroCreds, every learning experience is designed for students who want to put the knowledge immediately into place at their jobs, sometimes as soon as the following day.
LSU Online works closely with businesses to identify MicroCreds relevant from a technological, workforce, and business perspective. They also nurture partnerships with Louisiana businesses to learn what sort of skill set gaps exist and how the University can work to meet certain needs.
LSU's robust network of alumni around the world plays an especially important role in course offerings and development. "There are alumni who are at the top of their game in so many different fields. As we grow our portfolio of trainings and degrees, we want to make sure we're talking to them and making sure, from their perspectives, that we're putting the right programs online that they need or leveraging the opportunities that they see in their businesses," Thackaberry said.
In this way, a comprehensive and successful online degree program like LSU's has the potential to improve the business landscape of Baton Rouge and the state. "Businesses are competing for highly skilled folks," Thackaberry said, "and if they have someone good, they don't want to lose them. They'd rather keep them and transition them to a new area or up-skill them in place. We can provide that 'just-in-time component' . . . or when people move here to take advantage of a job, they can get up-skilled in place and stay. We don't want to lose our highly skilled workers to surrounding states."
According to Thackaberry, these businesses, in most instances, already designate money toward tuition remission or professional development. In the past, those businesses have had to send their people to programs out of the state for continuing education, but more than ever before, LSU is an ideal destination for those educational opportunities.
She believes LSU, as the state's flagship institution, must take responsibility for Louisiana's social and economic mobility beyond the University's physical presences. In Thackaberry's eyes, Louisiana shouldn't be at the bottom of any list with all of the important work happening here. She said it's an important part of LSU Online's mission – as well as the University's research dissemination and land-grant missions – to spread LSU's brand and alumni network beyond previous boundaries.
Not every institution would understand how important this mission is for the University to continue to be a leader in higher education, Thackaberry said, but LSU's administration "gets it." Executive Vice President and Provost Stacia Haynie's persistent executive and vocal support has been foundational to LSU Online's success so far, making the mission one of her top institutional priorities. The collaboration and support of several other administrative teams on campus has been instrumental as well. The early-adopters in specific departments and the support of leading-edge faculty have made these programs a reality. "It's truly a University-wide initiative," Thackaberry said. "We can't build it alone. We win as a team."
This story is part of a feature story from the Spring 2020 issue of LSU Alumni Magazine. If you would like to receive future issues of our print publication become a member of LSU Alumni Association.