2007 Manship School grad Caitlin Picou left the shady oaks of LSU in 2007 and headed west for Fort Worth's oil and gas industry. Her career quickly took a different path as she moved from Texas to the Big Apple before finally landing back in Louisiana. We had a chance to catch up with this successful young entrepreneur and discuss her company Kismet Cosmetics.
1. What path did your career take after graduating from LSU? Shortly after graduating from LSU, I moved to Fort Worth, TX to work in the oil and gas Industry. After about a year, I started looking for a new career, one that would fit my interests more. A family friend knew the Vice President of Marketing at TIGI haircare, who happened to be an LSU Alum as well. I took a chance and set up a meeting with her to see if there were any job opportunities with her company. Being two Louisiana girls who loved LSU, we hit it off. She invited me for a formal interview and needless to say I landed the job. I moved to Dallas, Texas and began my career as a Product Development Assistant. Slowly working my way up to running their three brands, Bed Head, B For Men and Rockaholic. After I began working with them, TIGI was purchased by multi-billion dollar company, Unilever. They offered me a job as a Brand Development Assistant in their New Jersey Office for their Suave Styling Team. Of course, I couldn't pass that up so I moved to the Big Apple. After a year, my husband, also an LSU alum, received a job offer back home with an LSU medical residency program. It was time to pack up and move back to Louisiana. However, I didn't know what would happen to my career. Louisiana didn't really have beauty brands. So I decided it was time to create my own. Two TV shows and five years later, I have developed Kismet,a boutique cosmetics brand, that I am extremely proud to call Louisiana's cosmetics brand and the new southern chic beauty brand.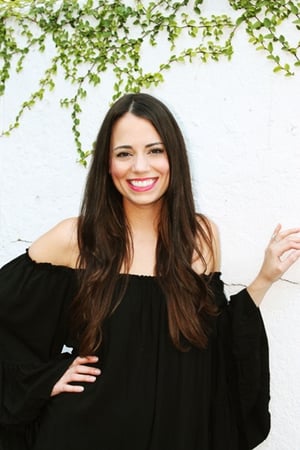 Photo by Marci Thomas
2. What inspired you to start Kismet Cosmetics? I always knew I wanted to start my own business. I would run ideas by my father from time to time, trying to figure out my passion and focus. Shortly after he passed I realized life was too short and I know I needed to follow my gut. He always believed in me. It was time to believe in myself. I also hated the fact that I had to leave Louisiana to find my career. I wanted to bring my career back home to offer these opportunities to graduates and to show them you do not have to leave. That is my hope to build a major brand player right here.
3. What has been the biggest challenge and the biggest reward as a young entrepreneur? So many challenges, let me think. Don't let the glamour of the beauty industry fool you. I learn new things daily. I think the biggest challenge was learning business. Just how a business works. Creating products come naturally to me, but the real challenge is learning to run a successful business. I reach out to local community resources and learned a ton from my experience on CNBC's Billion Dollar Buyer too. But I am sure there will be a new challenge on the horizon, there always is.
4. How did LSU help pave the way for you to take on this challenge? You would expect me to tell a story about some tough class that I struggled to excel in and how I overcame the obstacles, but that isn't what the biggest challenge was for me at LSU. I think LSU as a whole challenged me to develop the life skills needed to be successful in business. It taught me how to come out of my shell and network with new people daily. When you are an introvert, you understand the challenge. Rushing was a major turning point for me. It is so scary putting yourself out there to be judged, but finding your tribe is truly beneficial. My very best friends who help me daily with my brand, I met through Kappa Kappa Gamma. LSU challenges you to participate in activities, and it worked.
5. You've been featured on the TV show 'Billion Dollar Buyer'. Tell us about that experience and how it has affected your business. Whenever the show first contacted me, I didn't really think about the consequences. It was one of those, jump before you look down, things. And I am so glad I did. It has totally changed the direction of my business. It took it from a 'hobby' to a brand in a few months. But what I learned most was to take a risk. I was very risk averse, but Tilman taught me to believe in myself.
6. Kismet has received a lot of positive press locally and nationally. What's next for this brand? We recently launched a foundation line, which was a major undertaking as we wanted to cover as many skin tones and types as possible. Plus, I wanted to create the perfect primer for each formula and coordinating brushes. This was a risk, but I truly believe our all-natural formulas will win people over, just like our lipsticks. I am also working with an up-and-coming innovative product that will allow you to create a fully customizable pallet. Ideal for travel or busy women. I am really excited about this upcoming project and think it is just what us beauty-enthused women have been looking for.
Want to stuff your stocking with these great beauty products and support and LSU Alumna? Check out Kismet Cosmetics for yourself!