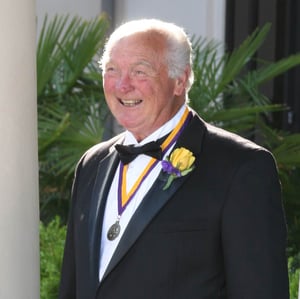 Dr. Billy Cannon passed away on Sunday, May 20, 2018. He was 80.
Cannon was recognized by the LSU Alumni Association as Alumnus of the Year in 2010. We all know of his gridiron achievements, and we thought Tiger Nation would be interested in knowing the rest of the story.
As a senior citizen, Cannon attracted widespread praise for his management skills as director of the Louisiana State Penitentiary dental clinic and for his tireless efforts as a fundraiser for a variety of charitable events.
Cannon began working at the Louisiana State Penitentiary at Angola in 1995 and only retired in January of this year. When he was hired, Angola was facing a federal lawsuit over dreadful prison conditions. Newly appointed warden Burl Cain hired Cannon not only as a dentist but also to reform the medical and dental programs, which had fallen into disrepair. With Cannon's hard work and leadership skills, order and efficiency were restored to both programs, and, by the end of the nineties, the federal suit was lifted. Cannon continued as director of the dental program for the nation's largest prison.
But Billy Cannon was more than a good dentist and administrator. With his reputation as a world-class athlete, his easy manner, and good-natured kidding, he earned the trust, respect, and affection of the inmates who soon gave him the nickname "Legend."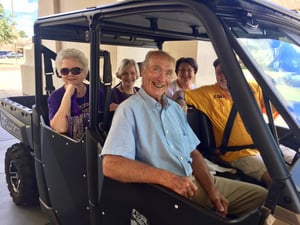 "He was greatly respected by offenders and staff and always went out of his way to help anyone he could," said Darrel Vannoy, the warden at Angola. He was known for his sense of humor, his storytelling, and his inspirational advice.
"People confuse 'sympathy' for 'empathy,'" Cannon used to say about his prison work. "I had empathy." He understood the inmates. He had experienced grinding poverty. He appreciated the complex challenges of rebuilding a life and earning the respect of strangers.
"Dr. Cannon was a very kind man who cared deeply for the offenders at Louisiana State Penitentiary," Vannoy said. "He brightened everyone's day, especially with his football stories. He will be greatly missed and was loved by all."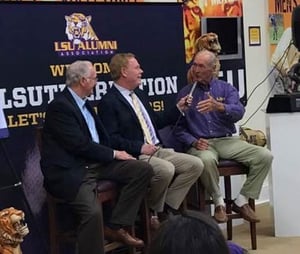 Over the years, the LSU Alumni Association was just one of several arms of the university that asked Cannon for assistance.
At an "open house" on a home football game day, Cannon was asked to sign autographs for guests at the The Cook Hotel and Conference Center. Having agreed to stay two hours, he stayed for more than five, talking with alumni, signing autographs, posing for pictures. Cannon seemed to have as much fun as the alumni did.
His relaxed manner and charm made the celebrity-signing event unlike any other. He spent an extended amount of time with each guest, asking about their friends or relatives or people he knew in their hometowns. He listened to countless stories from fans about where they were the night of his famous 1959 "Halloween Night Run." Cannon's knowledge and memory of Louisiana sports figures always endeared him to fans of all ages. This selfless performance attracted other requests.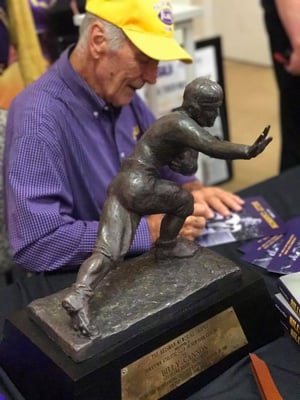 Cannon did fundraisers in several parts of the state and in Houston to benefit the Johnny Robinson Boys Home in Monroe. He was genuinely moved that Robinson, an ex-LSU teammate, had devoted his life to caring for homeless boys.
As he aged and his health declined, Cannon continued to support good causes. He rarely turned people down. It is important that we remember Cannon's generosity and caring for those who could not help themselves.
The Cook Hotel won't be the same on home game days without Dr. Billy Cannon. He was a great storyteller in his numerous appearances at the hotel and at the Andonie Sports Museum. The LSU Alumni Association, the fans, and the loyal alumni who enjoy staying at The Cook Hotel will miss him.
Written by Bud Johnson, retired director of the Andonie Sports Museum and author of The Perfect Season: LSU's Magic Year-1958. We also extend much appreciation to Charles N. deGravelles, author of Billy Cannon: A Long, Long Run for his contributions to this story.