Raising Cane's celebrated its 25th Anniversary in August 2021. The fried chicken chain has grown to areas all over the country but still continues to hold true to its original mission: cooking quality chicken finger meals that started in Baton Rouge.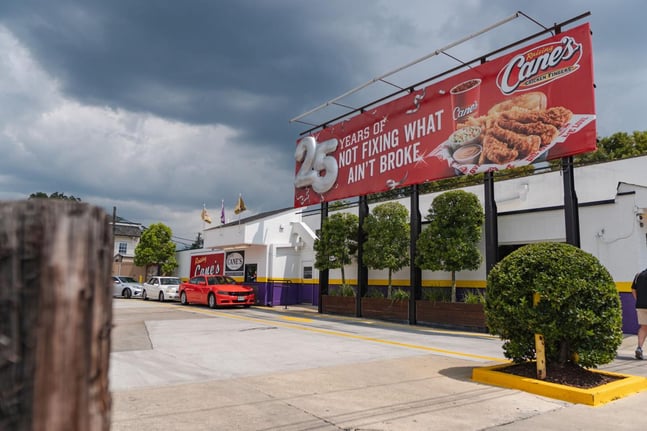 A billboard reads "25 Years of Not Fixing What Ain't Broke" on Aug. 25, 2021, above the Raising Cane's restaurant at 3313 Highland Road in Baton Rouge. Photo by Matthew Perschal
On any given day if you're driving down Highland Road, you'll see the drive-thru line for Raising Cane's wrapped around the parking lot and trailing down the street.

Twenty-five years ago, the scene looked the same. The first Raising Cane's opened Aug. 28, 1996, at the North Gates of LSU. The restaurant was so busy it stayed open until 3:30 a.m. To this day, "The Mothership" location at 3313 Highland Rd. remains open until 3:30 a.m. Thursday-Saturday, catering to the college crowd that was its original audience.

"When I started, I was two years out of college," said Todd Graves, Raising Cane's founder and CEO. "And so, I wanted to hire college students, I wanted college student customers and just have this really cool place."
Cane's is a special place for Lyric Mandell, a media and public affairs doctoral student.

With its extended hours, fresh food and fun atmosphere, Cane's has been one of Mandell's favorite restaurants since her time in undergrad at the University of Houston. She said she and her friends stopped in at the Cane's on South Rice Avenue in Houston so often, the restaurant crew knew them all by name.

"It became a bit of a ritual for us to go bowling or to see a movie, go to Cane's and play one of the dozen board games I kept in my trunk," Mandell said. "One summer, we decided to see how many days we could go without getting bored — we got to 15 but figured it was best not to try and make ourselves sick of our favorite spot after that."

With close to 600 Raising Cane's locations, you'll find Caniacs like Mandell across the globe. But the story behind the popular fast-food chain is rooted in Baton Rouge, just like its founder.

Graves created the Raising Cane's business plan, which his original business partner Craig Silvey presented in a class at LSU. The plan received the lowest grade in the class.

Undeterred, Graves pitched the idea to several banks, but time after time, he was turned down. He decided to raise his own capital. Graves worked as a boilermaker in oil refineries across the country and as a commercial fisherman in Alaska, but once he earned enough money to secure a loan, he returned to his hometown of Baton Rouge.

"I love this community, you know. I'm a Baton Rouge boy, and I've been an LSU fan since I've been a kid," Graves said. "I chose to open the first Raising Cane's at the North Gates of LSU because I just love it so much."

Graves reconstructed the original Raising Cane's, "The Mothership," from what he called a dilapidated building at a great location. He borrowed a friend's tractor to lay the parking lot and put in the plumbing himself underneath. He built the business with his own hands and proudly lists fry cook and cashier as job titles in his biography.
"The community would come by and help me," Graves said. "LSU band or LSU groups that would come in — they might have a little bit of money to do lunch or dinner, somewhere part of their budget, they'd come to Canes because they knew I was working hard for this dream."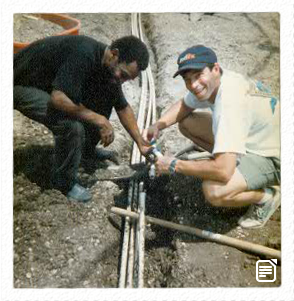 Graves said his first advertising was in the Reveille and on KLSU.
"You think about this now, we have, you know, huge ad budgets, right? Just tremendous ad budgets. And you think it was, like, literally started there at LSU," Graves said.
A stack of Reveille newspapers still sits on the bar at "The Mothership," where Kelsey Segraves serves as an operations manager.
Working at Cane's was Segrave's first job, right out of high school. She's worked at several Cane's locations around the Baton Rouge area over the past five years. She said working at "The Mothership" is fun and eventful.
You never know when Graves will show up for a box combo (no slaw, extra toast, extra sauce). When tailgates and campus events like rush week are going on, it gets busy, but Segraves said she loves working with the community.
"Walking in and having like a full lobby, I don't know, it's just like the best feeling and having the community around us," Segraves said. "That's one of the things about Canes is we know that, like, our community is what makes us successful, so that's why we try to give back."
Supporting the communities it does business in is a huge part of Raising Cane's mission. The restaurant has six areas of focus: education, feeding the hungry, pet welfare, active lifestyles, business development and entrepreneurship, and "everything else."
Just this past year Graves launched "Restaurant Recovery" to help family-owned restaurants struggling during the COVID-19 pandemic and partnered with LSU to provide online education opportunities to crew members and their families.
Cane's has given back over $100 million throughout its 25 years of business.
To celebrate its 25th anniversary, Graves announced Cane's will give back $25 million in community support over the next year.
Graves kicked off this effort by presenting a pair of $25,000 checks to the Baton Rouge Area Foundation and Feeding Louisiana at a 25th-anniversary celebration held at the original Cane's restaurant Wednesday.
What started as a college dream to open one local location has grown to include restaurants in 32 states and other countries, nearly 40,000 crew members, and millions of customers.
"A piece of that LSU community really goes out through that," Graves said.
After a quarter-century of changing nothing—not even the menu—Cane's is still doing what the business has done best from the start: cooking quality chicken finger meals and continuing the culture that was built right here in Baton Rouge.
"I think that's really special," Graves said. "I'm just proud that 25 years later, we're still the same tradition that we built 25 years ago at the North Gates of LSU."
This article was written by Ava Borskey, for the Reveille.