There is so much love here in the air at LSU! Whether it was locking eyes in The 459, running into each other in the Quad, or fatefully finding each other in Tigerland, there are so many incredible love stories that started right here on the LSU campus. We asked #LSUTigerNation to share their #LSUAlumni love stories in honor of Valentine's Day and hundreds of proud alumni shared their memories. Memorial Tower is a Tiger family tradition for midnight kisses, engagements, and even weddings! Read our featured Tiger love stories in their own words below.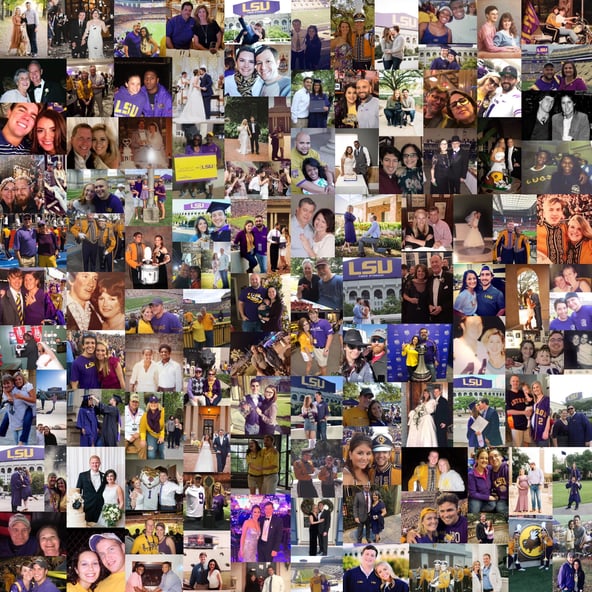 Hundreds of LSU alumni submitted then and now photos of them and their loved one for Valentine's Day.


Our #LSUAlumni Love Stories are from:
Lacey Allphin Anderson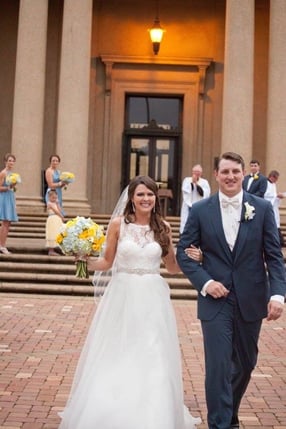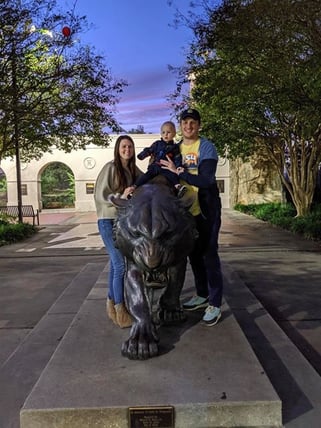 My husband, Alex Anderson, is a graduate from the LSU landscape architecture program in 2012. I graduated LSUHSC school of nursing in 2013 (I went there specifically to be an LSU grad!). We met in 2011 and LSU has always been a part of our relationship. Our first tailgate together, we discovered our families have been passing by each other's tailgates since we were babies! My husband proposed to me on the steps of Memorial Tower. We popped a bottle of champagne and drank it on the steps together to celebrate. While we sat there, we said, "You know, this would be a great place to get married!" We were happily married on the steps of the historic Memorial Tower on April 11, 2015, and held our reception was at the Lod Cook Alumni Center on the LSU Lakes. On August 23, 2018 we welcomed our little LSU Tiger, James Richard Anderson.
Tarah doggett arcuri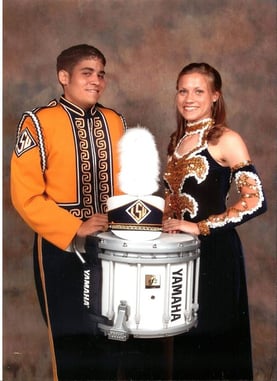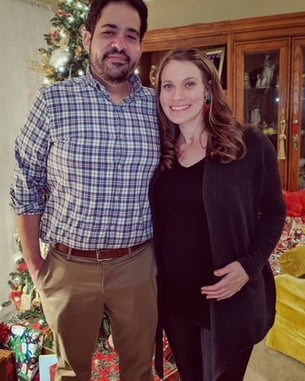 My husband and I met in the Tiger Band our freshman year and started dating the following year. We are pictured above during our junior year at LSU in 2002. We have been married for ten years and have our first baby Tiger on the way. LSU will always be our special place to remind us of how much we truly love each other.
Belle caffey chatelain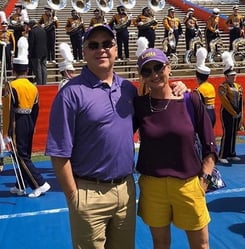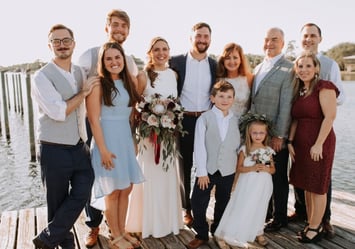 Blake and I met at LSUA in late 1982. From there we both transferred to LSU in Baton Rouge and graduated in 1985 and 1986. Blake currently serves on the LSU Board of Supervisors now going on his twelfth year. My Dad, the late Dr. H. Rouse Caffey, was the former Chancellor of LSUA and retired as the Chancellor of the LSU AG Center. Out of the 9 of us adults, my husband, myself, our four sons, and our three daughter-in-laws, all but one are LSU alums. You could say we BLEED purple and gold!
KAtelyn gross ehrhardt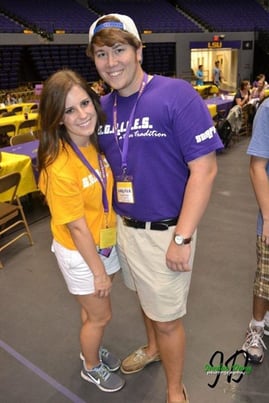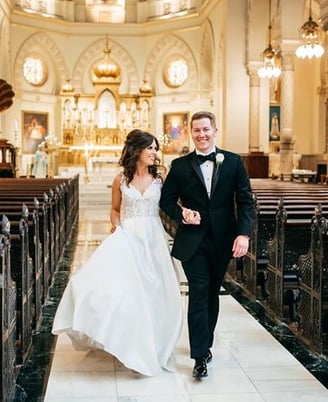 My husband and I have been together for eight years and been married for almost two. My husband (Ryan Ehrhardt) and I met on February 19, 2012 at the S.T.R.I.P.ES. staff auditions. Ryan was on Executive staff, and I was trying out to be a small group leader. He came over to introduce himself and the rest was history. He graduated from LSU in 2014 and I graduated a year later in 2015. He proposed on December 22, 2016, and we were married on May, 12, 2018.
Kellie blake hardy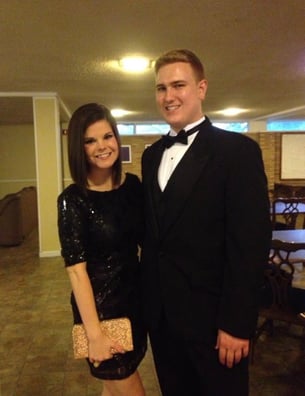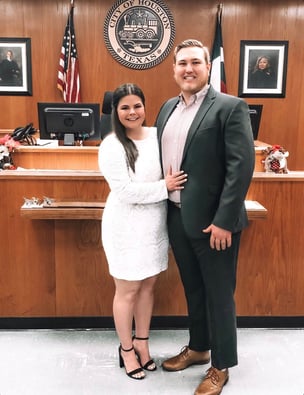 My husband, Austin, and I met at LSU while we were geology lab partners. On the first day of class, we had to pick lab partners and another girl and I decided to partner up. Austin walked in a few minutes late and asked if he could join the group. Of course we said sure, because we figured we could divide the work and make it easier. A few weeks go by, and he keeps trying to study for tests with me but it never worked out for some reason or another. Then one morning I texted him randomly to tell him he was in my dream, then we kept texting all day. Later that same day he said "There's a Josh Abbot concert tonight at the Varsity, do you want to go?" I was very confused because he did NOT seem like a country guy, but he said "Oh yeah, I love country," and he sent me a picture of the tickets. So I of course said "Sure, I guess I have to go now!" I still didn't know if it was a date or if we were just lab partners hanging out and having a beer, but I knew I'd enjoy the concert. After the opening act was over, he leaned over and said to me "Well that was short!" He thought that was Josh Abbot Band and the concert was over! I realized he had lied about loving country to get me to go out with him, and I said "Oh no babe, that was the opening act." And we've been together ever since.
AMy Normand Hebson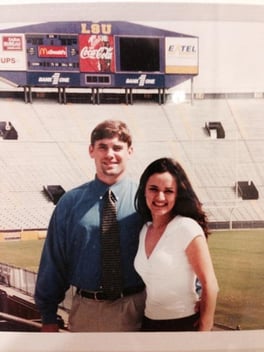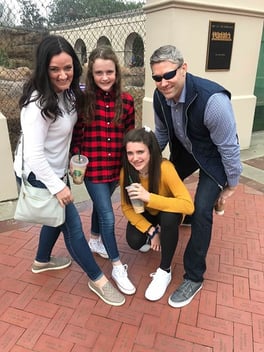 We met our freshmen year in art class in Spring 1997. After chatting in class one day, we walked together to the Student Union to check our post office boxes. We continued to walk together to the Union each day after class and hung out in front of the post office to talk. A five minute talk one day turned into three hour talks on future days. After several weeks of our post office chats, we went on our first date...and not to the post office. Three years later, he took me back to the post office and proposed! Yes, we got engaged in the LSU post office. It was the perfect place for us. We have been together since 1997 and married since 2001.
Shamika kelley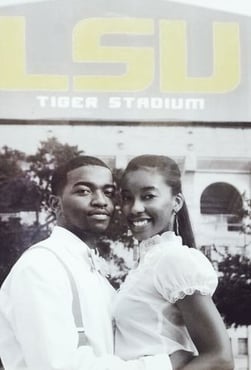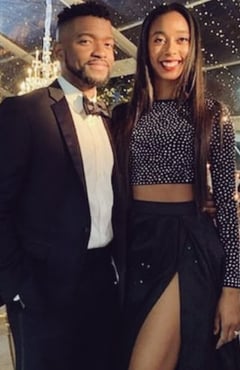 It all started at the Purple Pajama Game when LSU played Western Illinois on September 13, 2003. We met, enjoyed the game, then said our goodbyes not knowing that we'd be engaged four years later. He proposed in the Cotillion Ballroom in the Student Union. We have now been together for 17 years, married for 10 years, and have two baby Tigers.
lauren mccoy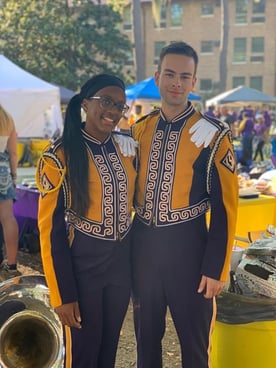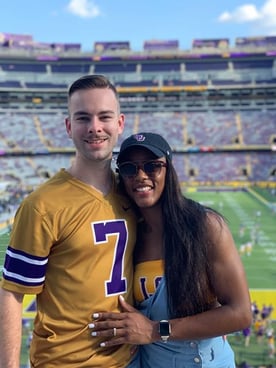 My fiancé and I met in Tiger Band and were both Tuba players. We were best friends for all four years of band, and loved traveling and experiencing the great aspects of being in The Golden Band from Tigerland together. We got engaged on August 31, 2019: The 1st game of a very historic season for our Tigers, and our first year not in band uniform! We are forever grateful to have been apart of an organization that enabled our friendship to blossom into something that is so beautiful.
"And may thy spirit live in us forever!"
Chrissy Fox Roussel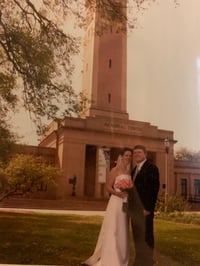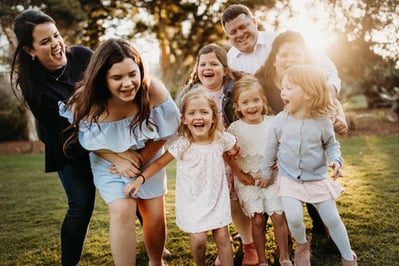 I first met my husband in the middle of the Student Union. He was talking to my friend Sonja about his organic chemistry test, and he laughed as he talked about how he had guessed his way through so many questions. There was something about him, that first day I met him--he was so open, funny, and at ease. He made me smile. Seth and I were both sophomores that day. Not soon after, in the fall of our junior year, he became my boyfriend. We went to football games, showed people around campus as Ambassadors, and generally loved every minute of being at LSU together. We even both served on the 1999 Homecoming Court, which was such a fun experience, even more so because we were paired together. Fast forward five years, and we got engaged under Memorial Tower. That location was chosen without hesitation--our story had begun there, and though we were no longer living in Baton Rouge, it seemed like home. One year later, we married on campus at Christ the King. It's now been 22 years since that day we first met in the Union. He still makes me laugh so hard I spit my drink out. He's still funny, kind, and easy to talk to. In those 22 years since we met, we've moved many times, completed graduate school, and celebrated countless milestones together. Most importantly, we've welcomed six beautiful daughters, including our surprise triplets. And even though we've traveled around the world, we've made our way back home to Baton Rouge, living just two miles from the Union, and that spot where we first met. We are Forever LSU. Geaux Tigers!
Derrick Sullivan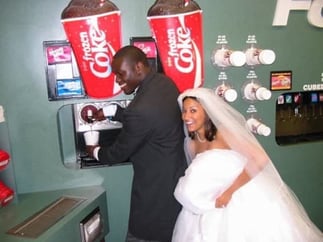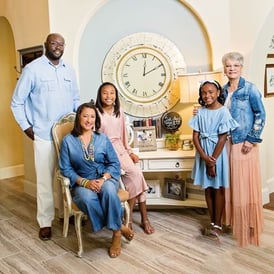 Robin Conn Sullivan and I officially met in CEBA in January 2002. We actually went to the same high school but didn't even know each other. When we met, I was finishing the full-time MBA program and she was a first year MPA student. We both knew it was the real deal because we were engaged in August 2002. I graduated in May 2002 and we were in long distance relationship until she graduated in May 2003. We married in June 2003 and the rest is history.
Hilary Tuttle Trahan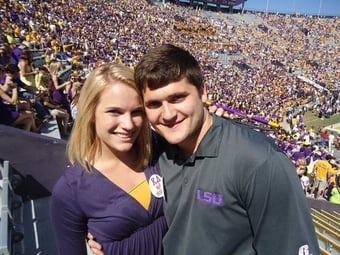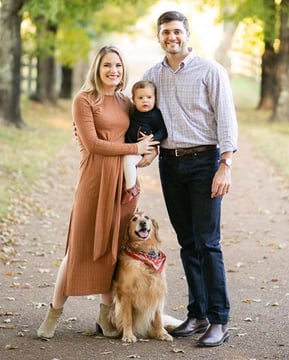 My husband, Jake, and I met ten years ago at our on-campus student job at the Board of Supervisors office in 2010 when I was in my freshman spring semester at LSU. We started dating two months later. Jake graduated from LSU in Baton Rouge in December of 2010 and LSU Medical School in New Orleans in May 2015. Jake was by my side as I was crowned Miss LSU-USA 2013, graduated in May of 2013 from the Manship School of Mass Communication and went on to graduate from the LSU Paul M. Hebert School of Law three years later. Needless to say, we are HUGE LSU supporters and fans! Jake proposed on the parade grounds in May of 2014. We were married in 2016 and now have a 1.5 year old and a second baby girl due on March 25.

10 years together, 9 roller coaster football seasons, 4 years married, 3 cities, (almost) 2 babies later, I am so incredibly grateful for all of the opportunities LSU has given me— including meeting my husband. We can't wait to bring our family to all of the LSU events when we move back to Baton Rouge in August!
Kate Wetekamm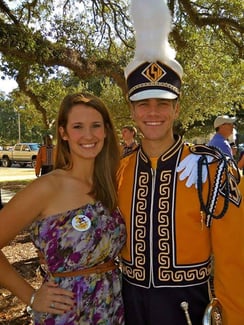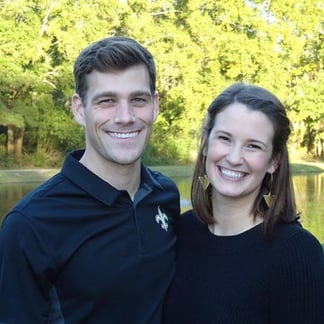 I met my husband Kale Wetekamm in 2009 at S.T.R.I.P.ES. I was an incoming student and he was a S.T.R.I.P.ES. leader. We were in Tiger Stadium when we were first introduced, and I was absolutely in love the moment I met him! LSU has been such a huge piece of our love story. Seven years later, Kale proposed at the LSU lakes- in the same place his dad proposed to his mom 30 years before. We married in 2017, and are expecting our first baby in April.