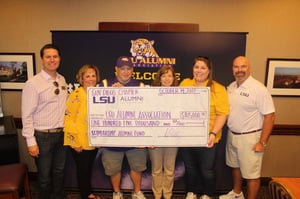 When most people think of a crawfish boil, they likely conjure up images of several fold-out tables in a backyard with twenty to thirty of their closest friends. In San Diego, they've decided to take this typical gathering and turn it into a massive festival. Over the last thirty years, the LSU Alumni of San Diego Chapter has managed to grow this annual event into one of the largest crawfish boils in the world. With over 4,000 purple and gold fanatics taking over the practice field at Qualcomm Stadium, this festival has become the place to be during the Memorial Day weekend. While there is nothing like a good party, this celebration has a worthy cause. The funds raised from the crawfish boil are used to award 2 scholarships per year for local San Diego students planning to attend LSU. Additionally, 2 Professorships/Year are awarded to distinguished LSU Faculty Members.
From bayous to beaches. From crawfish etouffee to fish tacos. From hurricane season to sunny and 72. While Louisiana State University and San Diego, California seem to be quite different from one another, they actually have quite a bit in common. As the LSU Alumni of San Diego celebrate their 30th year of pinching tails and sucking heads, let's take a look at the fact that in spite of the 1,535 miles that separate the Red Stick from "America's Finest City", they are very connected.
Jacob Hester
On October 6, 2007, Jacob Hester cemented his legacy for the Bayou Bengals as he rushed for 107 yards and a touchdown against the Tim Tebow led Florida Gators. LSU converted five of five fourth-down attempts in legendary fashion, and Hester led the Tigers toward their 2nd national championship in 5 seasons. Honored with the revered number 18 jersey, Hester was drafted by the San Diego Chargers in the 2008 NFL Draft. The Shreveport native now serves as the honorary national fund chair for the LSU Alumni Association.
Raising Cane's
Always fresh, never frozen doesn't just describe San Diego; it is also the catchphrase for Raising Cane's Chicken Fingers, the quick service chicken finger empire founded by LSU alumnus, Todd Graves. On May 1st, Graves brought his "one love" to San Diego with the opening of Raising Cane's in Santee.
Rail Road
Gas is expensive and air travel is a hassle. For only $185 (prices may fluctuate) you can board a train in Hammond (only 47 miles east of Baton Rouge) and 54 hours later end up in sunny San Diego.
CC Caccamise
The LSU Softball program has a rich history. They are currently in pursuit of their fourth consecutive Women's College World Series berth. This year LSU's CC Caccamise plays catcher and infield, and happens to hail from Patrick Henry High School in San Diego, California.
LSU Alumni of San Diego
The LSU Alumni of San Diego, for 30 years, has protected, promoted, and fostered the welfare of Louisiana State University. With the local talents and resources of alumni, the university is supported in its pursuit of excellence in teaching, research, and public service. They also know how to laissez le bon temps roules!
San Diego Padres
After leading the Tigers to their most recent College World Series championship in 2009, Covington native, Ryan Schmipf, was drafted by the Toronto Blue Jays before being signed by the San Diego Padres in 2015. He made his Major League debut on June 14, 2016, and set the Padres rookie record for home runs in a month with 9 in July, earning him NL Rookie of the month honors.
Before Schimpf, another LSU great and CWS champion donned a Padres uniform, Todd Walker. Walker, who has his number 12 retired at Alex Box Stadium, led the Tigers to the 1993 College World Series Championship, and helped the Padres earn a National League playoff berth in 2006.
USS Kidd
Only 2.2 miles from LSU's campus rests the USS Kidd. This Fletcher-class destroyer was named after the Rear Admiral, Isaac C. Kidd, who died on the USS Arizona during the 1941 attack on Pearl Harbor. After a lengthy trek into the Pacific theatre, the USS Kidd sailed to Pearl Harbor, before returning to San Diego for inactivation. This ship is now berthed on the banks of the Mississippi River in Baton Rouge, Louisiana.
Karen Brack
Karen G. Brack earned her BS in electrical engineering from LSU. She now serves as an Airborne Electronic Hardware (AEH) Engineer for Boeing Commercial Airplanes in San Diego, California. Brack was honored as a Distinguished Alumnus of the LSU College of Engineering due to her 25 years of experience in the design and verification of Application Specific Integrated Circuits (ASICs), Field Programmable Gate Arrays (FPGAs), and digital hardware. Karen Brack is also a member of the LSU Alumni Association Board of Directors.
Jarrett Lee
Before being signed as an undrafted free agent by the San Diego Chargers, Jarrett Lee led the Tigers to one of the most impressive seasons in collegiate football history. After an undefeated regular season that featured victories over the eventual Pac-10 (Oregon), ACC (West Virginia), and national champions (Alabama), Lee directed the Tigers to their 3rd SEC Championship since 2003.
Emily Turner Graham
Emily Turner Graham won 84 games as a starting pitcher for the Lady Tigers. This Chula Vista native led the Tigers Women's College World Series in 2004 after an SEC Championship; followed by the NCAA Super Regionals in 2006, and again in 2007 after another SEC West and SEC tournament title.
What's a couple of thousand miles and a couple of time zones between friends? The bond between San Diego and LSU is stronger than it may appear on a map. This year the LSU Alumni of San Diego is celebrating their 30th Annual Crawfish Boil on Sunday, May 27th. Everyone in San Diego is welcome to the old Chargers practice field at Qualcomm Stadium.
LSU Alumni of San Diego from on Vimeo.
---