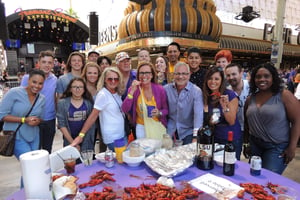 The dry climate of Sin City is a far cry from the thick humidity of the Louisiana bayous. While the altitude and temperatures may be different, there is one thing Las Vegas and Louisiana have in common – the love for a good party.

If you have a connection to Louisiana or Las Vegas, the Sin City Tigers Crawfish Boil is Christmas, Mardi Gras, and Saturday Night in Death Valley all rolled into one. This year is a special one for the Las Vegas LSU Alumni Chapter as they are celebrating 15 years of hosting their crawfish boil. In honor of this monumental occasion, we have created 15 reasons for you to attend this year's Sin City Tigers Crawfish Boil this Saturday under the canopy at the Freemont Street Experience.
1. Zydeco Music
There will be live zydeco music on stage during the event. One stroke of the "rub-board" will swoop you away to the soulful swamps of Louisiana.

2. Hot Beignets
Is there anything better than fried dough with powdered sugar? Take a step back in time when you devoured 12 beignets in 15 minutes at Café Du Monde. Attend this year's crawfish boil, and you can relive those sweet memories again without leaving the desert.
Bonus Points: While on the topic of fried and sugar-coated desserts, you will be steps away from the world-famous fried Oreos. And, there is no better companion to boiled crawfish and ice cold beer than a fried Oreo with powdered sugar, right?

3. Armchair Quarterback
Living outside Louisiana can be lonely for a Tiger fan. Not everyone wants to break down the spring practice depth chart of the offensive line with you. You're in luck, because there will be plenty of people, just like you, who will be playing armchair quarterback for the Tigers. As a bonus, depth charts and clipboards are allowed at the event.

4. Bra Pong
Remember when you played quarters with your roommates in Tigerland Plaza? Don't worry, Bra Pong is nothing like that. It's way better!
5. Three-Wheeled Car
What is purple and gold and has three wheels? Hint: It's not the scooter you stole from the Middleton Library. It's way cooler. The answer is a three-wheel roadster customized with purple and gold and owned by Sin City Tiger's President, Cherie Many.

6. The Freemont Experience
The venue for the Sin City Tigers Crawfish Boil is one of the best in the nation. Hosted at The Freemont Experience, the LSU Alumni Association's crawfish boil is a party within a party. Unlike your accounting classes in CEBA Hall, you are surrounded by entertainment. Whether it is viewing the world's largest video screen or zipping over the Tiger Nation, this venue is one-of-a-kind.

7. Everyone is Invited
Just like "Drinking with Lincoln" at The Bengal, everyone is invited. Mom, dad, friends, and foes are all welcome. You do not have to be a graduate of LSU.

8. No Love for the Mudbug
If sucking heads and pinching tails is not your thing, we've got you covered. We will have a nice variety of BBQ to satisfy your taste buds.

9. Kid-Friendly
We're stealing a page from Skip Bertman's design portfolio by making our venue a kid-friendly one. Everything from face-painting to balloon crafts will keep the kids occupied and happy.

10. Merchandise
It's time to ditch the "Beat the Noles" gameday shirt from the 1991 Florida State game. There will be LSU merchandise for sale at the event. If it has purple and gold on it, we will have it.

11. Other Schools Represented
Despite your flaws, if your native language is "Roll Tide", "Gig 'Em" or "War Eagle", we will still welcome you with open arms. Special Note: Nick Saban and Jimbo Fisher jokes are fair game.

12. Zip Line
Like that 7:30am Calculus class in Lockett Hall, things are usually not heard the first time they are said. And, this item is worth noting a second time. You can literally zip-line across the venue. The last time you tried this, you ended up face-first in the LSU Lakes. Trust us, this is much safer.
13. Networking
No, we are not talking about the computer engineering class that you dropped sophomore year. We're referring to "breaking the ice" with fellow members of the Tiger Nation. Whether it's making new, personal friends or establishing business connections, the LSU Alumni Association events are an excellent opportunity for networking.


14. Crawfish
Duh! Where else can you get the best tasting crawfish 1650 miles from the Atchafalaya Basin? The best way to answer this question is to taste them live and in color.


15. Great Cause
All money raised from the event goes into an endowment fund and is used to award a scholarship each year for a deserving Nevada high school student attending LSU.

So, who is ready to have a good ole fashion Louisiana party? Are you planning to attend this event? If so, we cannot wait to see you there.