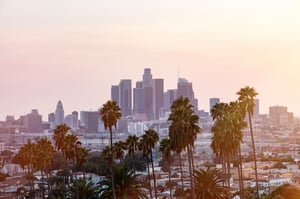 The Southern California LSU Alumni Chapter is a thriving group of Tiger alums now living large and lovin' life on the west coast. Sure, there is some culture shock when an LSU graduate ventures into the wild, wild west. At first glance, the differences between south Louisiana and southern California are many. But the members of the Southern California LSU Alumni Chapter embrace change while hanging on to their Tiger roots.
While the dissimilarities between the two regions are many, they still hang on to several mutual talking points. For instance, what about road and highway name changes? At LSU folks need to learn that College Drive turns into Lee Drive, which becomes Brightside Lane, all within a few miles of a straight arrow road. Or how about Acadian to Stanford to LSU Avenue? George O'Neal to just "O'Neal"!!
Ironically, L.A. has the granddaddy of all road name changes… and the members of the Southern California LSU Alumni Chapter can relate. These Tigers are connected to LSU by a concrete umbilical cord that stretches more than 1,800 miles, starting at the sunny shores of the Pacific as the Santa Monica Freeway, becoming the San Bernardino Freeway in downtown L.A., and then becomes "I-10" as it hits the desert running. I-10 continues its continental drift across the southwest until it makes its way over the Mississippi River and back to the motherland, LSU.
While LSU alums in sunny SoCal are many, here are a few who have made remarkable transitions from Tiger Town to Tinsel Town….
Dillon Couvillon, TV Producer
Dillon Couvillon graduated in Broadcast Journalism in 2008 from the LSU Manship School of Communication. He has produced shows for every major network, worked on two Super Bowls, contributed to the success of four major award shows, and has headed the production of many significant concert events.
Keith Comeaux, Scientist
Keith Comeaux graduated from LSU in 1989 with a B.S. in Mechanical Engineering. Comeaux joined NASA's Jet Propulsion Laboratory SMAP mission in 2006 to lead the Curiosity rover's entry, descent, and landing validation effort. As the flight director, Keith led the engineering team responsible for operating Curiosity during its eight-and-a-half-month cruise and approach to Mars, culminating with its landing on the night of Aug. 5, 2012.
Bill Conti – Composer
Bill Conti graduated from the LSU School of Music in 1963. Conti is one of Hollywood's most sought-after composers and conductors for both film and television. His compositions have sold more than 8 million albums, and a star bearing his name rests on the Hollywood Walk of Fame.
Joanne Woodward – Actress
Joanne Woodward majored in Drama at LSU. She is an actress, producer, activist, and philanthropist. She is best known for her Academy Award-winning role in The Three Faces of Eve (1957). Joanne Woodward wed actor Paul Newman in 1958, and the couple remained married until Newman passed away in 2008.
Lod Cook – Business Man
Lod Cook graduated from LSU with a Bachelor's Degree in Mathematics in 1950. From 1986 to 1995, Lod Cook was the Chairman and CEO for ARCO. Under Cook's leadership, ARCO was hailed as the best-managed U.S. company, with profit margins approached by few and returns on equity equaled by none. Mr. Cook is also a member of the LSU Alumni Association's board of directors, an organization he has actively worked with and contributed to financially for many years.
Eddie Merrins – Golf Pro Emeritus Bel-Air Country Club
Eddie Merrins is a 1955 graduate of LSU. He has been one of the most admired and respected figures in golf for more than half a century. He turned professional in 1957 and played in over 200 PGA Tour events. In 1962, he became head professional at the Bel-Air Country Club in Los Angeles and remains there today.
Shelley Regner – Actress
Shelley Regner graduated from LSU in 2011 with a degree in theatre. She is an actress and singer, known for her role as Ashley in the musical films Pitch Perfect, and its two sequels Pitch Perfect 2 and Pitch Perfect 3.
Francis Crinella - Crinella Vineyards
Francis Crinella received his Ph.D. in Psychology from LSU in 1969. He is well-known by wine aficionados and the academic world alike. Dr. Crinella is the Director of the Neuropsychology Laboratory and a clinical professor of neuropsychology at the University of California at Irvine. In a critical 2002 study, Dr. Crinella showed that manganese in soy-based infant formula could impair babies' brain development and cause ADHD. Dr. Crinella and his sister, Ramona, own and run the Crinella Winery and two vineyards in Sonoma County's Russian River Valley as well as rice farms in the Sacramento Valley. He has written or co-authored four books, including the famous memory self-help book Brainfit, and published more than 60 scientific articles.
Reed Dickens – LSU-Shreveport
Reed Dickens graduated from LSU-Shreveport in 2000 with a bachelor's degree in Mass Communications. Dickens is currently the Chairman of LA Golf Partners, formed to invest in golf companies, who recently acquired the assets of Matrix Shafts and launched LA Golf Shafts. He is a former White House Assistant Press Secretary under George W. Bush. Dickens is also the co-founder and former CEO of Marucci Sports and the Co-Founder and Chairman of EQtainment, which created the Q Wunder show, app, and games.
Guy Adams- Partner
Guy Adams graduated with a degree in Petroleum Engineering from LSU in 1974. Mr. Adams is Managing Director and Founder of GWA Capital Partners LLC. Mr. Adams has been profiled in The NY Times, Fortune, Smart Money, Institutional Investor, Money, Business Week, The Wall Street Journal, and many other publications. During his career, he has developed an in-depth knowledge of matters involving corporate governance, proxy contests, strategic mergers and acquisitions, and corporate restructurings.
This short list of LSU Alumni in the Los Angeles area is a small sampling of the diverse and accomplished LSU graduates in the Southern California area. While the backgrounds and accomplishments of the Southern California LSU Alumni Chapter members may be varied and wide-ranging, their love and passion for the LSU Tigers is focused and unwavering. The Eagles famously warned about The Hotel California, "You can check out anytime you like, but you can never leave." The members of the Southern California LSU Alumni chapter may have checked in to southern California, but they will never forget their purple and gold roots.
The 30th Annual SoCal LSU Alumni crawfish boil takes place on Saturday, May 20th in Redondo Beach. Whether you bleed purple and gold or you're merely looking to have a good time, reserve your spot today. You never know who you may see.