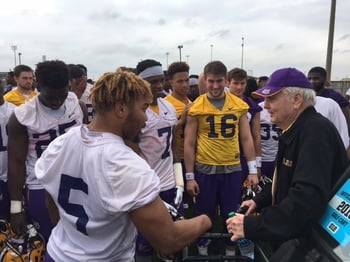 "Success is nothing without love." No one characterizes this statement more than Lodwrick ("Lod") Monroe Cook. It seems everything associated with Lod Cook embodies a combination of achievement and adoration. While his life sounds like a page written in a fairy-tale, Lod Cook came from humbling beginnings and earned his way in life through hard work and service.
In a recent visit to Baton Rouge this year, he shared his story from his time growing up in Grand Cane, LA to his LSU experience and his professional career. He shared personal anecdotes and advice about life with the LSU gymnastics team, the LSU football team, and the LSU Alumni Association staff. Sharing his success story in order to motivate young people at LSU has been somewhat of a calling for him.
In 1928, the story of Lod Cook began in Northwest Louisiana. Today, his story is full of philanthropic, business, and lifetime achievements. Cook's desire to make a difference and improve life locally and nationally has led to his personal success in many fields. He began his journey at Louisiana State University where he graduated with a Bachelor's degree in Mathematics in 1950. After graduating, Cook served in the U.S. Army before returning to LSU, earning a second Bachelor's degree in Petroleum Engineering in 1955. He later earned his Master's in Business Administration from Southern Methodist University attending school in the evenings while working full time.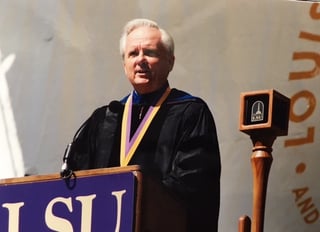 "LSU did it for me. When I think about it there are a lot of twists and turns in life that you can't control. You have to have an idea of where you want to go. I tell people you have to work hard, you have to get an education, obviously, and you have to keep upbeat throughout life. You want to keep high expectations. You have to expect to succeed. I expected to succeed. You work towards it and good things will happen. "
Cook's professional career began in 1956 with Atlantic Richfield Company (ARCO) where he was hired as an engineering trainee. He quickly ascended the corporate ladder, eventually becoming the CEO and Chairman of the Board where he led ARCO which was named the best managed U.S. Company. When asked about ascending through the ranks at ARCO he said, "I think I have fairly good people skills. I was trained as a mathematician, as an engineer. I'm no good as an engineer. I'm fairly good as a people person," which he believed led to his roles in people management eventually at the highest level. Cook retired in 1995 and has stayed involved as an investor and board member in several organizations including NeuroSigma, Inc. most recently.
While Cook's professional accomplishments are profound and influential, his personal relationships are what define and distinguish him. Whether it was a charitable endeavor or a civic activity, the secret behind Cook's happiness was his wife, Carole Diane Cook. The love Lod and Carole had for one another flourished in their volunteer efforts. The couple blended two families and raised five children in California. Today, Cook is the proud grandfather of ten grandchildren. He preserves his ties to many philanthropic organizations by constantly donating and volunteering as he and his late wife, Carole, have done for decades. Cook is a Trustee of the George Bush Presidential Library Foundation and former Chairman and Lifetime Trustee of the Ronald Reagan Presidential Foundation and has many close relationships with former United States Presidents.
Cook humbly recognizes that his success is the result of hard work, high expectations, and help from good people along the way. By staying positive and making decisions that positively influenced his life, at 89 years of age, Cook is a highly successful businessman, father, and philanthropist.
Cook's connection with LSU and the LSU Alumni Association has remained strong since the day he left campus as a graduate. He has served on the Board of Directors for LSU Alumni Association for many years. On May 20, 1994, The LSU Alumni Association's new alumni center was dedicated in Lod Cook's name as he made the lead gift for its construction. On this day, the LSU community along with former U.S Presidents, Gerald Ford, Jimmy Carter, and George H.W. Bush, and Louisiana Governor Edwin Edwards celebrated the opening of the new facility which he envisioned would open doors for many LSU future alumni and alumni.
About seven years later, the need arose for an on-campus hotel, and Cook stepped up to the plate. With a major contribution to the project, Cook helped construct what is now the Cook Hotel and Conference Center at LSU dedicated to Lod and Carole Cook. Eleven years after its dedication, The Lod Cook Alumni Center and the hotel remain proud of its name, and of the great businessman who set new standards for future LSU Tigers.
Lod Cook was a visionary in terms of giving. His gifts enabled the creation of structures and businesses that generate revenue which continually supports LSU and its thriving community. His hope has always been that his philanthropy would inspire his peers and the next generation of LSU alumni, fans, and friends to give back to our beloved university also.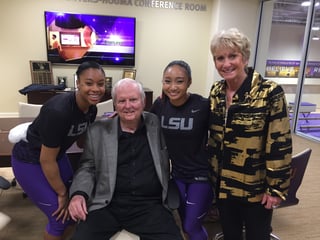 When speaking to the LSU gymnastics team during his recent visit, Cook gave some profound advice on life that people young and old alike can benefit from. "Life is not a two-way street. You have one chance at it. You're born over here (on this end of life) and you don't have any control over that. You exit over here (on the other end of life) and you have a little control over it but so many times you don't. It's what's in between that you can influence. It's during this period in the middle that you have a chance to do something. You get an education. I inherited a good family who believed in education. Here you are today but you don't get to come back and start over." His words resonated profusely with the gymnasts, football players, and LSU Alumni Association staffers alike.
Lod Cook is proof that success can be had through the love of life. His inspiration and character are centered around his love for people and life. Hopefully, thanks to Cook, many LSU future alumni and alumni will chart their path to a successful life filled with love by "influencing the middle," like he has in his own life.