Incoming freshman Jane Hamilton is a fourth-generation LSU Tiger. Hamilton, of Spring Lake, N.J., is the daughter and granddaughter of passionate LSU alumni. Their dedication and love of LSU began with Jane's maternal great-grandfather. "I have been visiting the campus my whole life. I've always known I would be going to LSU. I feel like I've been waiting my four high school years to go," Hamilton said.
Boyce Miller used his prize-winning hog as a down payment for his tuition. Photo: 1938 Gumbo

The family's LSU history starts with Jane's great-grandfather, Boyce Miller (1938 BACH AGR, 1952 MAST AGR) and his sisters, who attended LSU in the 1920s and 1930s. In 1934, Miller and his father loaded their prize-winning pig into their truck, and drove to the Baton Rouge campus from their home in Livingston Parish. "This was during the Great Depression. The story is that my dad had raised a champion hog for the parish fair and he won a ribbon. He and his dad took the hog to the LSU campus because they didn't have any money, and they offered LSU the hog as a down payment on his tuition," said Clare Miller, Boyce's daughter. "LSU took the hog, he [Boyce] became a student, and they gave him a job of caring for the hog, along with other barnyard animals."
After graduating from LSU, Miller taught in Louisiana for thirty-three years, specializing in agriculture and horticulture. He taught an additional eleven years in Florida before retiring. "But he taught until he was seventy years old," Miller said.
Clare Miller (1962 BACH AGR, 1979 MAST AGR) studied home economics, specializing in dietetics and food systems management. Her career has focused on child nutrition, working for the Louisiana Department of Education as well as the U.S. Department of Agriculture, in the federal school meal programs. "I was sixty when I went to Washington. I worked as a senior nutritionist with the child nutrition division for the USDA," Miller said.
Her daughter, Laurie Hamilton (1987 BACH MCO), met her husband, Patrick, (1984 BACH ENGR), a native of New Jersey, at a campus dining hall. After working as the head of construction for Walmart, Patrick now leads construction for Hudson's Bay Company, which owns Saks Fifth Avenue. Throughout his career, the family has moved around the world, finding other LSU graduates in places like Brazil. "We were members of an LSU Brazil alumni association," Laurie said. "We always wanted our kids to go to LSU."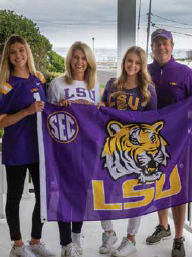 From left, Clare, Laurie, Jane, and Patrick Hamilton. Photo: Laurie Hamilton
Jane's older sister, Clare, is a current LSU student, studying engineering. Jane will study biology as an Ogden Honors College student. Even as the Hamilton family lives in New Jersey, they share their LSU pride. "We fly the LSU flag proudly here," Hamilton said.
Jane's grandmother is proud the family has continued to attend the university her father loved. "My dad would be really pleased. He left a legacy for my family that we all have gone to LSU. That was a man whose blood flowed purple and gold," Miller said.

Rachel Holland is a content development coordinator at LSU Strategic Communications.
This story is part of a story from the Summer 2020 issue of LSU Alumni Magazine. If you would like to receive future issues of our print publication become a member of LSU Alumni Association.