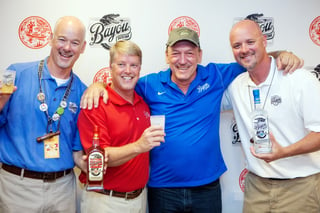 Louisiana People, Louisiana Product
Growing up in Lake Charles, Trey Litel (1985 BACH BUS) and brother, Tim (1993 BACH AGR) took Contraband Bayou to reach the Calcasieu ship channel to fish. The bayou takes its name from a story that pirate Jean Lafitte hid his contraband on the banks of the stream.
True or not, the story fits nicely with what the brothers are up to today. They make rum. "We started with the idea of making rum from Louisiana sugar cane," Trey said. "There's cane growing in this amazing top soil. I thought, 'Why is there no world-class rum from a place like this.'"
In 2011, the brothers and partner Skip Cortese made an initial investment of $12 million to build a distillery in Lacassine, La. Two years later, the distillery was in operation. Another $6 million went to an event center and a bigger warehouse. The distillery has won tourist destination awards the last two years, including the 2016 Louisiana Attraction of the Year. "Take Exit 48 from I-10," Trey said.
Tim and Cortese had done well with a tanker truck cleaning business. Trey was working for Bacardi rum. The trio founded Louisiana Spirits east of Lake Charles, La., to make Bayou Silver; Bayou Spice; Bayou Select, an aged rum; and Bayou Satsuma, a rum liqueur.
Bayou Silver rum uses molasses and raw sugar from M.A. Patout and Son in Patoutville, La. The Iberia Parish cane mill has been in business since the 1820s and has its own LSU connections. "What makes the difference," Trey explained, "is the blend of molasses and sugar crystals and that we pasteurize to get rid of wild yeast. You can almost taste the sugar cane."
Bayou Select is aged in bourbon barrels that give the rum a complex flavor of barrel wood with a hint of vanilla, caramel, and butterscotch. "It's good neat or over an ice cube," Trey said. "It's like a rum Old Fashioned."
"We're the largest privately owned distillery in the United States," he said. "We've teamed up with Stoli to be in forty-four states and, by early next year, in seventeen countries."
What did the brothers get from LSU? "My college days and experiences in Baton Rouge left me with a lifetime of memories, and I call Baton Rouge home today," Tim said. "We all know our culture is unique, and I feel lucky to be a part of it. My only hope is that my children will feel the same way someday."
He likes the play on words of the rum company's name. "To me, Louisiana Spirits means the spirit of the people of Louisiana," he said.
ON THE WEB For information on tours, visit bayourum.com or Louisiana Spirits on Facebook and Twitter.