2020 Hall of Distinction: Lewis May
Congratulations to one of our 2020 LSU Alumni Hall of Distinction honorees, Lewis May.
---
Louisiana State University has a tradition of graduating students who go on to achieve national and international prominence. Since its founding, the University has produced leaders in education, agriculture, the sciences, the arts, government, commerce, industry, technology, sports, the military, and social advocacy.
The LSU Alumni Association Hall of Distinction recognizes alumni who have distinguished themselves and LSU through their careers, their personal and civic accomplishments, their volunteer activities, and their loyalty to their alma mater.
In 1966, the LSU Alumni Association, then the LSU Alumni Federation, conferred its first Alumnus of the Year Award upon military hero Major Roy J. Young. An individual alumnus has been singled out every year since then in honor of his or her distinguished professional and civic accomplishments and continued commitment to LSU. In 1981 the LSU Alumni Association created the Hall of Distinction in order to recognize more than one alumnus each year. The Young Alumnus of the Year Award was established in 1999 to recognize alumni under the age of forty who have attained professional prominence early in their careers.
Congratulations to one of our 2020 LSU Alumni Hall of Distinction honorees, Lewis May.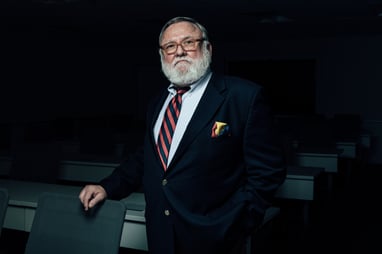 Lewis May
Lewis May, one of America's leading planners, urban designers, and landscape architects, earned bachelor's and master's degrees in landscape architecture at LSU, and his five-decade career has earned him nearly 200 international awards of excellence for his global design practice.
May holds a bachelor's degree in environmental design (1969) and a master's degree in landscape architecture (1973) from LSU. It was during his years at LSU that May began to understand the meaning and purpose of his education and the impact he could have on the future of the built environment and how we all share responsibility for the ecology of our planet.
Today millions of people around the globe live in urban environments planned or designed by May. His urban design portfolio includes projects in Europe, Asia, Africa, the Far East, Arabia, and throughout the Americas.
May has authored three award‐winning books related to environmental design. His extensive portfolio also includes more than 300 campus facility master plans at prestigious institutions around the world, including Harvard University, Carnegie Mellon University, the United States Military Academy (West Point), the University of Virginia, Templeton College at Oxford University, the University of Future Africa, Egypt's Nile Technical University, King Fahd University of Petroleum and Minerals, King Abdul‐Aziz Military Academy, and the University of Houston System.
At the invitation of his highness King Abdullah of Jordan, May recently participated in an international summit focused on planning and design of arid environments related to the immigration crisis resultant from the conflicts in the Middle East. May was also recently invited to Honduras to teach as well as lecture in urban design and its transformative impact on community societal health.
May has lectured on planning, architecture, urban design and landscape architecture at numerous universities and professional associations, both in the United States and Europe, among them, Louisiana State University, Oxford University, Universidad de Monterrey (Mexico), University of Houston, Texas Tech University, Rice University, Texas A&M University, and the University of Texas.
Early in his career, May was recognized by the American Institute of Architects at the Kennedy Center in Washington as "one of the outstanding landscape architects and planners in America."
Today, he shares this extensive knowledge with students through teaching positions, including the University of Houston's Gerald D. Hines College of Architecture where he founded the Center for Urban Ecology and served as director. May was appointed to the board of Rice University's prestigious Baker Institutes' Center for Population Health based largely on his advocacy for urban underserved populations. At the University of Houston's Center for Urban Ecology his research was focused on education, health, and economic revitalization of inner‐city communities and neighborhoods. May was also a visiting professor at the Centre d'etude d'architecture et urbanisme en Santé France. Currently May serves on the board of the Jeffersonian Institute where he continues his advocacy for community health, education, and the environment.
May resides in Houston, Texas. He collects art and antiquities and enjoys time in the kitchen and time in the garden with friends and the companionship of Earl, his dog.
LSU had and continues to have an incredible impact on my career, as well as my life. The lessons learned at LSU, both in and out of the classroom, continue to shape who I am and what I believe in.