2020 Hall of Distinction: Kurt Davis
Congratulations to one of our 2020 LSU Alumni Hall of Distinction honorees, Kurt Davis.
---
Louisiana State University has a tradition of graduating students who go on to achieve national and international prominence. Since its founding, the University has produced leaders in education, agriculture, the sciences, the arts, government, commerce, industry, technology, sports, the military, and social advocacy.
The LSU Alumni Association Hall of Distinction recognizes alumni who have distinguished themselves and LSU through their careers, their personal and civic accomplishments, their volunteer activities, and their loyalty to their alma mater.
In 1966, the LSU Alumni Association, then the LSU Alumni Federation, conferred its first Alumnus of the Year Award upon military hero Major Roy J. Young. An individual alumnus has been singled out every year since then in honor of his or her distinguished professional and civic accomplishments and continued commitment to LSU. In 1981 the LSU Alumni Association created the Hall of Distinction in order to recognize more than one alumnus each year. The Young Alumnus of the Year Award was established in 1999 to recognize alumni under the age of forty who have attained professional prominence early in their careers.
Congratulations to one of our 2020 LSU Alumni Hall of Distinction honorees, Kurt Davis.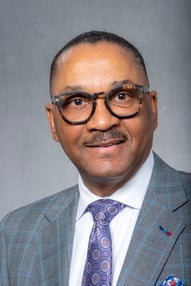 Kurt B. Davis
Kurt Davis, executive vice president of affiliate relations at ViacomCBS, earned a bachelor's degree in journalism from LSU in 1983. While at LSU, Davis was awarded an internship funded for minority students, which allowed him to work alongside proven professionals while continuing his education and helped launch his professional career.
An established journalist and news executive, Davis joined CBS News in 2013 after more than two decades of experience in the broadcast industry. As vice president for news services at CBS News, he oversaw CBS Newspath, the CBS News satellite newsgathering organization that provides editorial content and technical support to more than 200 affiliates in the U.S. and dozens of worldwide partners.
Prior to joining CBS, Davis spent ten years as executive news director at CBS Affiliate KENS-TV in San Antonio, Texas, overseeing all editorial content and setting short- and long-term strategies for the unit. He was previously manager of coverage and content at WSB-TV in Atlanta, Georgia; news director at WDSU-TV in New Orleans, Louisiana; managing editor at KDFW-TV in Dallas, Texas; news director at WSET-TV in Lynchburg, Virginia; assistant news director at KATV-TV in Little Rock, Arkansas; and weekend producer and senior producer at WBRZ-TV in Baton Rouge.
Davis currently serves on the Manship School of Mass Communication Board of Visitors, the Emma Bowen Foundation Board of Directors, and is a University of Arkansas at Pine Bluff Journalism School Advisor.
Davis and his wife, Angela, recently celebrated thirty-five years of marriage. They have two children – Kelsey, a 2011 Manship School graduate, and Kyle, a 2014 graduate of Tulane University's A.B. Freeman School of Business. While New York City is the family's base camp, they all love Louisiana and still spend time in New Orleans.
LSU marked the beginning of my thirty-year journey. It means a tradition of excellence and true friendships turned into family. I have lifelong friends from my years at LSU. I love the Purple and Gold!