Growing up in Mississippi, Andrew Gravens (2014 BACH H&SS) loved spending time in the kitchen – helping his mother and grandmother prepare the family's meals. As an undergraduate at LSU, he developed an interest in assisting people who feel disconnected from those around them. Then, one day, he received an offer from a nonprofit organization to pursue both passions simultaneously.
Andrew Gravens, executive chef, A Place at the Table.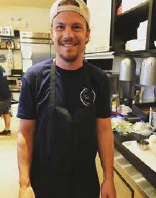 As executive chef at A Place at the Table, Gravens leads a culinary team that bakes and cooks hundreds of dishes a day. In the process, he plays a vital role in bringing a community closer together.
Located in Raleigh, N.C., A Place at the Table follows an unconventional business model. It does not charge fixed prices for the waffles, jambalaya, or other tasty items on its menu. Instead, the cafe lets customers decide what they can afford – the suggested price, a reduced price or nothing at all (the latter frequently volunteer their time in lieu of payment). To help make up the difference in revenue, many generous customers "pay it forward" – covering their own bill and contributing to the tabs of other patrons.
As a result of the unique pricing structure, Gravens and his peers have made it possible for visitors of all socioeconomic backgrounds to dine together in a common space, engage in conversation, discover common ground, and develop friendships. Since opening in 2018, A Place at the Table has become a popular destination for breakfast and lunch. Last year alone, the "pay-what-you-can" cafe served nearly 50,000 meals.
Gravens – whose two brothers, Matthew (2010 BACH SCI) and Charles (2017 BACH ENGR), also graduated from LSU – spoke with the writer for LSU Alumni Magazine.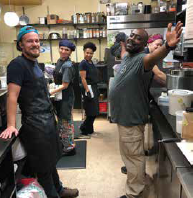 Executive Chef Andrew Gravens and kitchen staffers, from left, Amanda Hampton, Karma, Alaric Vines, and Alyson Fuller-Smith, "Much love and virtual hugs from us to our friends in Louisiana. Stay safe." Not pictured, Eliot Burnhams.
Greg: When you first heard about A Place at the Table, did you think the "pay-what-you-can" concept could generate enough revenue to stay in business?
Andrew: "I really did. I was enamored with the idea, and I believe in the goodness of people. So, I thought it could work. And lo and behold, it does!"
Greg: Besides the food, what makes the experience special?
Andrew: "It benefits everyone at the table. No matter who has what, we all have a lot to share with each other and learn from each other – and that can begin over the course of a meal here. Plus, there's the service. Our volunteers love to come to work. Being served by a happy staff makes any dining experience better. For those who can't afford a meal, it's also special because it's a place with options, dignity, the opportunity to meet new people, and it provides them a chance to volunteer."
Greg: Where did you sharpen your skills as a chef?
Andrew: "All over Baton Rouge. While I went to LSU, I worked in professional kitchens. I was especially influenced by my time at Magpie Cafe and the Spanish Town Market."
Greg: How did your time in class at LSU impact what you do now?
Andrew: "While studying psychology, I was drawn to the idea that if there's a place where someone can feel connected and wanted, a huge need has been met for them. Maybe, our biggest need in life is to have people who support and love us. Without support, it's hard to recover from anything. That has reinforced to me that I'm part of something meaningful at A Place at the Table."
Greg: Best lesson you learned in the kitchen?
Andrew: "Expect nothing and be cool with everything."
Greg: What constitutes a great meal? Andrew: "Fresh ingredients and good company. A great meal is full of 'mmmmmm, pass me some more of that' and lots of laughter."
*After printing, we were notified that Andrew Graven's wife Rachel Sassone (LSU DVM 2018) is also an LSU graduate.

Greg Forbes Siegman is co-author of The Milkshake Man. The book tells the story of a person who uses food to bring a community together.
This story is part of a story from the Summer 2020 issue of LSU Alumni Magazine. If you would like to receive future issues of our print publication become a member of LSU Alumni Association.