LSU 2018 Hall of Distinction
Alumnus of the Year, Young Alumnus of the Year Revealed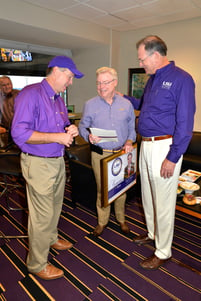 Art Favre, owner and president of Baton Rouge-based Performance Contractors, Inc., is the 2018 LSU Alumnus of the Year. The announcement was made Saturday, Sept. 23, in Favre's suite in Tiger Stadium during the LSU-Syracuse football game.
Making the announcement were LSU President F. King Alexander and LSU Alumni Association President and CEO Cliff Vannoy.
"This is quite a surprise," Favre said. "LSU is a great place. I loved my experience as an undergraduate, and it's been a lot of fun watching the university reach greater heights every year. We've been following especially the College of Engineering and the Department of Construction Management within the college, helping them become bigger, better, and stronger and produce quality graduates."
"We thank Art for all he's done for our students and our university," said Alexander. "He's a great alum, and he's always been there for LSU. It shows what you can do for next generation of students. It's well deserved, and we're very appreciative.
Favre will be inducted into the LSU Alumni Association Hall of Distinction on Friday, April 13, 2018 along with Young Alumnus of the Year Walt Leger, speaker pro tempore of the Louisiana House of Representatives, who learned of his honor Tuesday, Sept. 26, at the LSU Band Hall.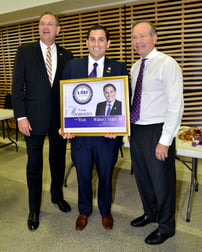 "You got me," said Leger. "It was a little shocking. I was invited to speak to the Tiger Band . . . nothing like this ever crossed my mind. It's a highlight of my life, and I couldn't be more honored. LSU is such a central point of who I am."
"Young alumni help us in so many ways, in the public and in the private sectors," Alexander said. "Walt has been there for us each and every day in the state legislature. We couldn't have a bigger supporter or fan. He is a great role model for our students."
Also tapped for induction are the late Mel Didier, longtime high school and college baseball coach and major league baseball executive and scout; Jim Engster, president of Louisiana Radio Network and Tiger Rag; Kelly Spears, a speech language pathologist and board-certified behavior analyst; and Jerry Stovall, long-time president and chief executive officer of the Baton Rouge Area Sports Foundation, now SportsBR.
"The LSU Alumni Association annually recognizes alumni who have distinguished themselves and the university through their careers, their personal and civic accomplishments, their volunteer activities and their loyalty to their alma mater," Vannoy said. "These individuals have excelled in all of these areas and exemplify the essence of a true Tiger."
Favre, graduated from LSU in 1972 with a bachelor's degree in construction and today heads up a billion dollar, 9,000-employee general industrial services company. An active supporter of LSU and the College of Engineering, Favre is heavily involved in the expansion and realignment of Patrick Taylor Hall. He is a member of the Dean's Advisory Council, the Board of Directors of the Construction Industry Advisory Council for the Department of Construction Management and Industrial Technology and a past president of the LSU Construction Industry Advisory Council. A member of the LSU Alumni Association, the LSU Foundation and Tiger Athletic Foundation, Favre was inducted into the LSU Alumni Association Hall of Distinction in 2011. He also was inducted into the College of Engineering Hall of Distinction and was recognized as a Distinguished Patron of the LSU Department of Construction Management.
Leger earned a bachelor's degree in political science from LSU in 2000 and a J.D. from Tulane University in 2003. He was elected speaker by acclamation in 2012 and again in 2016 and is the youngest member to ever serve in the position. Leger is an attorney at the law firm of Leger & Shaw in New Orleans. He was elected to represent District 91 in 2007 and re-elected without opposition in 2011 and 2015. He has served on the Appropriations, Criminal Justice, Education, Judiciary, and House Executive committees; Joint Legislative Committee on the Budget; Juvenile Justice Implementation Commission; House Committee on Homeland Security; and Technology Sub-Committee of the House Executive Committee. He has received numerous honors recognizing his commitment to people of his district, most recently the 2016 Tax Foundation Award for Excellence in state Tax Reform. In 2015 he was named Outstanding Legislator by the LSU Health Sciences Center Foundation and received a 2015 LSU Greek Excellence Award. He also serves on the Louisiana Judicial College Board of Directors.
The first LSU Alumnus of the Year award was conferred in 1966; the Young Alumnus of the Year Award was established in 1999 to recognize alumni under the age of 40 who have attained professional prominence early in their careers. Including the 2017 inductees, the LSU Alumni Association has recognized 296 individuals representing a cross-section of LSU graduates.
Contact:
Sally Stiel
Senior Director of Alumni Engagement & Marketing
LSU Alumni Association
C: 225.202.2651
or
Brandli Roberts