LSU Degree Takes Alumna Around the World
LSU alumna Tsira Kemularia (1999 BACH BUS) has spent her life around the world, from a small war-torn country in Eastern Europe, to Baton Rouge, Houston, London, Moscow, and beyond.
---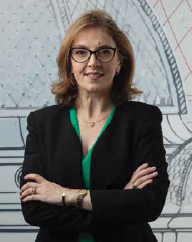 Tsira Kemularia has spent the majority of her career working around the world for Shell.
Growing up in the Republic of Georgia, LSU alumna Tsira Kemularia (1999 BACH BUS) never pictured a life beyond. But her education and career have taken her around the world, from a small war-torn country in Eastern Europe, to Baton Rouge, Houston, London, Moscow, and beyond.
"I came to Baton Rouge in 1994, as part of an exchange program in high school sponsored by my hometown, Poti. It was right after the Soviet Union broke apart and all fifteen republics declared independence. Georgia was one of the first few to become independent in 1991, followed by a decade of bloodshed. In the midst of it, there was a program put together by a brave and forward-thinking group of people to encourage children to get a Western education," Kemularia said.
At seventeen, Kemularia left her family and moved to Louisiana. With a scholarship for a year to finish high school in the U.S., she lived with a family in Baker, La., and completed high school. But she wasn't ready to return home to Georgia. "I wanted to continue to study, so with the help of my American host family, Dennis and Sandy Howards, I was able to take my Test of English as a Foreign Language (TOEFL) examination, submit all the documents, and was accepted to LSU."
At LSU, Kemularia was involved in the international student community. "I was the vice president of the International Cultural Center. I wanted to help the international students because I knew how challenging it was to come to a different country, especially for those who came from the former U.S.S.R."
She also worked a number of student jobs, starting at the Civil War Historical Center through the Middleton Library, then the Student Career Center. In addition, her voice helped the Department of Foreign Languages with various Russian translations works.
Kemularia said LSU became an extended family, thanks to her friends, professors and co-workers. "They were very supportive of me," Kemularia said. "At the time, internet connections to Georgia were rare and international phone calls were very expensive. I had a difficult time not only because I was away from my family, but also because my country was in the middle of a civil war. The challenges were both emotional and financial. The University was so amazing, helping me work through the situation and supporting me all throughout."
LSU Hospitality Foundation Director Virginia Grenier helped her get an internship at the Louisiana State Department of Economic Development, and another professor encouraged her to apply for job with an energy firm that came to campus to interview seniors. That interview turned into a job, and two months after graduation, Kemularia moved to Houston to work as an analyst in the power trading division for Dynegy, Inc. "It opened a door to opportunities for me and from there my career hasn't stopped," she said.
Since that first job, her career has taken her around the world. She moved to London to continue to work with Dynegy to help set up a risk-management division. "It was all going amazingly well until Enron, another large energy company, went bust. It was a total disaster for the industry and the people working in the sector."
Concerned she would have difficulty securing her job back in Houston, and at the risk of going back to Georgia without reaching her full potential, she started interviewing for other jobs in Europe. In 2002, she accepted an offer from Royal Dutch Shell in London, working in the Risk Control department supporting oil and the oil products trading division. After three years in that role, she moved to Shell's treasury organization, on the mergers and acquisitions team.
Wanting to use the Russian language in a business context, her next stop was Moscow. "Initially I was asked to help in Shell's Moscow office for six months, which turned into three years," Kemularia said.
The journey continued. Her next assignment took her to Barbados, where Shell has been in business since the 1950s. This time she worked as a finance manager and a country controller for Shell's oil and oil products trading company. "The job was very hands-on and dynamic, and it lasted for five years, all while raising a young family with great support from my husband."
After eight years of international assignments, it was time to go back to what Kemularia now calls home, London – as head of Shell's pension strategy and standards, working for Shell's group treasury. "It's a great job and one that has a large scope as Shell is in the top five corporate companies with the largest pension schemes worldwide with $93 billion of assets to manage," she said.
Her international experiences have been rewarding, but Kemularia still cares about the country she left twenty-four years ago. "I always stay connected through different cultural, educational, and charitable works. And very recently, I was named to the country's top bank as an independent non-executive director," she said. "This opportunity is unique and important to me, as it not only carries a significant responsibility but also has a great meaning. I am the first Georgian female to serve on the board of a London Stock Exchange-listed Georgian bank's board. And I hope to be an example for other professional females in my country."
Kemularia said her experience at LSU was both important and long-lasting, and she credits the connections she made to LSU's professors and staff. "In a nutshell, that's where my LSU degree has taken me. The professors and staff played a defining role in my development. And I'm very grateful for my time at LSU. Had I not had that, the world would be a very different place for me."
Rachel Holland is a content coordinator with LSU Strategic Communications.
This story is part of a story from the Spring 2019 issue of LSU Alumni Magazine. If you would like to receive future issues of our print publication become a member of LSU Alumni Association.