The Bednarik Award is given to the College Defensive Player of the Year by the Maxwell Football Club.
Philadelphia's search for a successor to Iron Man Chuck Bednarik intensified in the 1960 football season. Bednarik was nearing the end of a remarkable fourteen-year career as the last player in National Football League history to play both offense and defense. A trade was unlikely. Nobody in the NFL would give up a player that approached Bednarik in ability and accomplishment. He had made All-Pro eight times, an unmatched achievement in that era. The American Football League had burst onto the scene in 1960 to complicate matters. The two leagues would again compete for college talent.
But the Eagles believed they had located an heir apparent: LSU's Bo Strange, also a center and linebacker. His size, speed, stamina, and leadership met the criteria of Philadelphia scouts in their effort to find a replacement for Bednarik. Unfortunately for the Eagles, Strange also had the academic requirements essential for admission to the LSU School of Medicine. And his mother was rooting for the med school. Her oldest child, Virginia, had already reached that goal.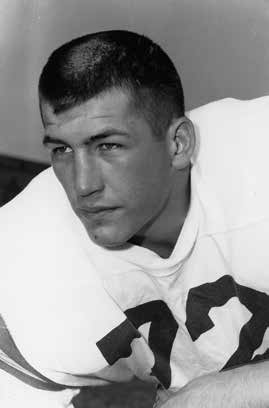 LSU's Bo Strange was the twenty-eighth player chosen overall in the 1961 NFL draft by the
Philadelphia Eagles. The Eagles wanted him to replace their legendary linebacker Chuck
Bednarik. He declined their offer and graduated from the LSU School of Medicine in 1965.
Bo was the twenty-eighth player chosen overall in the 1961 NFL draft. By choosing Strange in the second round – ahead of such future pro stars a Fran Tarkenton – the Eagles had made a statement. Strange was a player they highly valued. They didn't want to risk losing him in a later round.
Philadelphia had seen his game film. The Eagle scouts had witnessed Strange making big plays in two all-star games. They were convinced that he could be groomed into a solid successor for their legendary linebacker. Bo had played only one college season— 1960 — as a center and linebacker, although he had excelled at both positions at Baton Rouge High. He was LSU's starting right tackle for two seasons, including the 1958 national championship campaign. He was a second team All-SEC selection as a senior in 1960.
It appeared that the Eagles were smarter than a tree full of owls. No other NFL team had scouted Strange as thoroughly as Philadelphia. But they missed one significant item: Strange was a member of the All-SEC Academic team. His major was pre-med. Even as competition for players between the NFL and AFL became heated, pro football was not in Bo's plans. The AFL's Denver Bronco drafted Strange in the third round, but they were never a factor.
After the draft, Strange received a registered letter from the Philadelphia ball club. It contained an offer to sign a contract for $16,500 and a bonus check of $3,500. That was more money than Paul Dietzel was being paid as LSU's head football coach. But after family discussions (his father was Clarence "Pop" Strange, a member of Dietzel's coaching staff), Bo thanked the Eagles for their interest, and told them he was going to enter LSU's medical school in the fall. He returned the bonus check to Philadelphia. "I told them I was going to med school at the Senior Bowl," Strange recalled. "My sister was already in med school. My parents were educators. They made sure we were good students at every level. Our goal from an early age had been med school."
His brother David followed Bo at LSU as a football player and attended dental school. Although Strange planned to attend med school, he played in two post-season games – the Blue-Gray game in Montgomery, Ala., and in the Senior Bowl in Mobile, Ala., which were popular venues in the sixties for professional coaches and general managers. It provided them the opportunity to watch prospects in practices and games and to discuss the possibility of a pro football future with the players.
Bo made a big impression on pro scouts at the Senior Bowl, highlighting an outstanding game by blocking an extra point attempt in the fourth quarter of a 33-26 South victory. He met with Philadelphia representatives several times in Mobile. One of the ball club's representatives was Eddie Khyat, a native of the Mississippi Gulf Coast and a former Tulane player who had been a Senior Bowl participant. He was then an active member of the Eagles.
When medical school was mentioned in the discussions, Philadelphia made a persistent run at Strange. The Eagles offered to help him get admitted to Temple. Its quarter system would allow Bo to attend medical school while playing pro football. After some consideration, Strange concluded that attending Temple would take him twice as long to complete his medical education. He declined the offer. But that didn't stop Philadelphia from paying him the ultimate compliment. They wanted Bo to be the player to replace one of pro football's legends: Chuck Bednarik.
Now retired in his eighty-first year, Strange lives in Asheville, N.C., and is even more confident today that he made the right decision. He is mentally alert with a vivid memory for the people and events of his youth. There are no lingering reminders of football injuries. He performed knee surgery, but never needed corrective surgery for himself. He had no concussions. For that he is grateful.
Bo's family connections to LSU continue. They began in the 1930s when his father played tackle for the Tigers' Sugar Bowl teams. His son, Chip, owner of Unique Cuisine, has been providing the food service for the LSU Alumni Association for eighteen years.
Bud Johnson is the retired director of the Andonie Sports Museum and a former LSU Sports Information director. He is the author of The Perfect Season: LSU's Magic Year – 1958.
This story is part of a story from the Winter 2020 issue of LSU Alumni Magazine. If you would like to receive future issues of our print publication become a member of LSU Alumni Association.