Earning a scholarship to lsu: Turning Dreams into Reality
After attending the LSU vs. Arizona game as a four-year-old in 2003, Jon Streva told his parents he would one day attend LSU. Discover how Jon turned his dream into a reality and earned a scholarship to LSU through the Las Vegas LSU Alumni Association Chapter.
---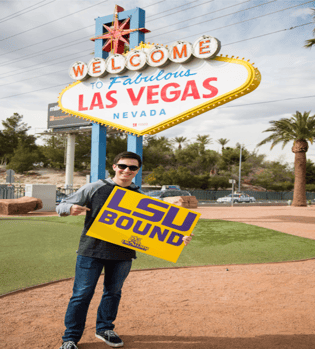 LSU fans will likely never forget the 2003 football season as it marked the first national championship for the Tigers since 1958. This 45-year drought of national prominence left the Tiger Nation salivating for a taste of the ultimate prize in college football. The game that served as an appetizer of this ultimate prize took place in Tucson, Arizona on September 6, 2003, versus the Arizona Wildcats. The Tigers, coached by Nick Saban, dominated the game in every single category and buried the Wildcats 59 to 13. The performance by the Tigers left an impression on Tiger fans across the globe as it served as a sweet suggestion of things to come. Jon Streva, a current LSU student from Las Vegas, is the perfect example of the vast influence the game had on the lives of people across the country.
When did you know you wanted to go to LSU and why?
I attended my first LSU football game in Arizona when I was four-years-old, and I have been a die-hard fan of LSU since then. After attending that game in Arizona, I told my parents I was going to LSU for college. When it was time to select a college during my junior year of high school, I only applied to one school – LSU. I have always loved the food and culture of Louisiana, and I am now able to experience all of it as a student at LSU.
How did receiving the LSU Alumni Association – Las Vegas Chapter scholarship help you achieve this dream?
While LSU has always been my dream school, out-of-state tuition is much higher than in-state tuition. Because I was from the Las Vegas area and would have to pay the out-of-state tuition, making my dream of attending LSU a reality was much more challenging. The fact that the Las Vegas Chapter of the LSU Alumni Association offers an opportunity for a local student to fulfill their educational goals is remarkable. They played a decisive role in my journey to LSU.
What are some of your best memories from your first year here as an LSU student?
All the tailgates and football games have been some of my best memories especially the Auburn game where we came back and won the game. I traveled to the Alabama game in Tuscaloosa and had a great time even though we lost. I was able to experience Mardi Gras for the first time which is a moment I will never forget. I have created life-long bonds with my fraternity brothers through events and volunteering. We have also become closer through "all-night" study sessions in preparation for exams.
How have you gotten involved on campus this year?
I joined my fraternity, Sigma Phi Epsilon. I also joined the Greek Board of Directors fundraising committee where we have raised over $200,000 to build new homes for two local families in need. I am also interested in participating in different opportunities during my time at LSU.
What are some of your goals and your career aspirations when you become an LSU Alumnus? We're sure LSU Tiger Nation can support you in reaching those goals!
My goal is to graduate with a degree in business finance, and a minor in internal auditing. My current plan is to earn a masters degree in business administration and earn my way to becoming a Chief Financial Officer for a company.