Over the course of the next few weeks, we will be spotlighting our many LSU Alumni Affinity Chapters! These special chapters are not geographically based as many of our chapters are, and instead focus on joining together individuals who are alike in some way. Whether that be through their academic program, involvement in an organization as a student, or personal attributes, these incredible chapters are run a little bit differently but are among some of our most successful and active chapters. To learn more, visit LSUAlumni.org/Chapters.
A.P. Tureaud Sr. Black Alumni Chapter
The A.P. Tureaud Sr. Black Alumni Chapter of the LSU Alumni Association, reconstituted in 2009, promotes fun and exciting engagement of LSU alumni and friends. Katrina Dunn, Chapter President, shares what the chapter means to her. "Tureaud Chapter is about honoring the past and building bridges to the future. As President, I stand on the shoulders of those who came before me. My goals are to:
Cultivate a robust alumni community that engages alumni purposefully, personally, and professionally;

Increase student awareness of the Chapter, its purpose, activities, and services and prepare students to become engaged alumni;

Promote Alumni giving to various fundraising activities; and

Develop and enhance connections among alumni, students, the community, and friends.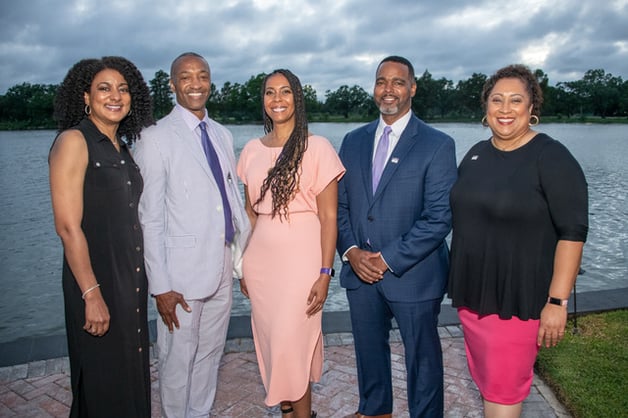 Pictured: Kim Cash Tate, William F. Tate IV, LSU president, Katrina Dunn, Chapter President, Gary Huntley, Chapter Past President, Nicole Moliere, Chapter Immediate Past President
The chapter stays busy throughout the year, with a wide variety of events, fundraising opportunities, and more.
"This August, the Tureaud Chapter will be competing in the Black Alumni Collective's Third Annual Miles for My Alma Mater Challenge. Over the last two years, the Tureaud Chapter has raised approximately $6,900 for scholarships." shares chapter Secretary and Membership and Ambassador Committee Chair Jeremiah J. Sams, Esq. "Additionally, the Tureaud Chapter is gearing up for its Second Annual Membership Drive. Check out the Tureaud Chapter's social media to participate and for more information on membership activities. The Tureaud Chapter can be found on Facebook, Instagram, and Twitter at the handle @lsublackalumni."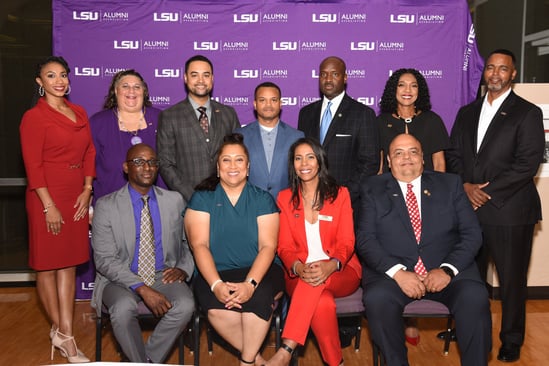 Adrian King, current Vice President and President-Elect of the chapter, shares her plans for the future. "During my presidency, I plan to continue the great work of my predecessor Katrina Dunn in developing the Black Minds Matter Endowment and building membership earlier in the postgraduate cycle."
To join the chapter and get involved with this group, visit Geaux.LSUAlumni.org/APTureaud. The chapter is always growing and looking for more potential members and leaders. If you're interested in getting involved, follow the chapter on Facebook, Instagram, or Twitter.