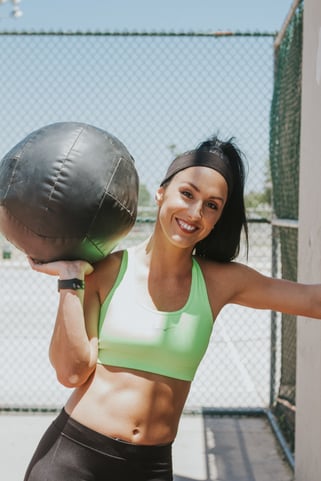 ALEXIS LAWSON, BS KINESIOLOGY '13
Tell us a little bit about yourself.
My name is Alexis Lawson and I'm 29 years old. I'm originally from Lake Charles, LA where I grew up a multi-sport athlete and dancer. I graduated from LSU in 2013 with a Bachelors degree in Kinesiology and concentration in Physical Therapy. I was a 4-year member of the LSU Tiger Girls, and won a National Championship my freshman year. I also danced for the NBA New Orleans Pelicans for one year. I now live in Los Angeles, CA where I am a Sports Performance Coach with an expertise in Corrective Exercise and Injury Prevention. I work with athletes ranging from youth to professional level, as well as non-athletes. I also have an online business where I coach/train people and athletes all over the world.
How would your friends describe you?
Hard working. Ambitious. Motivating. Intelligent. Friendly. Helpful. Independent. Empathetic.
What path did your career take after graduating from LSU?
I originally moved to Los Angeles, CA to pursue my professional dancing career, and ended up going back to school at the Southern California Health Institute to extend my Kinesiology degree. I graduated the Southern California Health Institute as a Health and Wellness Professional, and earned six National Academy of Sports Medicine Certifications: Certified Personal Trainer, Corrective Exercise Specialist, Weight-loss Specialist, Nutrition Specialist, Youth Exercise Specialist, Senior Fitness Specialist. Post graduation, I also became a Certified Strength and Conditioning Specialist (CSCS) through NSCA. Shortly after finishing school, I met Coach Mike Guevara who took me under his wing and introduced me to the science of the Sports Performance world.
What does a day in your life look like?
Typically my days consist of helping people improve their overall health and performance. I wake up at around 5:00 every morning. Eat breakfast. Go to my first private session at 6:00 AM and train till about 1:00 PM. During these 6-7 hours I'm working with people of all ages and various walks of life (athletes, non-athletes, elderly, etc.) Next, I try to squeeze in a quick workout, go home to eat lunch, and work on my online business for a couple of hours. Then, I go to Sierra Canyon High School where I train the girls and boys basketball teams. Last, I return to the facility where I teach a Functional Strength & Conditioning class from 6:00-7:00 PM. After class, I go home, eat dinner, shower, and get ready to do it all over again the next day.
When you were at LSU what was your favorite place to eat?
My favorite place to eat at LSU was Walk-Ons. The Spinach & Artichoke Dip, Black Jack Chicken sandwich, and Cookie Skillet were my go-to!
If you weren't working in fitness, what would you be doing?
If I wasn't working in fitness, I would most likely be an Orthopedic Surgeon, or working in some other area of the medical field.
Do you have a mentor that helped you along the way?
Yes, I have several mentors. The person who has had the biggest impact on my career thus far is Mike Guevara, aka Coach Mike G, who is currently the personal coach of Jrue Holiday, Anthony Davis, and several other NBA players.
What has been the biggest challenge and the biggest reward as a young entrepreneur?
My biggest challenge, especially when it comes to working with athletes, has been working in a male dominant industry. However, overcoming that challenge and earning credibility and respect is the best feeling. The best advice I can give, is don't get discouraged, stay true to your path, keep professionalism at the forefront, surround yourself with people that believe in you and challenge you, and continue educating yourself and learning from the best. Eventually, your work will speak for itself.
My biggest reward as a young entrepreneur has been the success I've had thus far. The daily feedback I get from working with my athletes and clients truly means the world to me. There is nothing more rewarding than knowing you made a positive impact on someone's life and helped change their life for the better.
How did LSU help pave the way for you to take on this challenge?
The work ethic, time management skills, professionalism, and mental toughness I developed during my time at LSU has definitely helped pave the way for me to take on many of the challenges I've dealt with in life. I learned that with hard work, determination, perseverance, and faith, anything is possible. Most importantly, no matter what challenges you face in life, good or bad, there is ALWAYS something to be learned. Tough times don't last, only tough people.
What's your favorite song to jam to?
This one's difficult! I love all music and have a ton of songs I jam to. The first one to come to mind right now is Sun Don't Shine by Klangkarussell.
Where do you see yourself in 10 years?
In 10 years I see myself continuing to work with top athletes of the world and traveling around to educate others on how to restore and optimize human function through movement.
What do you miss most about LSU?
LSU Football, Basketball, and Baseball games, being on Tiger Girls, seeing all of my friends on campus every day, the southern hospitality, food, and tailgating. The thing I probably miss the most is the euphoric and electrifying feeling I would get when hearing Pre-game and LSU Fight Songs while being surround by roaring LSU fans. I guess a better question is what don't I miss?! Haha.
Why are you proud to be an LSU alumna?
LSU has an undeniable reputation of excellence, which is something I've always strived to emulate in every facet of my life. The reaction I get after telling someone I graduated from LSU is EXACTLY why I'm honored and proud to be an LSU alumna. LSU has impacted my life in so many amazing ways. I've built lifelong relationships/friendships and some of the best memories of my life thanks to LSU. There is truly no place like it!